hoodie, also here and here || leggings, worth every freaking penny!!! || glitter sneakers, under $30! || reversible tote, a must have || scarf || aviators
photos by the beautiful Anna of A Lily Love Affair
Shop My Outfit

Save or Splurge
I dipped my toe into the faux leather leggings trend a few times over the past couple of winters, but I wasn't completely sure I could pull them off. Then I started to hear other bloggers go on and on over this pair. I spent a good solid year laughing about it in my head. I mean who would pay almost $100 for a pair of faux leather leggings?! Don't these girls know that you can pick up a pair on Amazon for $15?!
The Faux Leather Leggings Anyone Can Pull Off
Then over the holidays, one of my best friends ordered a pair during the sales and let me know what's up. They really were that good. And since even I can be swayed after seeing and hearing about them over again, I broke down and ordered them. And you know what? She, and all the others, are right. They're amazing. Like wear 4x a week amazing. Like wear with sweatshirts and sneakers and dresses and boots and casually and dressed up amazing. In fact, you can see how I wore them with a tunic and OTK boots here.
So what makes these the faux leather leggings anyone can pull off? First, the fabric which isn't overly glossy, but more of a matte textured look. This is what makes these legging so versatile. Second, the fit. They literally suck everything in. We're talking smoothing out cellulite and sucking in your tummy and doing it all while not feeling constricting in the least. It's like some kind of a miracle! These are faux leather leggings anyone can pull off, no matter your age.
Would you be interested in a post showing different ways to style these leggings? Just let me know in the comments!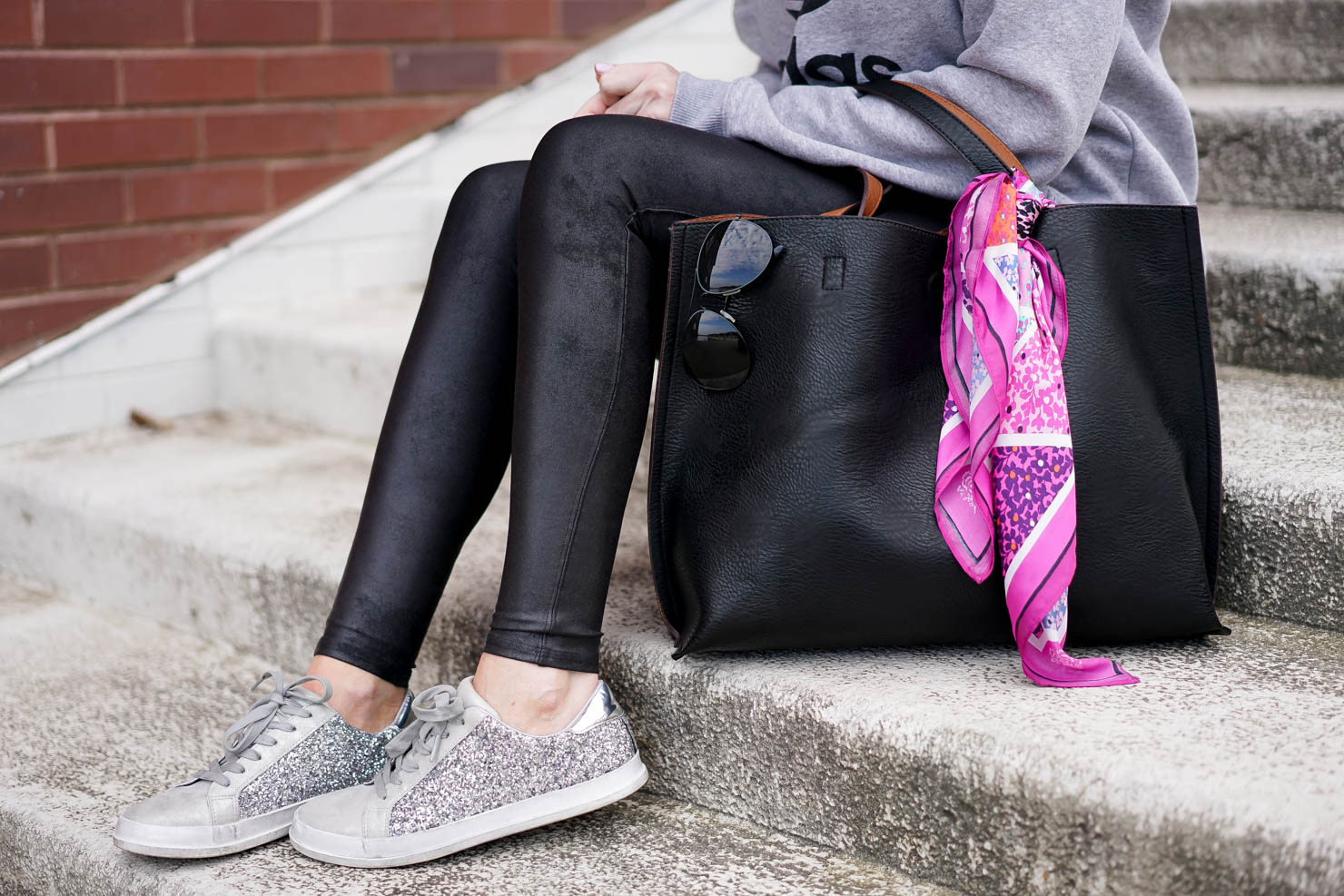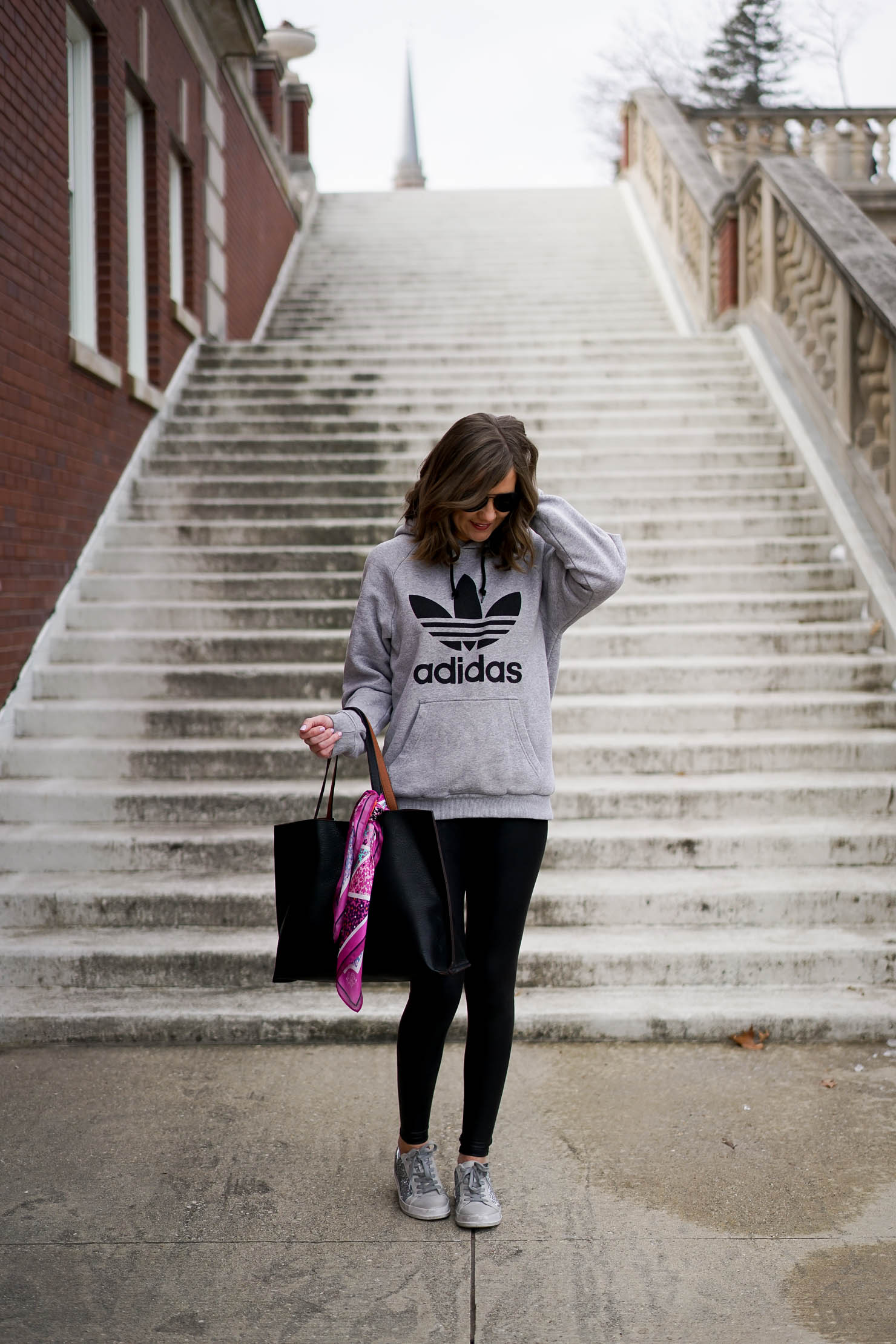 The Athleisure Trend
In this post, I styled these faux leather leggings anyone can pull off in a super casual way. I've been living in this oversized Adidas sweatshirt that's actually men's! If you prefer the women's version you can find it here. A couple of other newer purchases are these glittery sneakers that can make even a bad day feel better and are under $30, and this under $50 reversible tote that literally every woman should own. This is an outfit I wear lots of weekend and frankly lots of week days when I'm just running errands or working from home. What are your thoughts on the athleisure trend?
And now for a giveaway so that you can get yourself a pair of these leggings!
| Hearts of Gold Blog | Dressed to Kill (DTK Austin) | Two Peas in a Prada |
| The Sugared Lemon | Pish to Posh | Coffee Beans and Bobby Pins | Fashion And Frills |
| Jasmine Elias | Posh in Progress | From the Family With Love | Styled Blonde | So Heather |
| Outfits & Outings | Busbee Style | Kayleigh's Kloset | Lou What Wear | Bay Area Fashionista |
| Hey There, Chelsie | The Chambray Bunny | 30A Mama | The Style Lynn Life | Zoë With Love |
| The Polished Posy | Pretty Little Shoppers | The Sensible Shopaholic | Eat Pray Wear Love |
| A Gallon of Glitter | To Be Bright | Wishes & Reality | Style on Edge |
This giveaway is brought to you by the talented bloggers you see above! Enter by performing the actions below in the Rafflecopter for a chance to win a $500 Nordstrom Gift Card. This is definitely one giveaway you won't want to miss!
Make sure to do the actions in the Rafflecopter before marking they are done! Marking done doesn't automatically perform the action.
(We do verify entries!)
Giveaway runs from Jan 30, 2018 to Feb 13, 2018 (concludes at 12:00 AM on the last day). Open to the US, UK and CAN. By entering you are agreeing that you are performing the actions in the Rafflecopter that you have marked as done and you understand you may be subscribed to hosts' email lists. By entering you are agreeing that you agree to these newsletter subscriptions and all other terms & conditions of the giveaway. More giveaway details can be read in the terms & conditions in the Rafflecopter. Winner will be announced within 10 days of the conclusion of the giveaway and entries will be verified by the hosts. Thanks for participating, I can't wait for you to go check out these wonderful bloggers!