Mom jeans can be a little intimidating so today I'm sharing five ways to style mom jeans from dressy to casual that will leave you feeling anything but frumpy.
First, let's answer the question, what are mom jeans? Mom jeans are typically made with more rigid denim and have a high rise. They are roomier through the hips and thighs with a tapered leg. The trick is in the fit. Mom jeans should give you curves, slim the waist and hit above the ankle.
If between sizes aways go up otherwise you run the risk of them being uncomfortable or flattening your butt.
My favorite mom jeans are from Abercrombie. I think they are the most flattering and have the widest selection of washes. American Eagle has a great selection as well. My favorites are linked at the bottom of this post!
Five Ways to Style Mom Jeans
MY SIZING
For reference, I'm 5'7″ with a long torso and long legs. I typically wear a 27 in jeans or a size 4. My bra size is a 34D, and I typically wear a size medium top but sometimes size down for a more tailored fit or a large for a more oversized fit. If I own the item I will always list my size and any recommendations I have for sizing up or down for quick reference. (TTS= true to size!)
A graphic tee is always a good idea.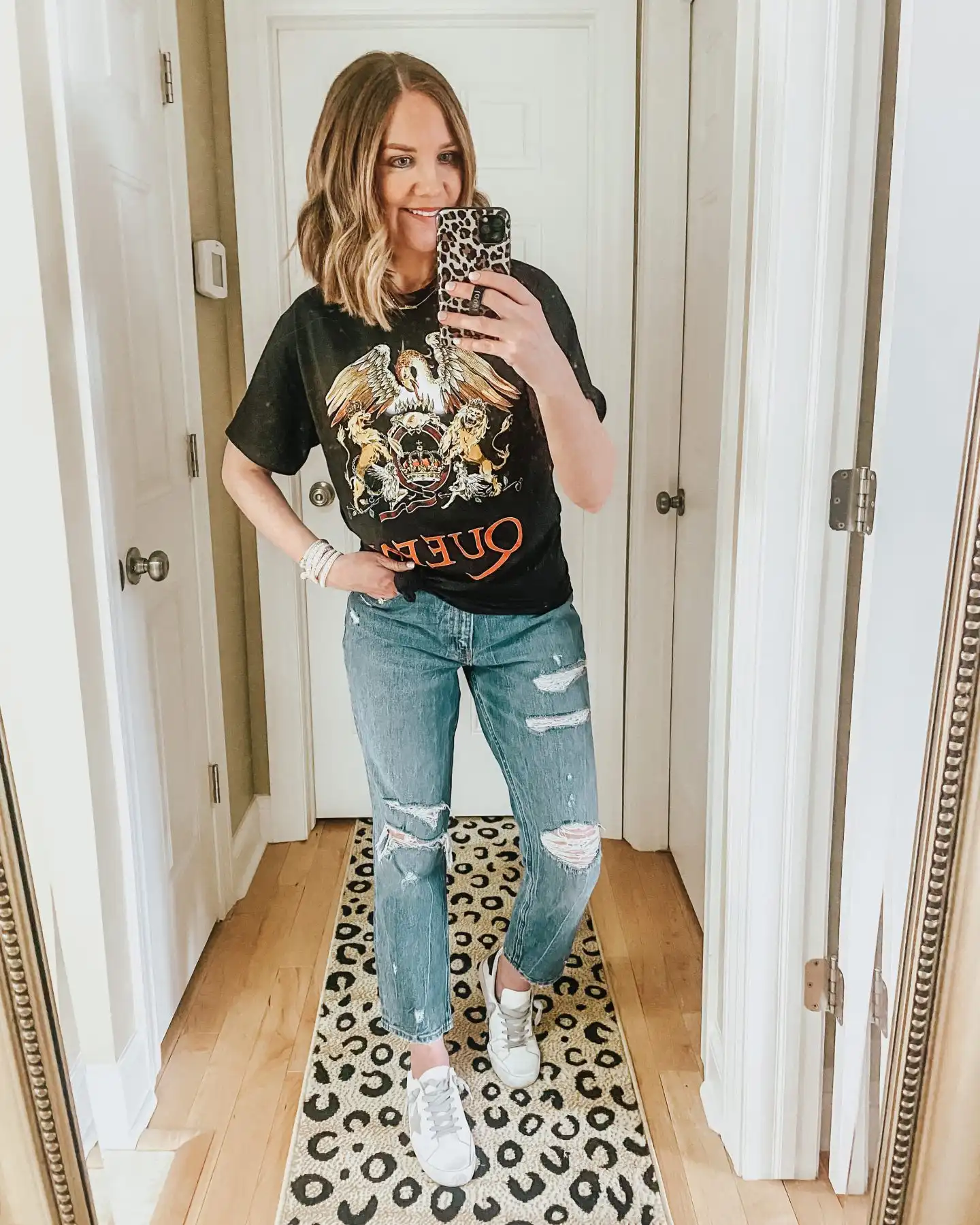 graphic tee (men's size medium) || mom jeans (wearing my true size 4) || sneakers (use size chart) || wrap bracelet
The most common way I style mom jeans is with a graphic tee and sneakers. It's a casual and cute look that's more modern than styled with skinny jeans. Add a moto jacket and your ready for a casual night out.
Add a girlie crop top.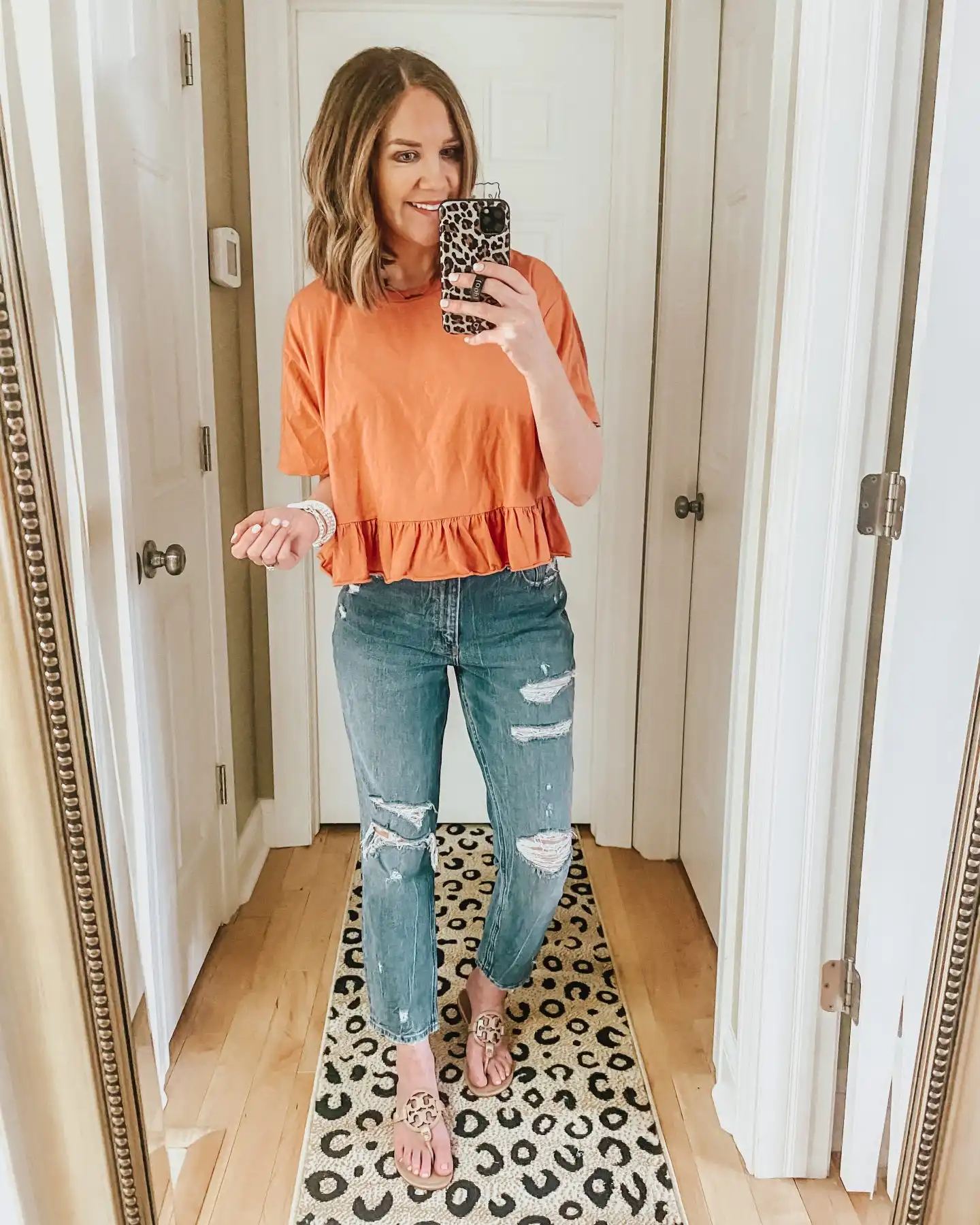 ruffle crop top (sized up to a large for length) || mom jeans (wearing my true size 4) || sandals || wrap bracelet
I also think that the high rise of mom jeans means we can all take advantage of the cropped trend! Even those of us who don't want to show any tummy;) This adorable ruffle tee complements this pair of mom jeans perfectly and makes my waist look smaller than it is.
Pair with a longer babydoll style top.
eyelet blouse || mom jeans (wearing my true size 4) || wedges TTS || wrap bracelet
Don't be afraid to pair mom jeans with a longer top. I think the babydoll shape of this one works perfectly and the wedges give the look a little more height.
Style with a bodysuit.
bodysuit (wearing a large for length but should have gotten a medium) || mom jeans (wearing my true size 4) || animal print mules (sized up 1/2 size to an 8.5) || wrap bracelet
I recently jumped on the bodysuit bandwagon and think mom jeans are the perfect pairing! Mom jeans somehow posess the magic ability to suck everything in and cinch at the waist creating the most flattering silhouette. Add a blazer for a more tailored look.
Tuck in your top.
puff sleeve top (wearing a medium) || mom jeans (wearing my true size 4) || bow flats TTS || || wrap bracelet
Mom jeans also look super cute for the above mentioned reasons with a fully tucked in top. And they're a great complement to the puff sleeve trend but you could also tuck in your grapic tee.
My Favorite Mom Jeans

Shop This Post

Have you tried the mom jeans trend? For more styling ideas be sure to visit the 'How to Style' tab at the top of my blog!