BlankNY suede jacket, tons more colors here || distressed jeans || Zara tee, similar, love this one || pumps || bag, and similar bag charm || similar sunglasses
photos by the lovely Anna of A Lily Love Affair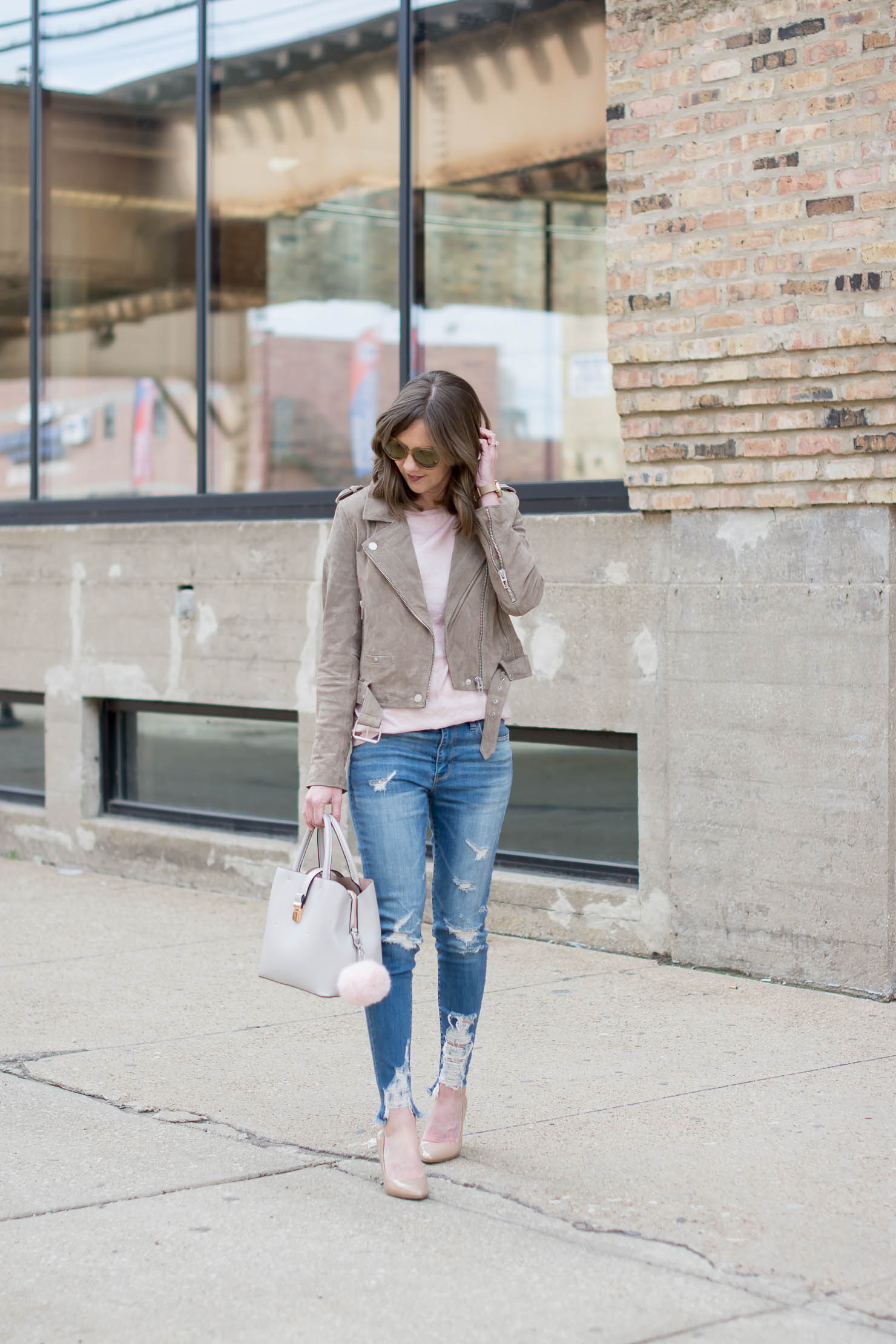 "I've always thought of accessories as the exclamation point of a woman's outfit." — Michael Kors
I absolutely love this quote. Its really is the epitome of my style philosophy:
The devil is in the details.
When most people think about accessories the first thing that comes to mind is usually your shoes or your bag, or even your jewelry. But I look at outerwear as a form of accessorizing as well. Sure its at the more practical end of the spectrum, but the right jacket can add the perfect finishing touch to an outfit.
The Suede Moto Jacket
This suede moto jacket first caught my eye last summer during the Nordstrom anniversary sale. It was a blogger favorite and sold out in no time. Ever since, and as other colors were restocked, I've been contemplating purchasing. When I discovered it in this somewhere between beige and grey shade, I knew I had to pull the trigger. I feel like wanting something for 3 seasons means its going to be a well-loved piece, right? 🙂
And this isn't the only beautiful color available. This jacket comes in a plethora of gorgeous neutrals and spring pastels. It feels sort of like your denim jacket's edgier cousin in that its super versatile. It feels just as perfectly matched with a floral dress as it does these distressed jeans. (You might remember these jeans from this post. If you've been contemplating pulling the trigger, I highly recommend acting now. They are selling out fast!)
I digress…the other thing I love about this jacket is that its soft hue and buttery soft texture is so perfect for this time of year and even into fall. I love my black leather jacket as much as the next girl but this version is exactly what my wardrobe had been sorely lacking.
My only regret is not making the purchase sooner…
Thank you so much for stopping by!