American Eagle jeans, similar (more white denim that I love) || Old Navy sweater, similar (1/2/3) || Forever 21 jacket, similar (1/2/3) || Matisse Nugent booties (on sale!), also here and here || Urban Expressions bag, similar (mini in nude and burgundy) || Karen Walker 'Harvest' sunglasses (more Karen Walker sunglasses || Noir Jewelry ring
photos by Ashley of Sed Bona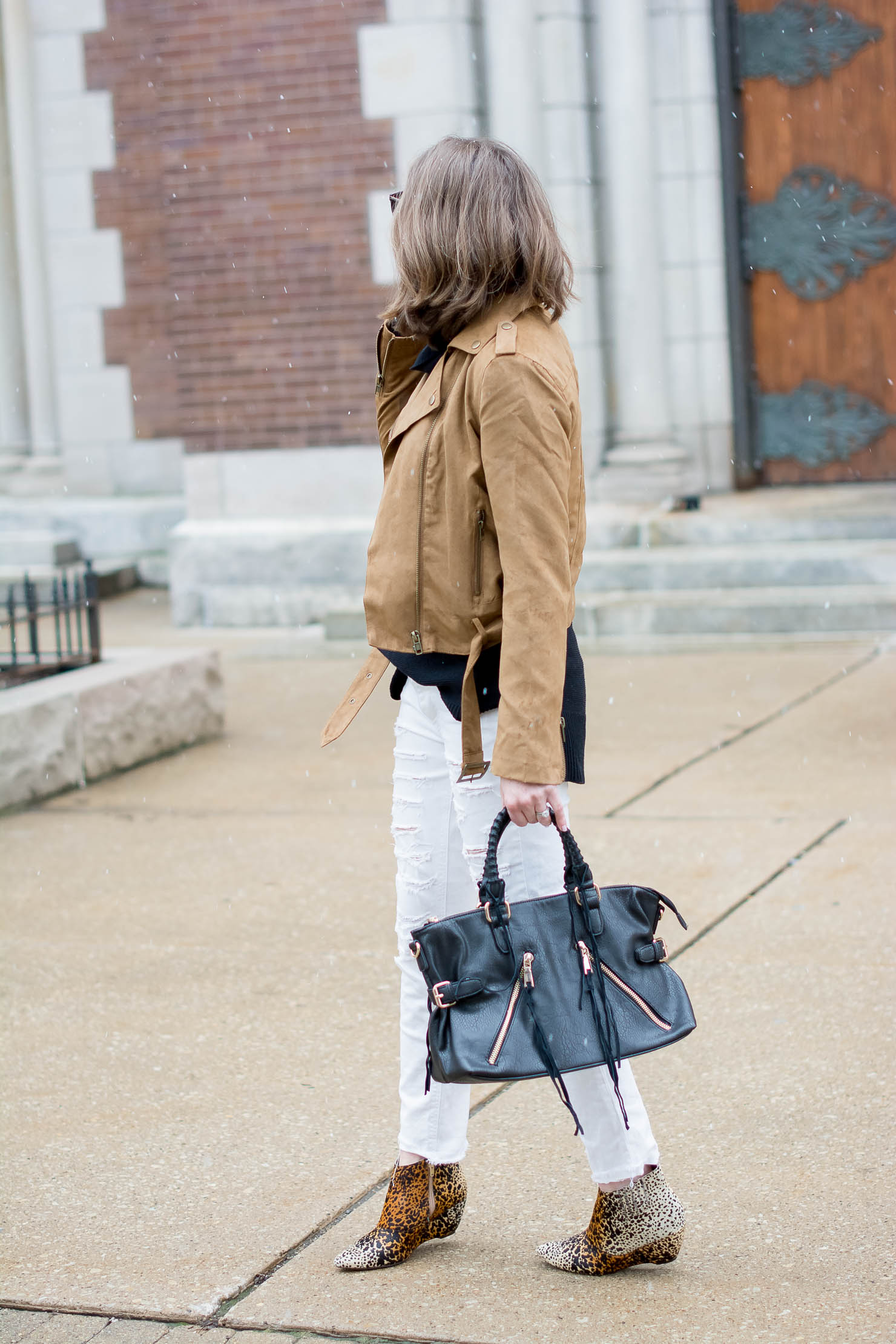 So you might notice the snow falling in these pictures…that is because they were actually shot last April during Chicago's very last snow of the season! I mentioned in Monday's post how crazy the weather is this year and at the moment we have absolutely no snow on the ground. I actually kind of miss it.
Winter White
This weird weather has me reconsidering my usual winter outfit choices. People tend to shy away from white in the winter and I get it – it can be dirty and slushy this time of year. But for some reason, and maybe its the lack of white snow, lately I've been drawn to winter whites. One of the easiest ways to incorporate white into your winter wardrobe is through one of your most basic closet staples: jeans.
White jeans look amazingly fresh when paired with all of the traditional winter neutrals. Grays, browns, black and navy all pop beautifully when paired with white. And keeping the rest of the outfit neutral feels more seasonally appropriate. Add a chunky sweater and your favorite boots and you've got a new(ish) weekend uniform.
See more of my favorite white denim. Or shop here:

How about you – do you embrace white in the winter?