Maison Jules dress, similar || similar coat (1/2) || Hunter adjustable rain boots (more Hunter boots I love) || Karen Walker 'Super Duper Superstars' (more Karen Walker sunglasses to check out!) || Kate Spade New York 'Cedar Street – Maise' Leather Satchel
photos by Ashley of Sed Bona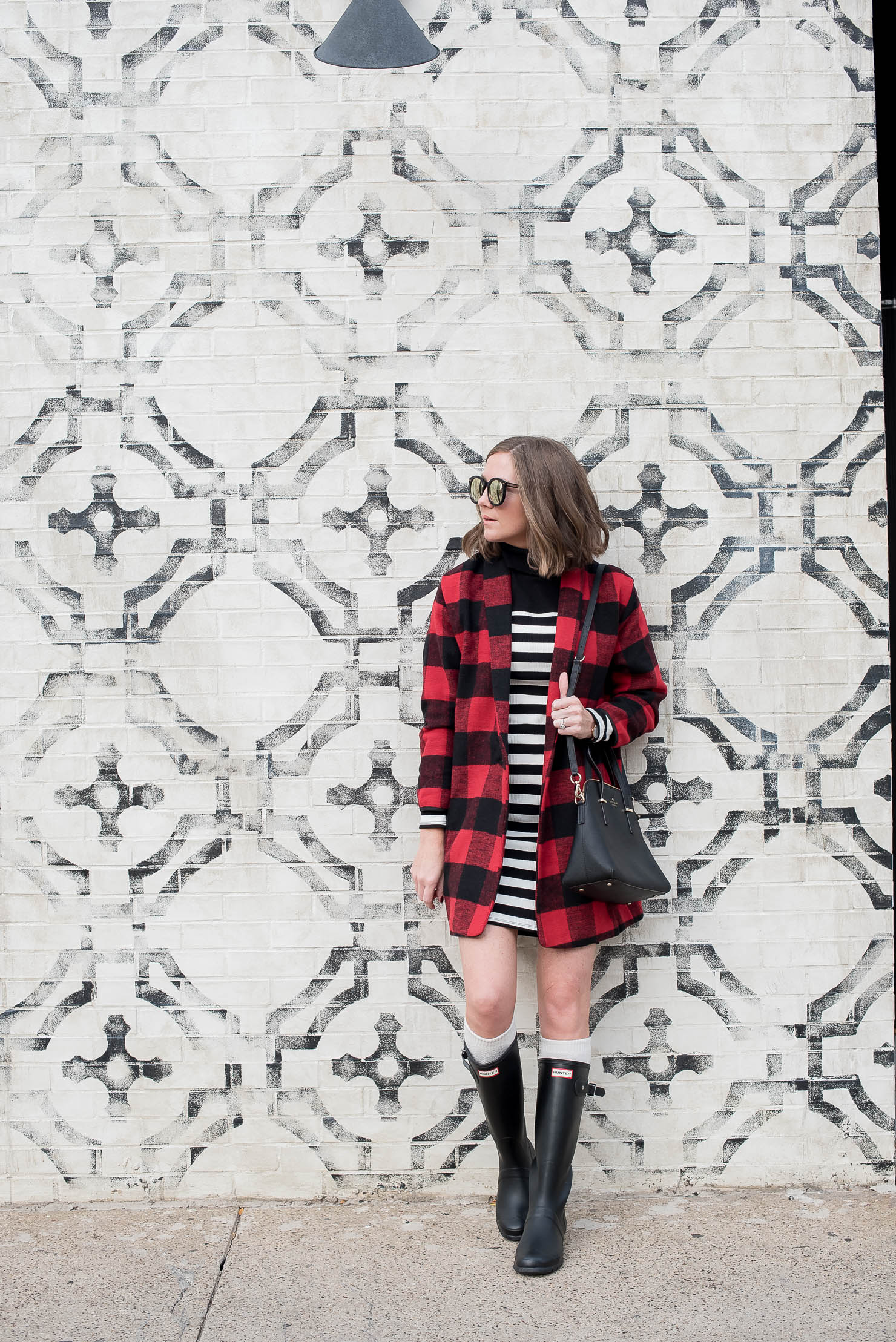 Happy Monday guys! I hope you had a great weekend! Matt and I had an amazing anniversary celebration on Thursday and then I spent the following 2 days recovering from a sudden bout of strep throat. Who the heck gets strep throat in their 30's?! I made the most of it though. Lots of naps.Loooooots of naps. Then yesterday I got myself together and went out for a long awaited day of shooting with my good friend Anna. We finally got some shots of my new haircut which I'll be sharing right here, very soon!
Hunter Boots + Dress = Easy Weekend Uniform
So today I'm pairing my favorite Hunter boots , which are normally some of my favorite go-to winter boots with…a dress! Why? Because Chicago is in the middle of maybe the strangest winters ever. I'm pretty sure we've swapped places climate-wise with the likes of Portland, OR. Torrential downpours, thunder, followed by ice, followed by sun. Only to cycle through it all again. Wasn't this supposed to be the coldest, snowiest winter in years? It hasn't snowed since way before Christmas and frankly, I miss it. I'd take snow any day over this damp, wet business. How do you Northwesterners do it?!
This crazy weather has kept this sweater dress on heavy rotation. There aren't many sizes left but linked a similar option above and you can find tons more sweater dresses that I love here. A fun coat and sunglasses and my favorite bag and I'm good to go for a day of running errands. Chilly? Just add tights:)
Thanks so much for stopping by! I promise I will be more coherent later in the week when I'm feeling better!