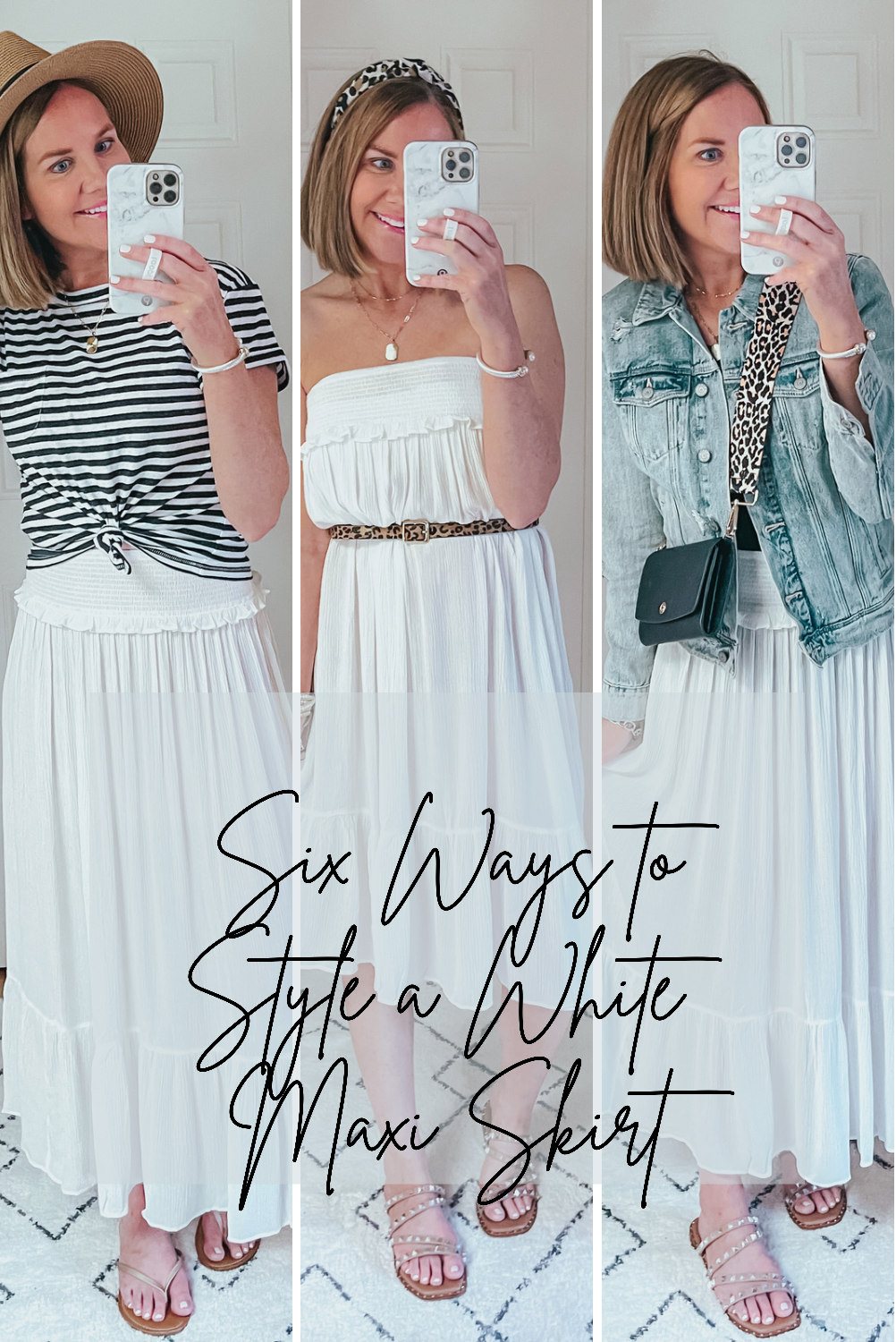 One of my favorite pieces to wear in the summer is a white maxi skirt. Flowy and comfortable and surprisingly versatile. There are so many ways to style a white maxi skirt, and I thought it would be fun to share some of them with you today. It really is a piece that can be dressed up for date night or thrown on over a swimsuit for a trip to the beach. And a big thank you to Walmart Fashion for partnering on this post!
Shop Six Ways to Style a White Maxi Skirt

MY SIZING
For reference, I'm 5'7″ with a long torso and long legs. I typically wear a 27 in jeans or a size 4. My bra size is a 34D, and I am a true size medium in tops but sometimes size down for a more tailored fit or up for a more oversized fit. If I own the item I will always list my size and any recommendations I have for sizing up or down for quick reference. (TTS= true to size!)
Six Ways to Style a White Maxi Skirt
Look #1: One of the easiest ways to style a white maxi skirt is with a simple tee knotted in the front, a pair of sandals, and a summer hat. This look is casual but still pulled together for everything from a trip to the farmers market, to a lunch date, to an evening on the patio. This tee from Walmart is such great quality and comes in lots of colors. I'm in a size small.
Look #2: One of my favorite details on this skirt is the smocking at the waist. This means that it can also be pulled up over the bust and styled as a dress. For this look, I added a leopard belt to create shape.
Look #3: For this look, I paired the skirt with a black bodysuit and layered a denim jacket over the top. A bodysuit is one of my favorite things to wear with a maxi skirt. It keeps the silhouette fitted on top and balances out the flowiness of the skirt.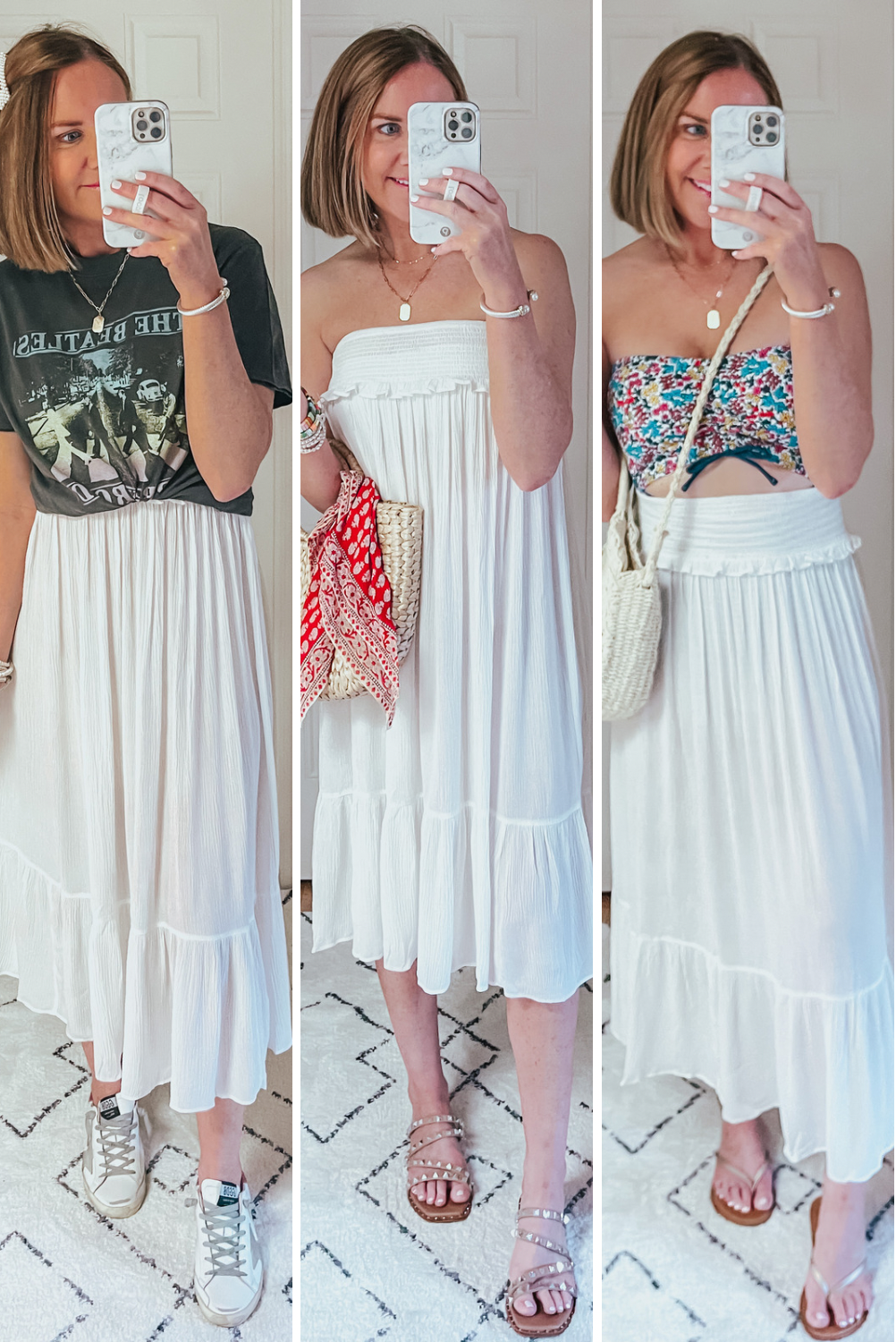 Look #4: Another one of my favorite ways to style this skirt is to wear it with a graphic tee and sneakers. I also pulled the waist of the skirt up a little bit to create more of a midi length. Cute and casual and I love the mix of feminine and edgier details. Walmart is one of my favorite destinations for graphic tees, they are super affordable and always on-trend.
Look #5: I also style the skirt as a dress here but left it loose and flowy. This look is perfect for a hot summer day or layered over a swimsuit. It could also be dressed up with wedges for date night.
Look #6: Speaking of swimwear, I love wearing this skirt over my favorite swimsuits for a pool or beach day. This one piece, also from Walmart, has the prettiest mixed prints and great coverage and support. I have a fair number of swimsuits from Walmart and they are all such great quality!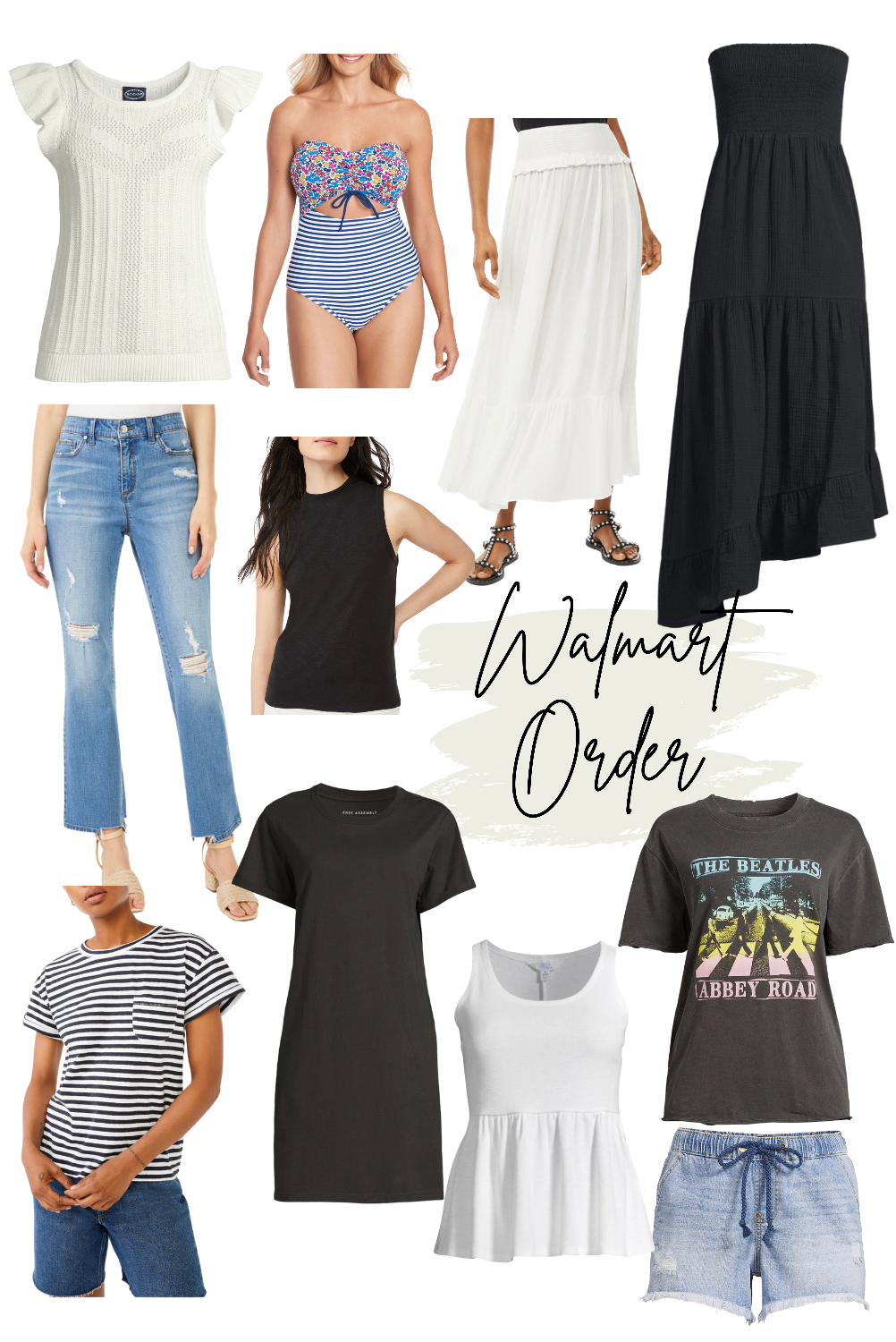 Shop My Walmart Order

For more Walmart summer fashion finds, be sure to check out THIS POST!