Even if you're a newer reader of this blog, you're likely aware of my love of Spanx faux leather leggings. These leggings are on the pricier side but their versatility makes them worth every penny. So today I'm going to do a full Spanx leggings review and share some of the best dupes!
I have shared my Spanx time and again here on the blog, over on Instagram, and also on Pinterest. I even have a whole post almost exclusively dedicated to my beloved Spanx! Spanx faux leather leggings are the most versatile item in my closet. And they're also super comfortable.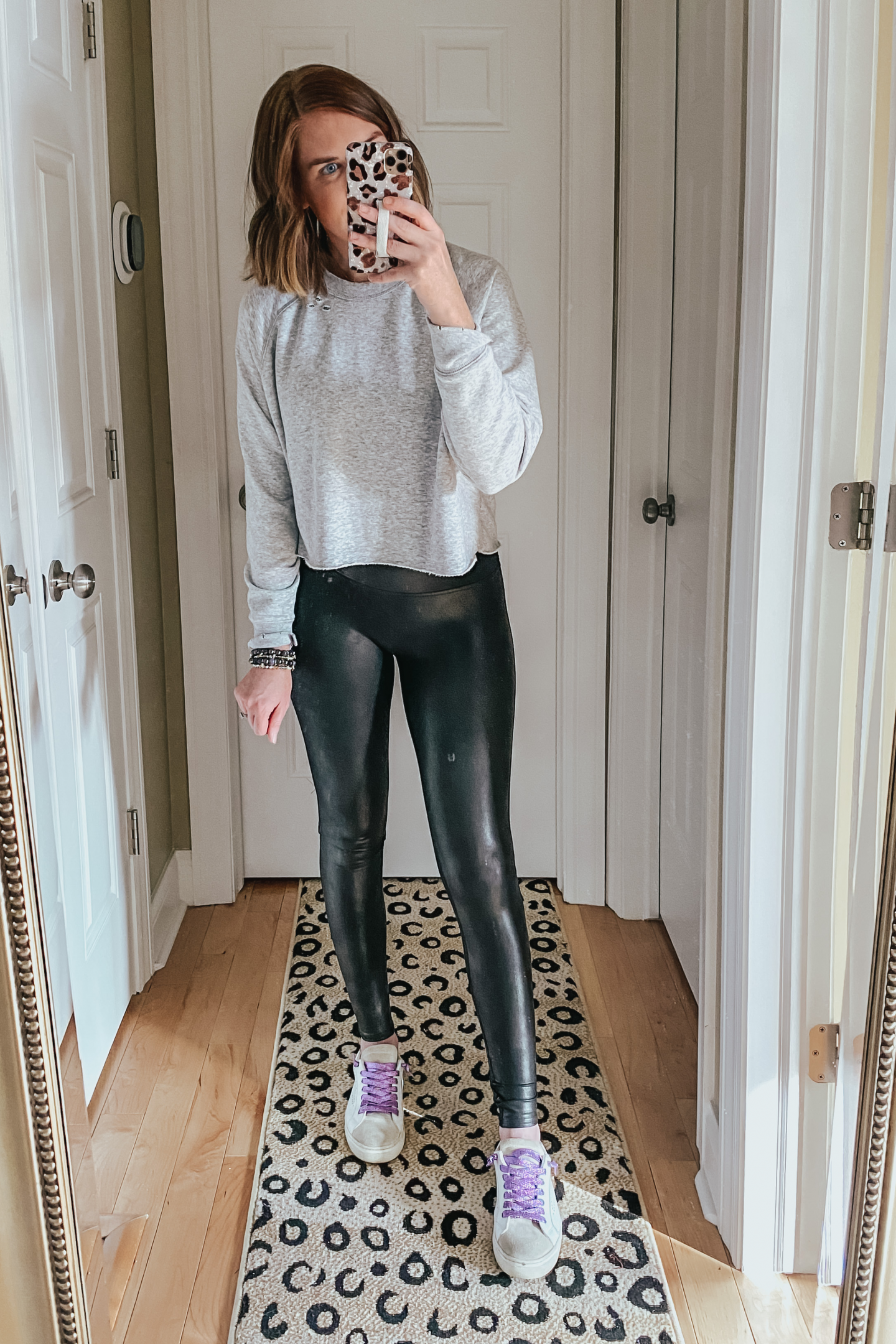 A Full Spanx Leggings Review
As I mentioned above, my Spanx leggings are easily the most versatile item in my wardrobe. You can dress them down for a date night, or wear them super casually with a sweatshirt and sneakers. They pair perfectly with tall boots and even layer under sweater dresses.
Very occasionally you can find them on sale but even at full price, they are honestly worth every penny. They feature a contoured power waistband that gives you a flat tummy and a great butt. Spanx does use compression technology so I recommend going up one to two sizes for comfort. They will still give you great shape and support but be much for comfortable. I wear a size medium.
Spanx leggings come in x-small all the way through 3X. They also come in regular, tall, and petite lengths but do run quite long. I'm 5'7″ and wear the regular length and they're almost too long on me. If you 5'5″ or under, I'd recommend ordering the petite length.
The one thing that sets Spanx faux leather leggings apart from the alternatives is the absence of the unflattering seam at the crotch. If you look at the side by side photo at the top of this post, you will see that is really the only obvious difference between the three pairs of faux leather leggings. However, with that being said, I prefer to have both my butt and crotch covered when I wear leggings. So in that sense, you wouldn't notice the sea at all!
That's my Spanx leggings review! Read on for my thoughts on two more affordable look for less options.
The Best Spanx Dupes
If you like the look of faux leather leggings but don't think you'll wear them enough to justify the price tag, consider these two more affordable options. First, let's talk about these $16 Wild Fable liquid leggings. Yep, $16!!! While they lack the compression feature of Spanx, this can be somewhat solved by sizing down one size. And unless you look at them literally side by side, the texture almost impossible to tell apart.
They are also high waisted and very comfortable. They do have the annoying seam at the crotch, but again, I prefer to wear longer tops with my leggings. I wear a size small in the Wild Fable liquid leggings.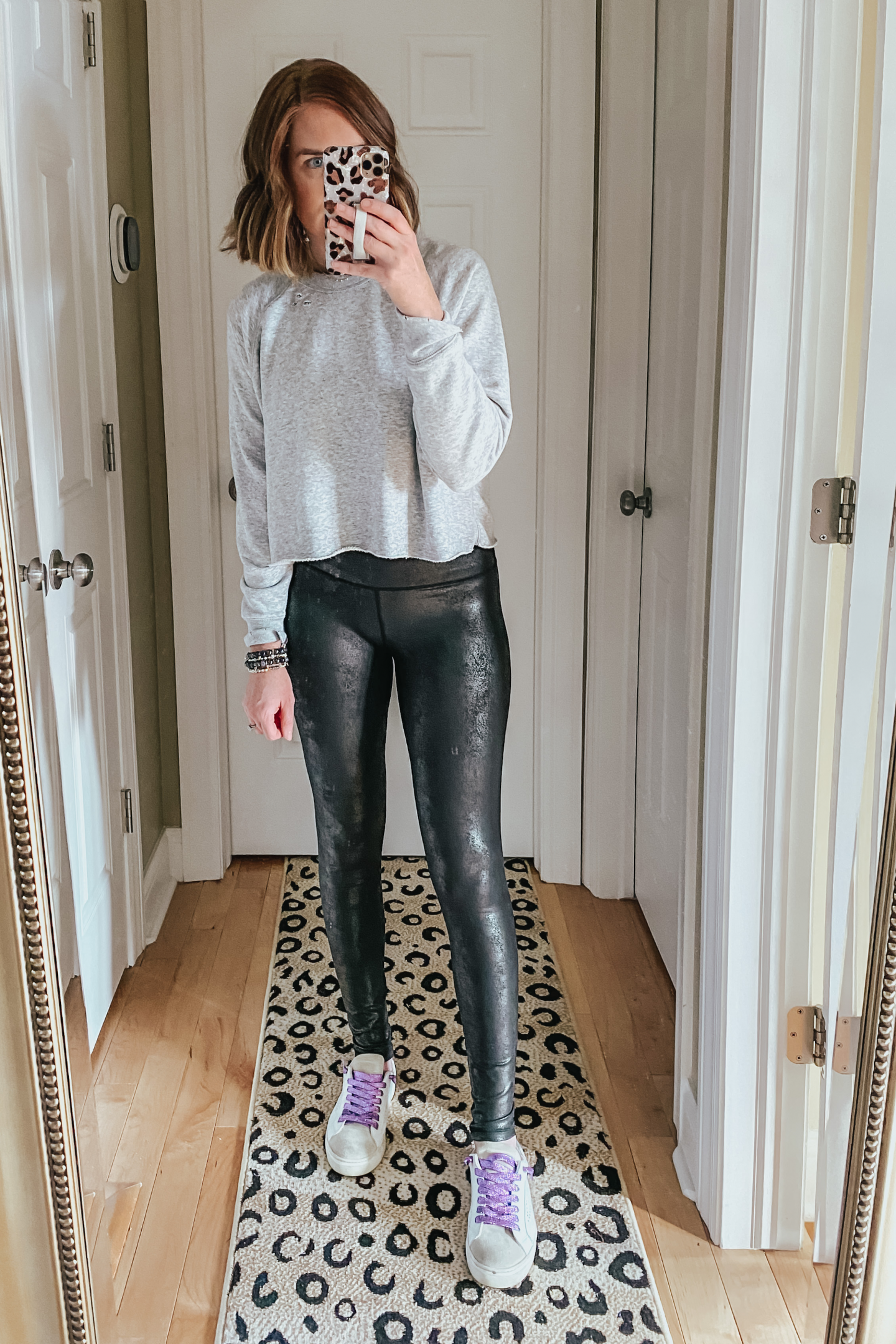 The other alternative to the Spanx leggings that's the closest I've found in terms of both the look and feel is the Hugger High Waisted Crackle Legging from Offline by Aerie. It has the same texture, gives good compression and are actually a little warmer than my Spanx, which I'll definitely appreciate in the winter. These also have a nice high rise and hold everything in. Unfortunately, these leggings also have the seaming at the crotch.
I went with a medium tall but probably would have have been fine with the regular length. Again, I'm 5'7″ for reference. The regular price of this style is around $55 but they were on sale for $41 as of this writing.
Here are the leggings laid side by side with no filter so you can get an idea of how similar they are!
And here are they are so you can see the inside of the leggings and seam stitching side by side.
Shop My Spanx Leggings Review