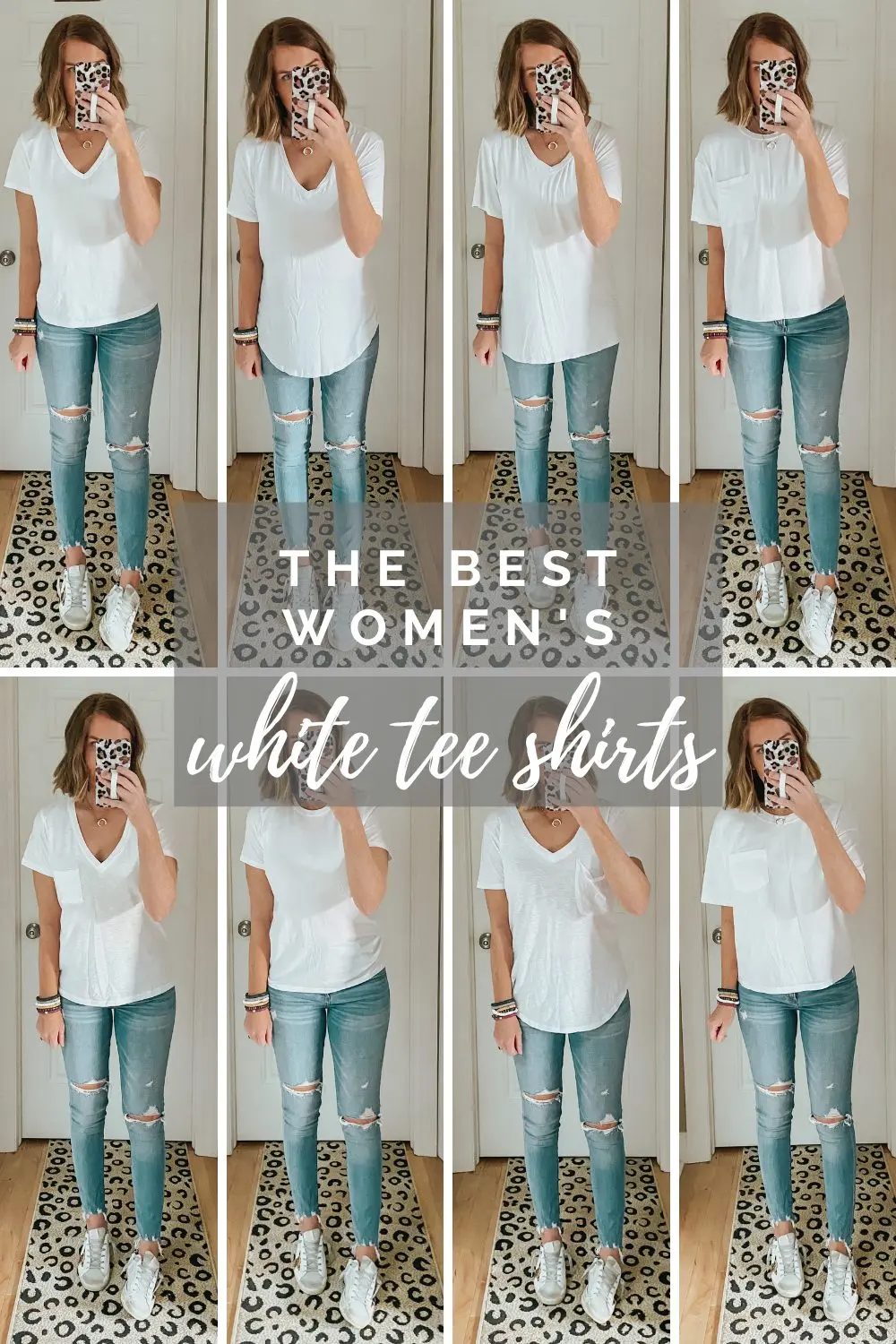 Over the past month, I've been working on the highly scientific project of finding the best women's white t shirt. After requesting your help over on Instagram, I settled on eight different white tee options, three of which I already owned. Some are crew neck, some are v-neck, some are looser and drapey and others are more fitted. I'll share my favorites, but obviously, this is all completely subjective.
The Best Women's White T Shirt Test Run
These are the white tees that I tested, in no particular order. I took a medium in each one. I'm wearing this pair of jeans in the image on the left and this pair in the image on the right.
This v-neck is my overall favorite! It has a flattering cut that isn't too fitted or too slouchy making it great on its own, or for layering. It washes up well, maintains its shape, and is 100% cotton. The fact that it's just $8 is only a bonus.
This n-neck wins my vote as best leggings tee! I had originally preferred the Amazon option below, but after shooting this post and seeing the photos, this one takes the prize. The curved hemline is more flattering and it has a better drape. The fabric content is 95% rayon and 5% spandex. The only negative is it does wrinkle easily.
This v-neck from Amazon is also a good option for layering with leggings. I actually prefer the fabric on this one, as it's slightly thicker than the Luxe tee and the v-neck isn't as low cut. I just don't find this one to be quite as flattering on. The fabric content is also 95% rayon and 5% spandex and this one also wrinkles somewhat easily.
This boxy fit tee, also from Amazon, was a big fail for me. The drapey fabric is made up of 95% Viscose, 5% Elastane and doesn't lend itself to the boxy fit, which requires a little more structure. It also ran a little large. It does have very good reviews, but it was a no for me.
This pocket tee is extremely popular and while I like the fit almost as much as the tee above, the v-neck is too low for me. It's more of a slub knit, which I like but also makes it feel very casual and therefore not as versatile. It's also quite a bit more expensive at $19.50. It is also 100% cotton.
This one takes the award for the best fitted tee. I like that it's a little more structured and tucks in perfectly to jeans. It's 100% organic cotton. If you want more of a bodysuit fit, I'd size down in this one, but I do like the slouchier fit of this size medium. I'd also love to try the slim fit tee from A New Day. It has excellent reviews and is more budget-friendly at just $8.
This pocket tee is also extremely popular, and while it's also a decent option for leggings, nothing about it justifies its $39 price tag. I don't know what I was expecting for that price, but there are just too many other affordable options out there. Basics like a white tee need to be replaced year after year, so I would much prefer to select a more budget-friendly option like this v-neck.
This boyfriend tee is my top pick for a more boxy fit tee. It has a good structure and is just $8.98! It's also 93% Pima cotton and 7% Polyester which is a really good fabric content for the price. It also washes up very well, holds its shape, and doesn't wrinkle as easily as some of the others I reviewed!
Whew, I hope this was helpful! Do you own any of the tees on this list?
Shop This Post: