I've been experimenting with low-carb and Keto-friendly dishes for some time now. And while it's easy to come up with protein-packed main dishes, side dishes can be a bit more challenging. So I've rounded up 15 of the best Keto side dishes to serve with your next meal!
Low-carb side dishes are all the craze right now and deservedly so. There are so many different ways to cut the carbs in our favorite dishes that it can be a bit overwhelming when it comes down to picking the right low-carb side dish recipe.
The Best Keto Side Dishes: Asparagus
Asparagus Casserole Keto Recipe
Cheesy baked asparagus casserole is easy to make and delicious. With a delicious creamy alfredo sauce and bacon crumbles, this hearty low carb casserole pairs perfectly with steak, a bunless burger, or grilled pork chops for a few ideas.
Ingredients
2

bunches

asparagus

1

tbsp

butter

1/2

oz

cream cheese, softened

1/2

cup

heavy whipping cream

1

tbsp

chicken broth

1/4

tsp

Italian seasoning

1/2

tsp

garlic powder

1/4

tsp

paprika

1/8

tsp

salt

1/8

tsp

pepper

1/3

cup

parmesan cheese, grated

1/8

cup

pepper jack cheese, grated

1/2

cup

mozzarella cheese, grated

1/2

tsp

red pepper flakes

1/3

cup

bacon, cooked and crumbled
Instructions
Preheat oven to 400 degrees. Wash and trim the asparagus, then grease the 9 X 13 baking pan and lay them in it.

In a skillet melt butter on medium heat, then add softened cream cheese, heavy whipping cream, chicken broth, garlic powder, paprika, Italian seasoning, salt, and pepper. Continuously whisk until the ingredients are thoroughly combined.

Reduce to a medium/low heat and allow the sauce to simmer gently boiling until the heavy whipping cream has reduced and thickened. Keep whisking so that it doesn't stick to the bottom of the pan. It will take a few minutes for the sauce to reduce and thicken.

Once it has thickened, add the parmesan and pepper jack cheese then continue to stir until the cheeses melt and the sauce is smooth.

Pour the cheese sauce over the asparagus down the middle of the casserole dish, avoiding the tops of the asparagus. Next, sprinkle the mozzarella cheese and crushed red pepper flakes on top of the cheese sauce. (Make sure to check out the process pics above the recipe card.)

Bake for 15 minutes. If you prefer crunchier asparagus, you can reduce the baking time for 2-3 minutes.

Remove from oven and add bacon crumbles to the top.

Bake for another 3 minutes and enjoy!
Original recipe HERE.
The Best Keto Side Dishes: Cauliflower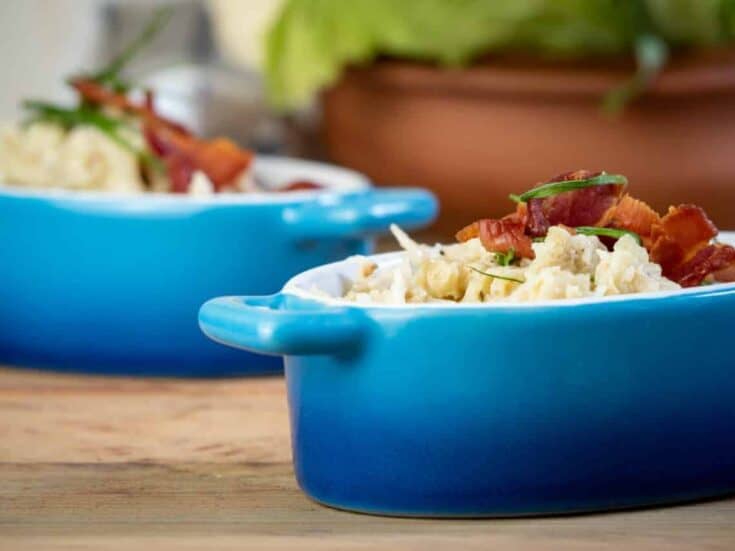 Keto Cheesy Bacon Cauliflower Rice
Keto cheesy bacon and cauliflower rice is a savory dish consisting of exactly what its name implies: cheese, cauliflower rice, and bacon. It makes the perfect side dish for all kinds of main courses. Or, it can serve as a main course all by itself.
Ingredients
1 head cauliflower, cut into florets
1/2 cup mozzarella cheese
1/4 lb bacon
1 pinch fresh ground black pepper
Instructions
In a skillet, cook the bacon until almost crispy
Remove bacon and set aside, leaving fat in the skillet
Using a food processor, process the cauliflower florets into a rice-like consistency; pulse button/option is best for this
Place cauliflower rice into skillet and cook for roughly 10 minutes
Cut or crush the bacon (should be cooled and somewhat harder at this point) into smaller pieces and add to the rice
Add the mozzarella cheese
Remove from heat and serve!
Original recipe HERE.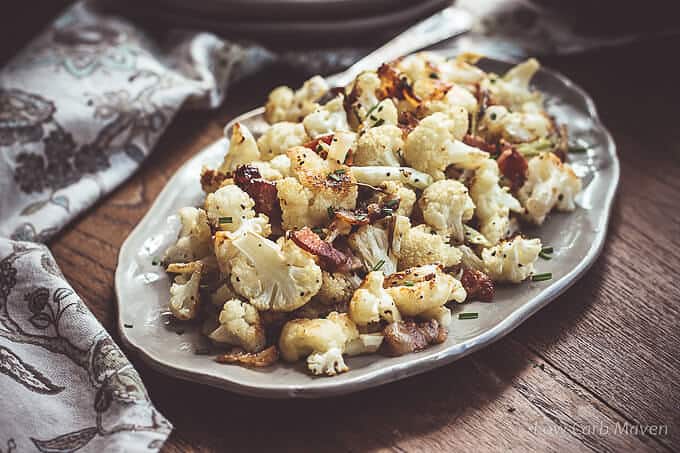 CAULIFLOWER ROASTED WITH BACON AND GREEN ONIONS
Cauliflower roasted with bacon and caramelized green onion is an easy low carb side with knock-out flavor. So simple to make: chop, toss, arrange and bake!
Ingredients
1

pound

cauliflower

3

strips

thick-cut bacon

4

scallions

sliced into 1/2 inch pieces

1

tablespoon

olive oil

1/4

teaspoon

salt

1/4

teaspoon

pepper
Instructions
Preheat oven to 400 degrees F and place rack to the middle position.

Cut the cauliflower into bite-sized pieces. Slice the green onions into 1/2 inch pieces using only the white and light parts. Slice the bacon into chunks.

Toss the cauliflower, green onion, and bacon with the olive oil and spread on a sheet pan. Season with the salt and pepper.

Cook the cauliflower 10 minutes, stir, then cook for 15 minutes more or until the cauliflower starts to brown.

Place under the broiler for a few minutes if you want more caramelization. Add more salt and pepper to taste. Serve.

Serves 4. Net carbs per serving: 4.
Original recipe HERE.
LOADED CAULIFLOWER CASSEROLE
Loaded Cauliflower Casserole has all of the flavors of your favorite loaded baked potato casserole without all of the carbs. Made with fresh cauliflower florets, sharp cheddar cheese, crispy bacon, and green onions, this Loaded Cauliflower Casserole is the perfect keto low-carb side dish. Honestly, this might be the best of the best keto side dishes.
Ingredients
6

cups

fresh cauliflower florets

.. approximately 2-3 heads

6

strips

crispy cooked bacon

.. chopped

4

green onions

.. diced

1/2

cup

mayonnaise

1/2

cup

sour cream

2

cups

block sharp shredded cheese

.. shredded

1

teaspoon

garlic powder

1

teaspoon

onion powder

1/2

teaspoon

smoked paprika

1

teaspoon

salt
Instructions
To make this Loaded Cauliflower Casserole, start by preheating your oven to 425 degrees and buttering a 9×13 baking dish and setting it aside.

To cook your bacon, spray a baking sheet with nonstick spray and lay your bacon out flat on the pan. Bake for 15-20 minutes or until crispy before removing the bacon to a paper towel-lined plate while you prepare the remainder of your recipe.

Next, add your cauliflower florets to a large strainer over a pot filled with 1-2 inches of water, bring to a boil and then cover, steaming broccoli for 2-3 minutes. When done, remove from heat and set aside.

In a large bowl, combine mayonnaise, sour cream, spices, most of the bacon and green onions along with the cauliflower and half of the cheddar cheese. Mix well and then transfer your cauliflower mixture to the buttered casserole dish. Sprinkle on the remaining cheese, bacon and green onions and bake for 15-20 minutes. Remove from oven, let sit for 5 minutes before serving.
Original recipe HERE.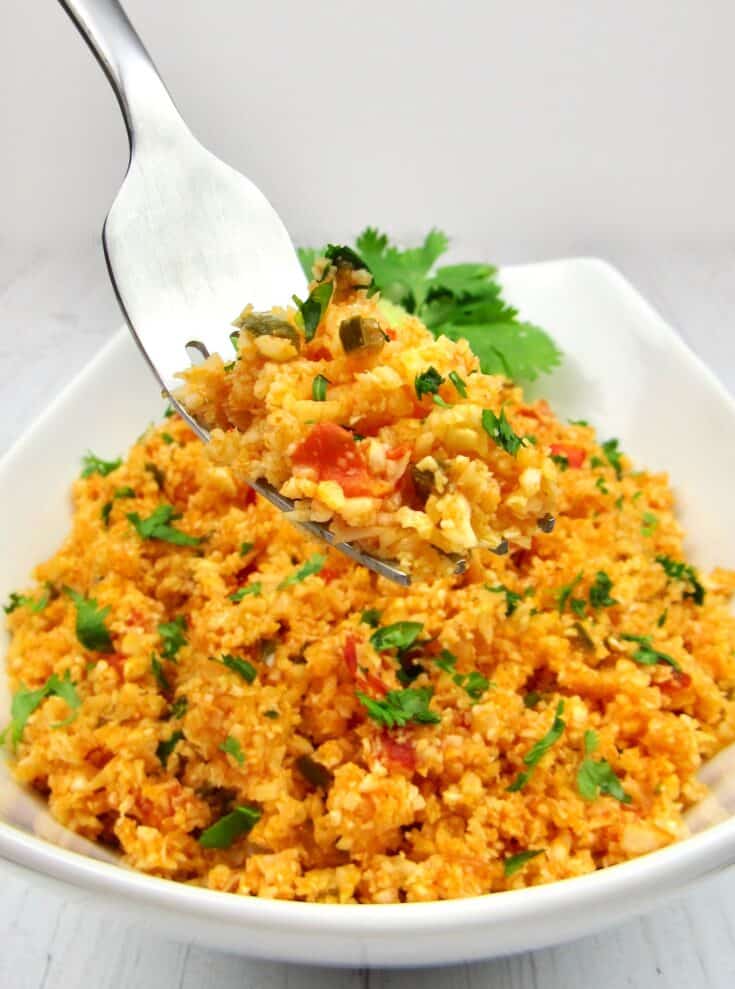 MEXICAN CAULIFLOWER RICE
Cauliflower rice gets a boost of flavor with a Mexican flair! This easy to make Low Carb side dish can be served in under 15 minutes. It makes a perfect busy weeknight side!
INGREDIENTS
1 large head of cauliflower
1/3 cup onion, minced
1/3 cup diced cherry tomatoes
1 clove garlic, minced
1/4 cup jalapeño pepper (ribs/seeds removed) minced
1 tablespoon tomato paste
1 tablespoon smoked paprika
1/2 teaspoon ground cumin
juice and zest of 1 lime
1/4 cup grass-fed butter, divided
3 tablespoons fresh cilantro, chopped
2 teaspoons olive oil
salt to taste
PREPARATION
Take a medium head of cauliflower, wash and cut into florets.
Using a food processor or large grater, rice the cauliflower and set aside.
In a large skillet over medium heat, add in half of the butter and olive oil, then sauté the onions and jalapeño pepper for a few minutes.
Add in the garlic and continue to sauté for about 20 seconds, careful not to burn it. Add in the tomatoes and continue cooking for another minute.
Sprinkle in the cumin and smoked paprika, allow to toast for 10 seconds while stirring. Add in the rest of the butter, tomato paste, lime juice, and zest and salt, and mix.
Sauté the cauliflower in the mixture for 6-8 minutes or until it reaches the texture you prefer.
I like mine a little al dente, so not soft, but with a little bite to it.
Garnish with fresh chopped cilantro and serve.
Original recipe HERE.
The Best Keto Side Dishes: Zucchini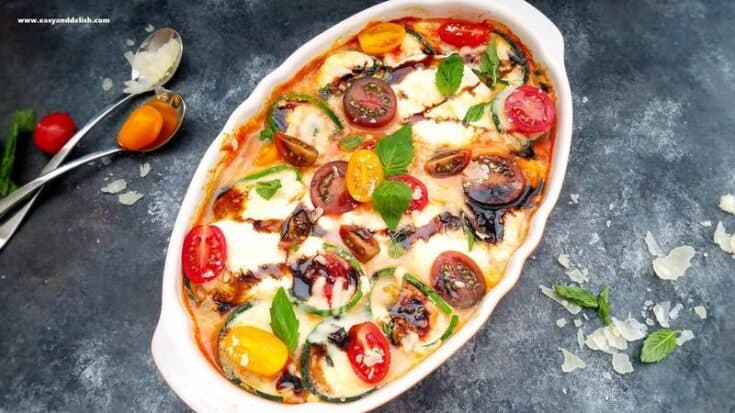 BAKED CAPRESE ZUCCHINI ROLL UPS
This "one-baking dish" Caprese Zucchini roll-up replaces lasagna pasta with zucchini, making dinner easy to prepare. with fewer dishes to clean, yet still healthy, nutritious, and delicious.
Ingredients
1/3

cup

store-bought marinara sauce (plus more to spread on zucchini)

4

zucchini, ends cut off and sliced 1/8″ thick lengthwise

1 (15-ounce)

container

ricotta cheese

2 1/2

cups

shredded mozzarella cheese, divided

1

cup

grated Parmesan cheese, divided

1

teaspoon

salt (or more if desired)

1

large egg

fresh basil leaves, thinly sliced/chopped

assorted grape tomatoes (optional)

A drizzle

balsamic vinegar (optional)
Instructions
Preheat oven to 400° F. Spread marinara sauce onto a bottom of a medium baking dish and set aside.

Cut-off and discard zucchini ends and then slice each zucchini 1/8″ thick lengthwise.

In a medium bowl, combine ricotta, 1 1/4 cups mozzarella, 3/4 cup Parmesan, and salt.

Taste and adjust salt if desired. Stir in the egg well. If you would like to, add a pinch of pepper.

On each slice of zucchini, spoon a thin layer of sauce, top with a thicker layer of the cheese mixture, and sprinkle a little bit of chopped basil.

Roll up and place in the prepared baking dish.

Sprinkle with remaining 1 1/4 cups mozzarella and then 1/4 cup Parmesan.

Cover with foil and bake for about 18-20 minutes or until zucchini is tender and cheese is melted.

If desired, garnish the top with halved grape tomatoes, basil leaves, and a drizzle of balsamic vinegar. This casserole can be served by itself or with a side of white rice. Enjoy!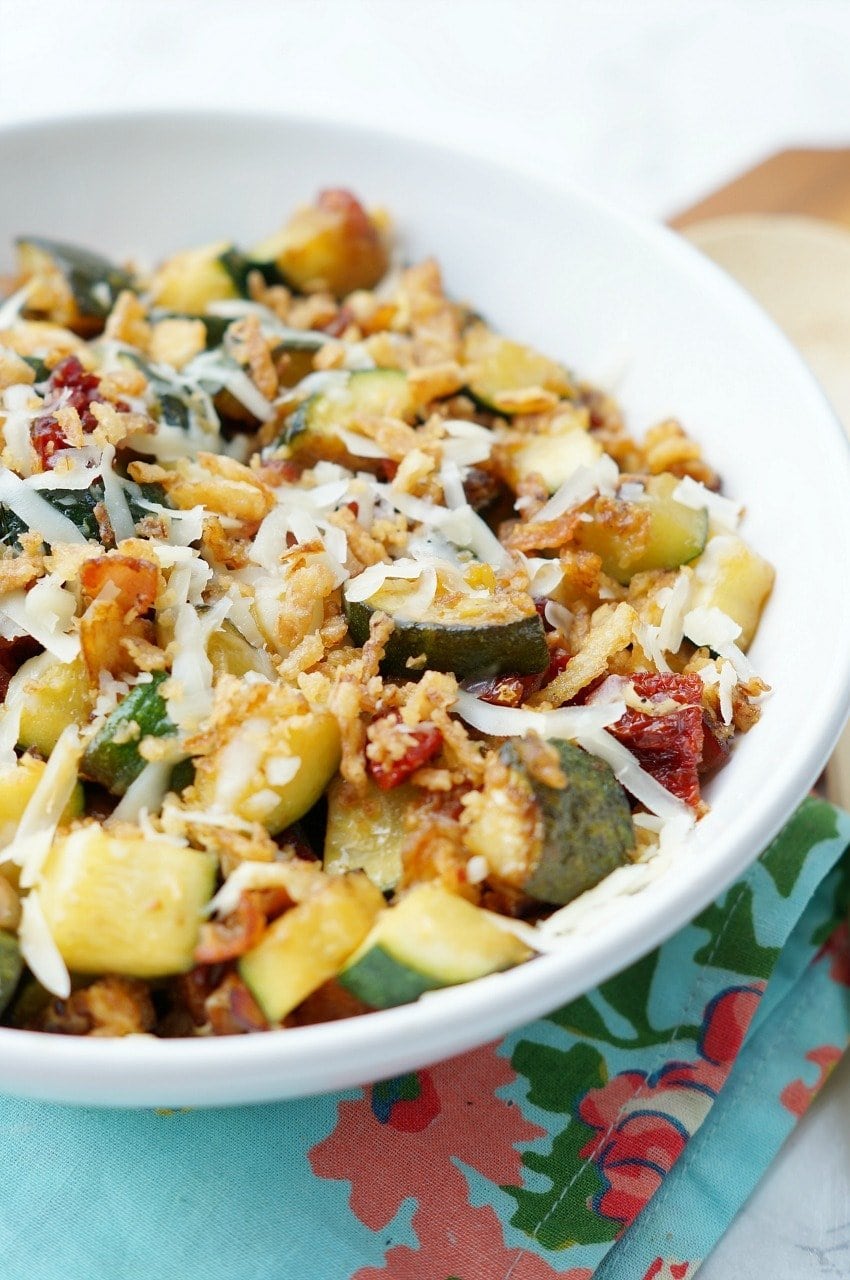 ZUCCHINI WITH SUN DRIED TOMATOES, BACON, AND CRISPY ONIONS
This flavor-packed side dish recipe that your family will ask for again and again this zucchini season. This is one of the best keto side dishes to serve in the summer!
INGREDIENTS
3

medium zucchinis

sliced into 1/2 inch pieces and then quartered

4

slices

of bacon

sliced into pieces

1/2

cup

sun-dried tomatoes

chopped

1/2

cup

crispy fried onions

1/2

cup

freshly shaved parmesan cheese

salt and pepper to taste
INSTRUCTIONS
Preheat a saute pan to medium-high heat. Add the bacon pieces and cook until crisp. Remove from pan and set aside.

Reduce heat to medium and then add zucchini to the bacon drippings ( if you have more than a tbsp. or two, then drain first) and cook for 5-8 minutes, or until it begins to soften. Add the sun-dried tomatoes and cook another 5 minutes or until zucchini is tender.

Add half the parmesan and the bacon and then stir well. Add salt and pepper to taste. Make sure to add these seasonings after adding the bacon and cheese as they are both salty foods. Once seasoned, add the rest of the cheese to the top and the crispy onions.
Original recipe HERE.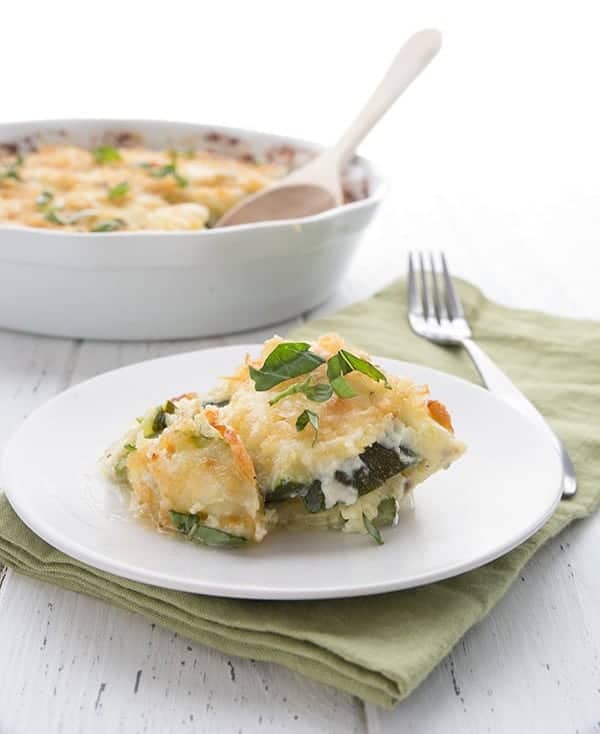 CHEESY ZUCCHINI CASSEROLE
You're going to love this easy zucchini casserole! Deliciously cheesy, low in carbs, and keto-friendly, this zucchini bake makes a wonderful summer side dish that even the kids will love. A great way to use up that bounty of summer squash.
Ingredients
2

medium

zucchini, quartered and chopped

(about 4 cups)

2

tbsp

butter

cut into small pieces

3

large

eggs

1/4

cup

heavy cream

1/4

cup

chopped onion

1/2

tsp

salt

1/2

tsp

pepper

6

ounces

shredded cheddar, divided

(about 1 1/2 cups)

1/4

cup

grated Parmesan cheese

1/4

cup

finely crushed pork rinds

Optional
Instructions
Bring a large pot of lightly salted water to a boil. Add the zucchini and cook until just tender, about 4 minutes. Drain well in a colander.
Preheat the oven to 350F. Grease a 9-inch round or 8-inch square ceramic baking dish. Spread the zucchini in the pan and dot with pieces of butter.
In a large bowl, whisk together the eggs and cream. Stir in the onions, salt, and pepper, and half of the cheddar cheese. Pour over the zucchini.
Sprinkle the top with the remaining cheddar, the parmesan, and the pork rinds. Bake 35 minutes, until bubbly and the edges are nicely browned. Sprinkle with chopped basil, if desired.
Original recipe HERE.
The Best Keto Side Dishes: Slaws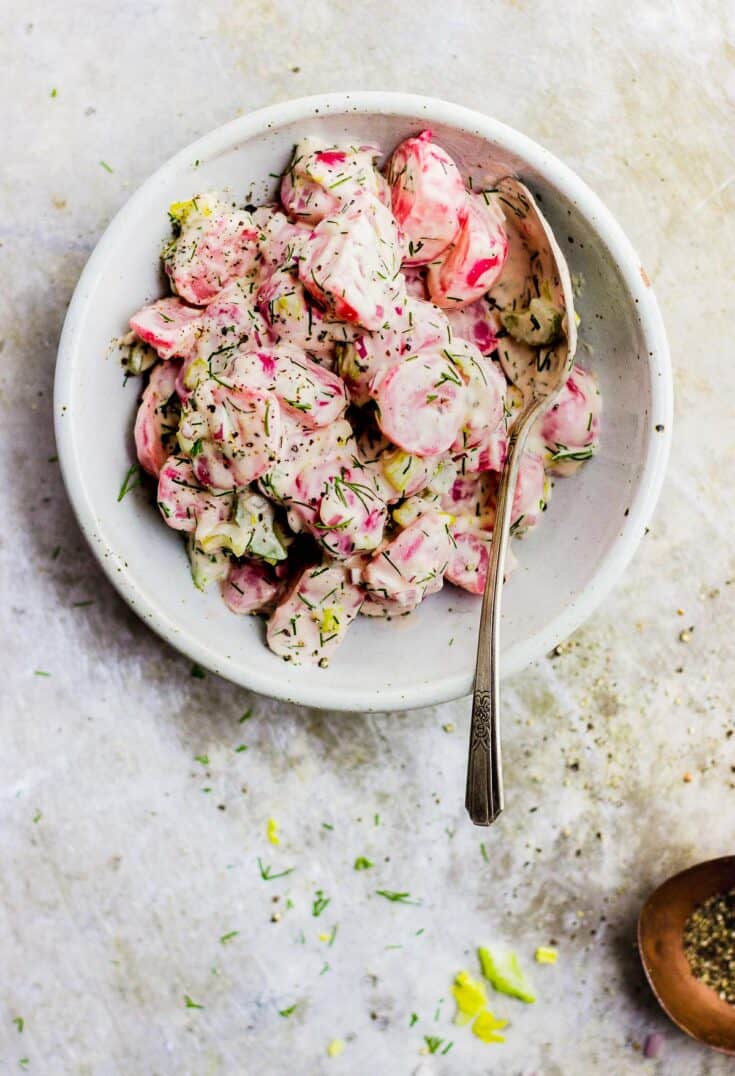 RADISH POTATO SALAD WITH CREAMY DILL DRESSING
Radish potato salad is an inexpensive, evergreen, low in calories and high in nutrients dish. Some people don't prefer radishes, because they're very spicy when eaten raw, but when cooked their flavor profile changes significantly. They become mellow, less spicy, soft and potato-like.
This radish potato salad has all the components of a traditional potato salad. And with all the right textures. The radishes are soft. The dressing is rich and creamy and infused with dill and mustard. And the celery and shallots bring the right crunch. It also comes together in less than fifteen minutes.
Ingredients
4 cups red radishes
1 cup filtered water
1/3 cup mayonnaise (see notes)
1/2 cup celery, thinly sliced
1/4 cup shallots, minced
2 tablespoons fresh dill, chopped
1 tablespoon dijon mustard
1 teaspoon lemon juice
1/4 teaspoon fine sea salt
1/2 teaspoon black pepper
Instructions
Wash the radishes, trim the tops and cut them in half. Place the cut radishes in a shallow pan with the water and bring it to a boil over high heat. Then reduce the heat to low, cover and simmer for 5 minutes.
Drain the radishes and set them on a tea towel to pat dry and cool while making the dressing.
In a small bowl mix together the mayonnaise, celery, shallots, dill, mustard, lemon juice, salt and pepper. Add in the radishes and stir to combine well.
Serve warm, or refrigerate to chill until you are ready to serve.
Easy Low Carb & Keto Coleslaw Recipe
This tangy Low Carb & Keto coleslaw makes the perfect keto side dish to bring to picnics or to serve up with keto barbecue. Includes just 2g net carbs.
Instructions
Mix all of the ingredients for the dressing
Add the coleslaw mix. You can serve immediately, but this tastes best when refrigerated for at least 2 hours
Original recipe HERE.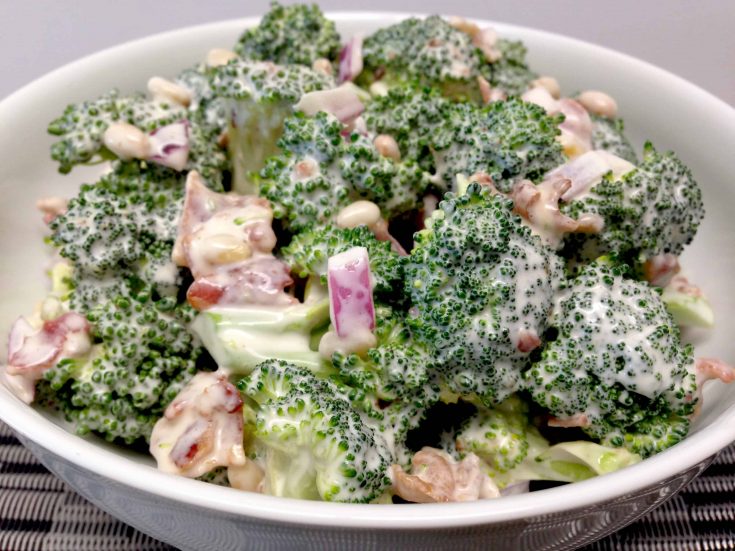 EASY KETO BROCCOLI SALAD WITH BACON
Looking for a great dish to take to your next barbecue or potluck lunch? This broccoli salad is so easy to make, is packed with flavor, no one will ever know it's low carb!
INGREDIENTS
4 1/2

cups

broccoli florets

cut into small bite-size pieces

8

slices

uncured bacon

1/4

cup

pine nuts

toasted

3/4

cup

mayonnaise

1/4

cup

sour cream

3

tablespoons

apple cider vinegar

1/4

cup

red onion

minced

2

tablespoons

swerve confectioners

Salt and pepper to taste
REPARATION
Fry the bacon, then crumble into small bits and set aside.

Add all the remaining ingredients into a large bowl, except the broccoli, bacon, red onion and pine nuts, and whisk to combine.

Add in the broccoli, bacon, pine nuts, and red onion over the dressing and toss to coat.

Let sit for 20-30 minutes so the flavors can develop and the broccoli can absorb the dressing. The longer it sits, the better it is!
NOTES
If you don't like the broccoli raw, you can steam it for 2 minutes and dry well before mixing in the dressing. You can also substitute the pine nuts with sunflower seeds, chopped walnuts or slivered almonds.
The Best Keto Side Dishes: Keto Bread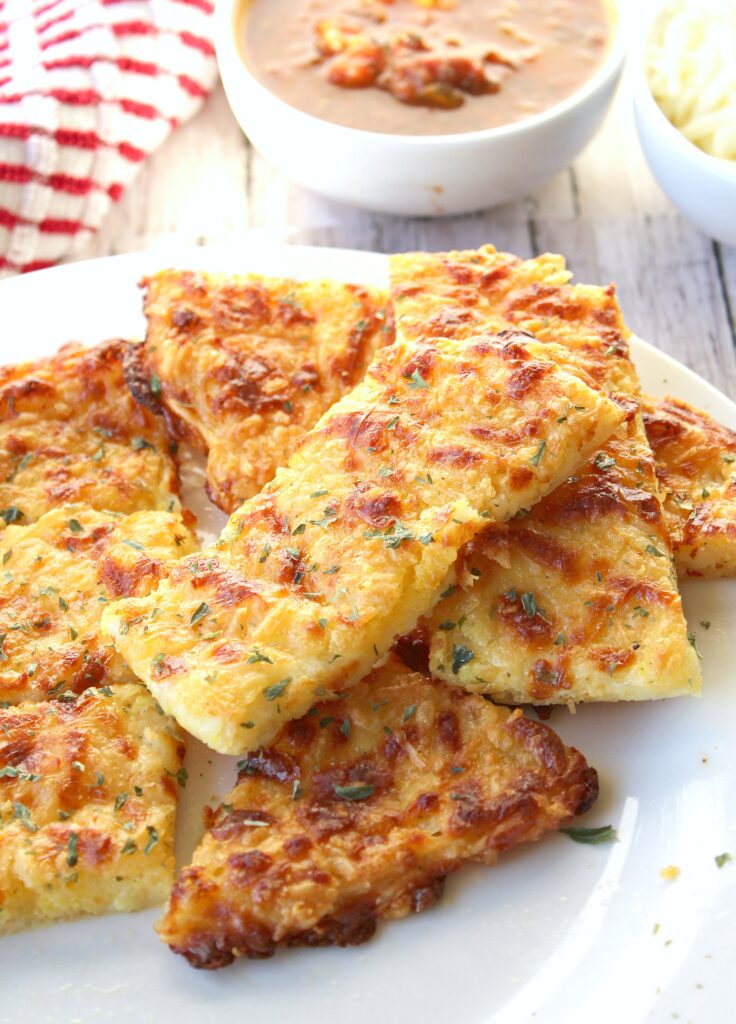 On a low carb diet and craving garlic bread? Well, you're in luck because this quick and easy keto cheesy garlic bread is a low carb flour-free recipe that will be your new go-to side dish! They're also great for on the go snacking or for dipping in your favorite low carb dipping sauce. You can even chop up keto cheese bread and use it in place of croutons.
Ingredients
1

cup

shredded mozzarella

1

cuo

Shredded parmesan cheese

1

egg

1

tsp

garlic powder
Optional:
a pinch

red pepper or even a sprinkle of parsley flakes!
Instructions
First Preheat your oven to 350 degrees and prepare a lined baking sheet with parchment paper.
Combine all of the ingredients together in a mixing bowl together until mixed together.
Thinly spread out your mixture on the parchment paper into the shape of pizza crust.
Now Bake for 15 minutes.
Switch the oven to broil for a few minutes until the cheese is golden brown
Original recipe HERE.
The Best Keto Side Dishes: Mushrooms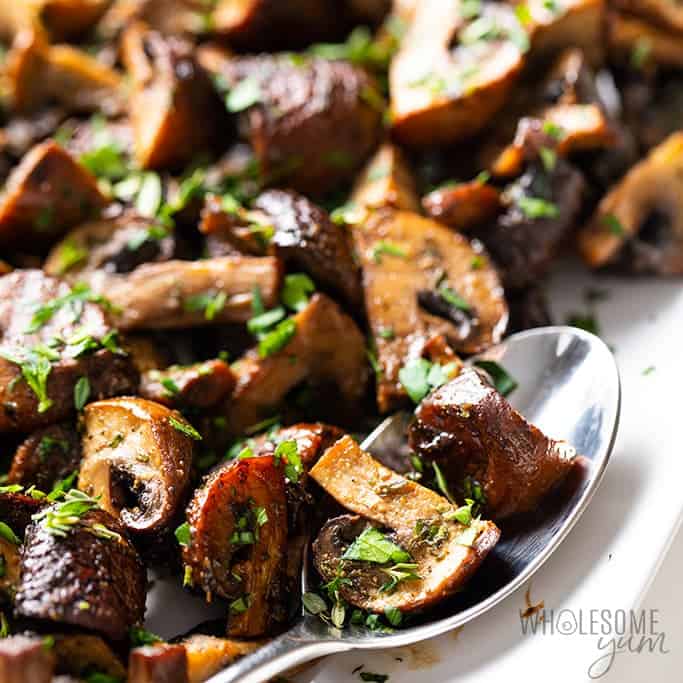 OVEN ROASTED MUSHROOMS RECIPE WITH BALSAMIC, GARLIC AND HERBS
You'll want to put these oven-roasted mushrooms with balsamic on EVERYTHING! My oven roasted mushrooms recipe is EASY, plus I'm sharing freezing instructions for balsamic roasted mushrooms.
INGREDIENTS
INSTRUCTIONS
Preheat the oven to 400 degrees F (204 degrees C).
In a large bowl, whisk together olive oil, balsamic vinegar, thyme, parsley, garlic powder, salt and pepper.
Add the mushrooms and toss to coat.
Arrange mushrooms in a single layer on a baking sheet, so that each one is touching the pan.
Roast the mushrooms in the oven for about

25 minutes

, until soft and puckered.
To serve, drizzle with balsamic reduction (optional) and sprinkle with more fresh thyme/parsley for garnish.
The Best Keto Side Dishes: Artichokes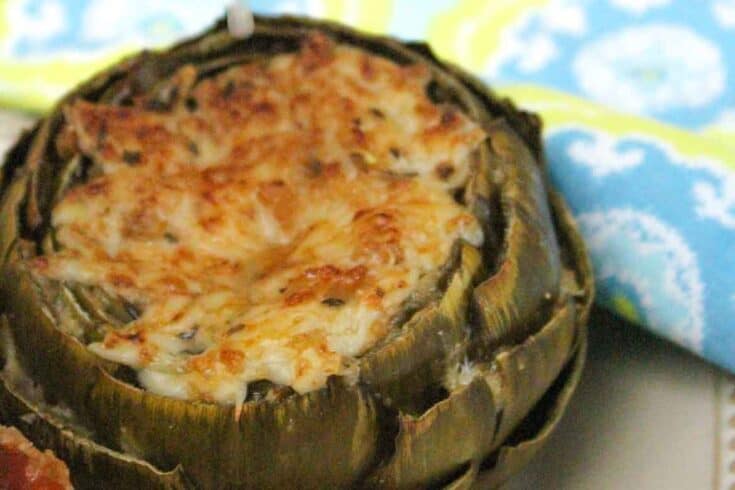 Cheese and Herb Stuffed Artichokes
This low-carb recipe for Cheese and Herb Stuffed Artichokes is an impressive and delicious side dish for your dinner table. These artichokes have a cheesy herb filling that is steamed in the artichoke leaves. And, at the very end are popped in the oven to broil a little more filling on top. The final touch of fresh-squeezed lemon juice brightens it all up!
Ingredients
2 large globe artichokes, cleaned, trimmed, and choke removed
1 cup fresh grated parmesan cheese
1-1/2 cups crushed pork rinds
1/2 tsp garlic powder
1/2 tsp basil
1/2 tsp oregano
1/2 tsp thyme
1 tsp salt
1/4 cup mayonnaise
2-3 Lemons (for juice on the leaves and to squeeze on top before serving)
Instructions
Wash, trim and remove choke from artichokes.
Rub down artichokes with 1/2 fresh lemon juice. Be sure to rub over the leaves and squeeze juice inside of artichoke leaves and heart.
Mix together pork rinds, garlic powder, basil, oregano, thyme, and salt. Remove about 1/2 cup of filling and set aside.
Push the remaining filling in between each artichoke leave and in the center where the heart is. You don't need a lot in between the leaves and if you don't get in between each leaf it's not a big deal, as long as you're dividing the 1 cup of filling evenly between each artichoke.
In your stockpot, add water until it reaches almost the top of the steamer rack.
Squeeze the juice from 1 lemon into the water and drop the lemon halves in the water also.
Place the artichokes in the pot on top of the steamer, top side up.
Cover with a lid to trap the heat/steam. Bring the water to a boil, then turn the heat down to a simmer to continue cooking for at least 45 minutes.
Once the artichokes are steamed, a leaf should be able to be removed easily by slightly tugging with a pair of tongs.
When they are ready, remove the artichokes and place them on a cookie sheet.
Mix the last 1/2 cup of pork rind mixture with the mayonnaise. Divide the mixture between both artichokes, placing it on top of the artichoke and tapping slightly to compact it.
Broil in the oven under a hot broiler until the topping is browned and bubbly.
Remove from oven and let sit 5-10 minutes before consuming.
Original recipe HERE.
Best Keto Side Dishes: Brussle Sprouts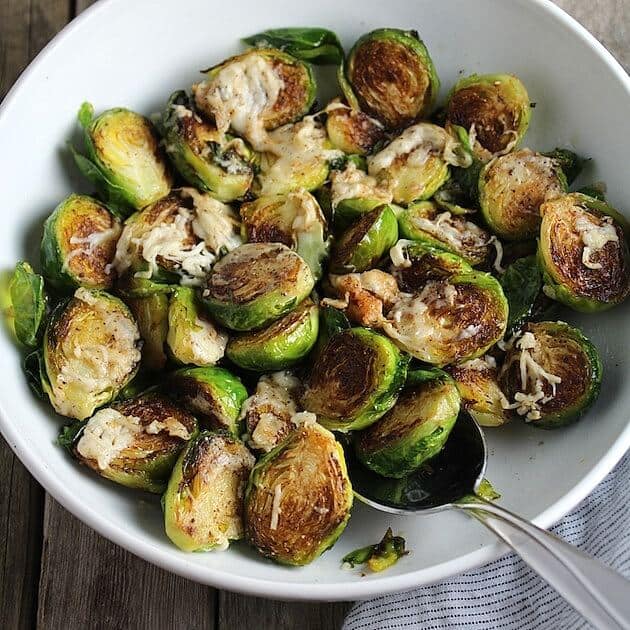 ASIAGO CHEESE BRUSSELS SPROUTS
These Asiago Cheese Brussels Sprouts are quickly pan-fried until golden, then seasoned with salt and pepper, and topped off with shredded Asiago cheese!
INGREDIENTS
1 1/2 pounds Brussels Sprouts
3 ounces Shredded Asiago Cheese
2-3 tablespoons olive oil
Salt & Pepper
INSTRUCTIONS
Gently cut off the very end of each Brussels Sprout, leaving most of it intact. This will keep the sprouts from falling apart while they are being cooked.
Next cut each one in half length-wise.
Add 1 tablespoon of olive oil in a large skillet on medium-high heat. Place the cut Brussels Spouts flat side down for about 3-5 minutes and let them brown. (Be sure to not overcrowd. If all the Brussels Sprouts don't fit in the pan, sauté a second batch.) Sprinkle with salt and pepper.
Rotate the Brussels Sprouts onto their other side in the pan and sprinkle again with salt and pepper. Sauté for 2-3 more minutes.
Sprinkle with the Asiago cheese. (Try to get the cheese on the Brussels Sprout's more than the pan.) Let the cheese melt, cook about one more minute in the pan.
Slide the Brussel Spouts onto a serving dish and dig in!
NOTES
The Brussels Sprouts should be a little crunchy. If they cook too long they will be bitter… They should still be a bright green color. If they look army green then they may have cooked too long.
Find more recipes HERE or follow me on Pinterest.