Ladies I'm jumping on the bike shorts wagon. I was late to the party on this trend but I'm telling you, I have discovered bike shorts to be so versatile and fun to style! Think of them as your summer leggings. If you're still not sure, today I'm sharing nine ways to style bike shorts for women.
The key to bike shorts is finding a good quality pair that have a high waist and mold to your body. Try them on, because it's also important that they're squat-proof. You can find bike shorts in almost any color or print but I'd recommend starting with classic black for versatility. Aerie has a great selection, as does Amazon.
Bike Shorts I'm Loving

Shop Nine Ways to Style Bike Shorts for Women

Below are plenty of outfits from sporty and casual to a little more elevated and dressed up. I had so much fun with this! And can't wait to hear what you think of these looks!
Nine Ways to Style Bike Shorts for Women
You can never go wrong with an all-black monochromatic outfit. I styled this look casually with sneakers and a fun tote. You could also wear the top untucked for more coverage and ass a baseball hat. I love that this outfit provides such a clean canvas that you can really play up your accessories.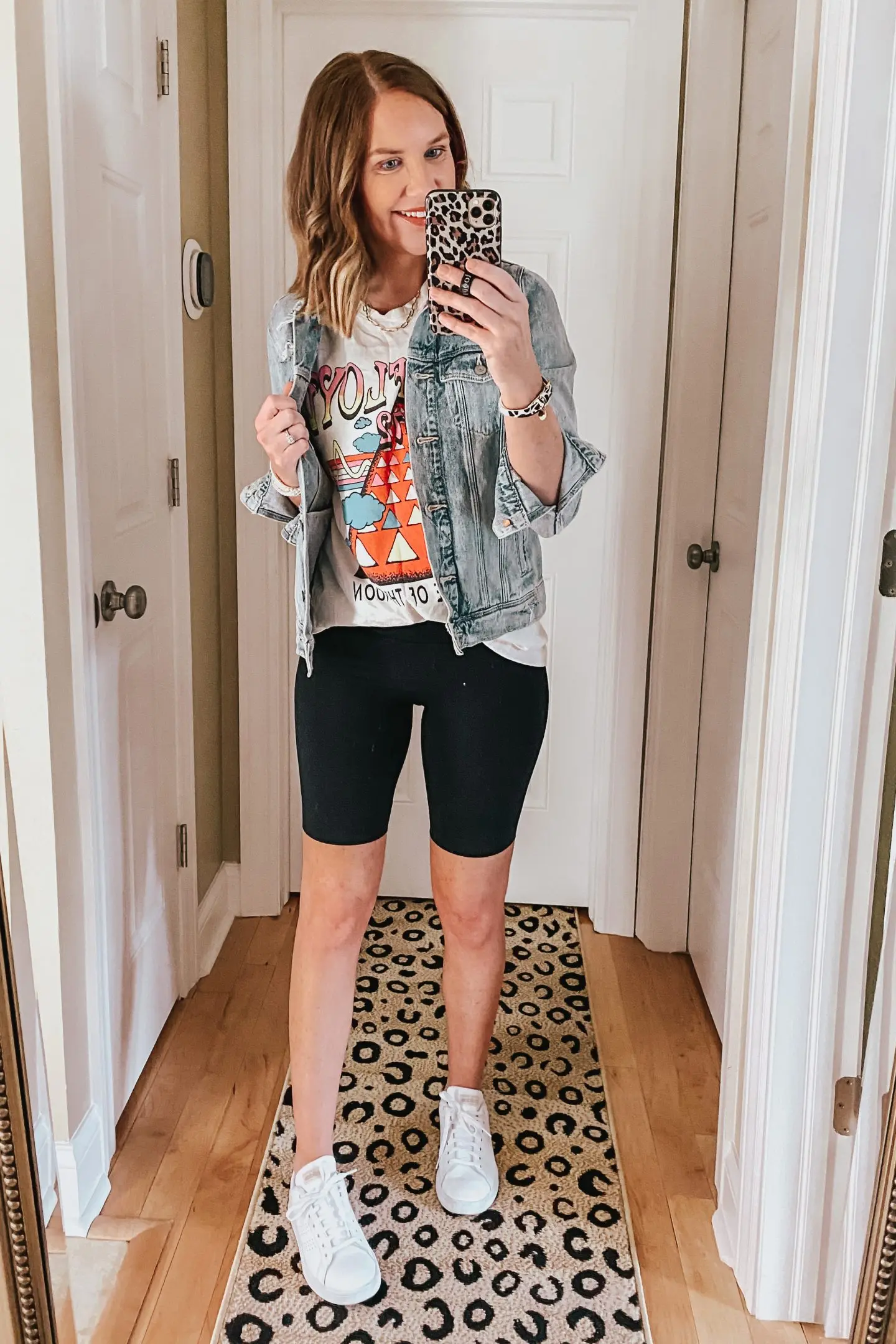 Above Outfit: bike shorts, wearing a medium || graphic tee, wearing a medium || jean jacket, wearing a medium || sneakers, size down 1/2 size || necklace
A graphic tee and a denim jacket are my go-to in the summer and look super cute when paired with bike shorts. Knot or front tuck the tee for a cute, on-trend casual outfit.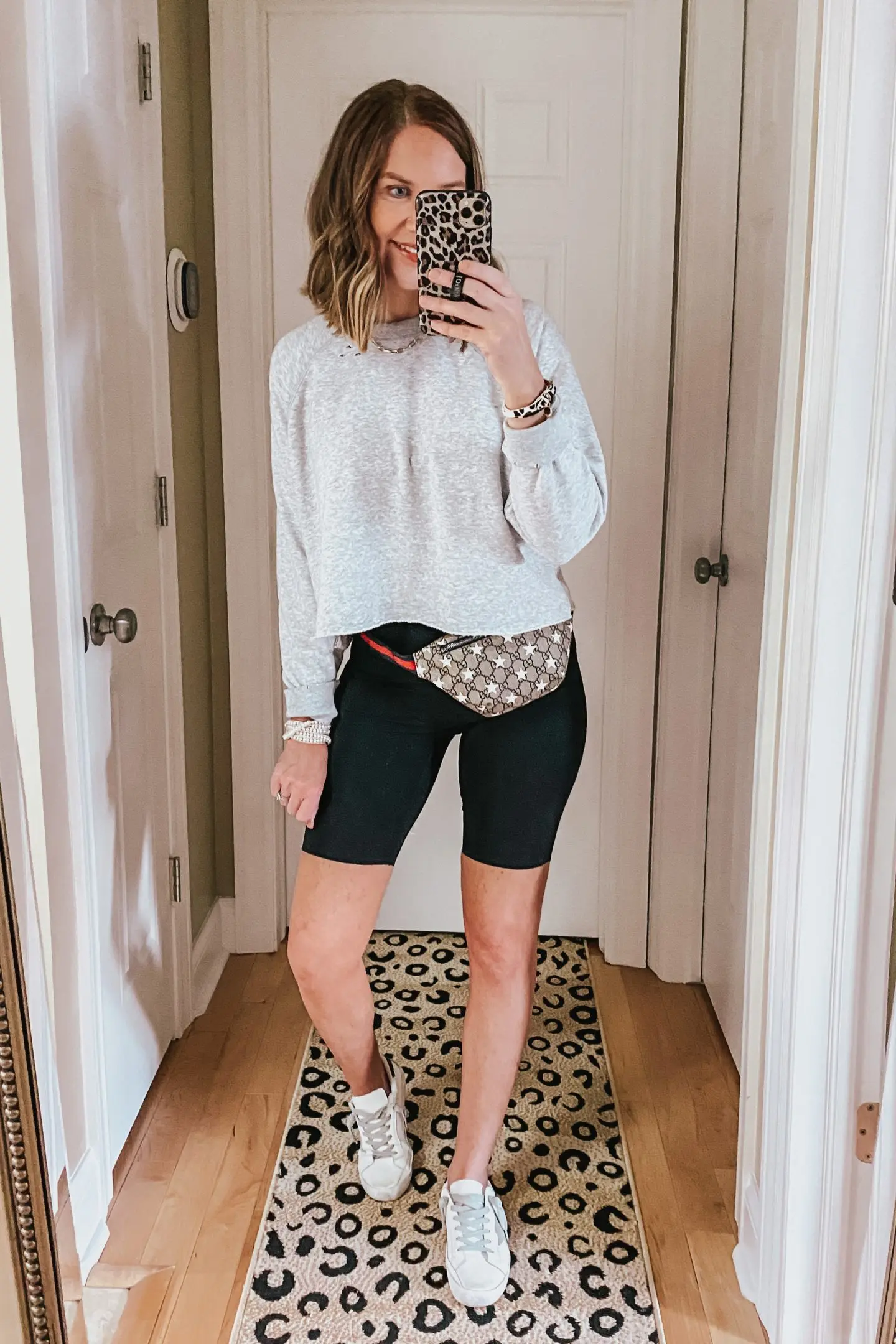 A good pair of high-waisted bike shorts are a cropped sweatshirt's best friend. Belt bags are super trendy right now as well and are a fun added accessory to this look. This is another outfit where you can have fun with layering and accessories.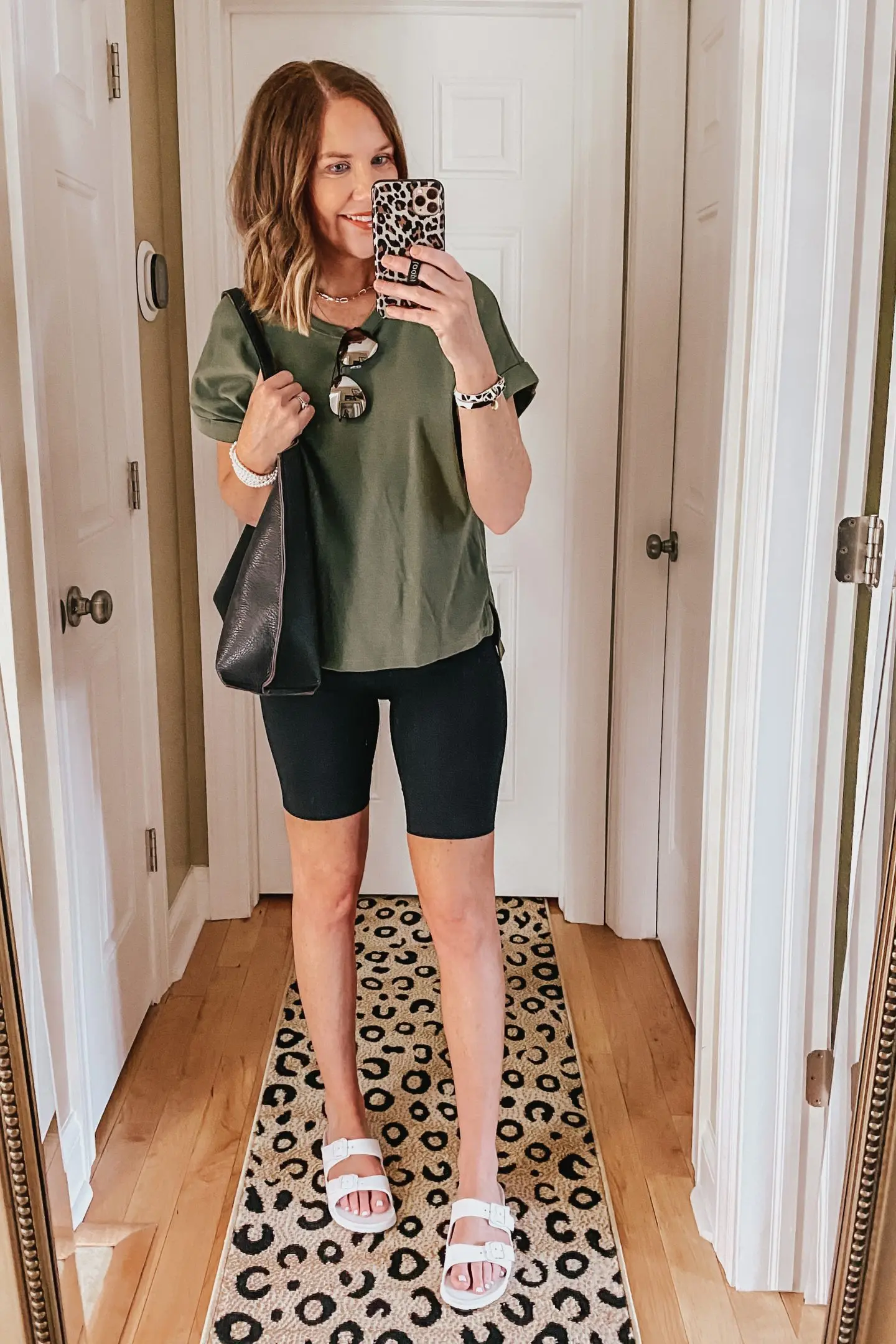 Similar to the above outfit, a boxy tee and footbed sandals work well with these shorts and I am loving the 90's vibes! You could throw this top on over a sports bra after a workout and be ready to run your errands.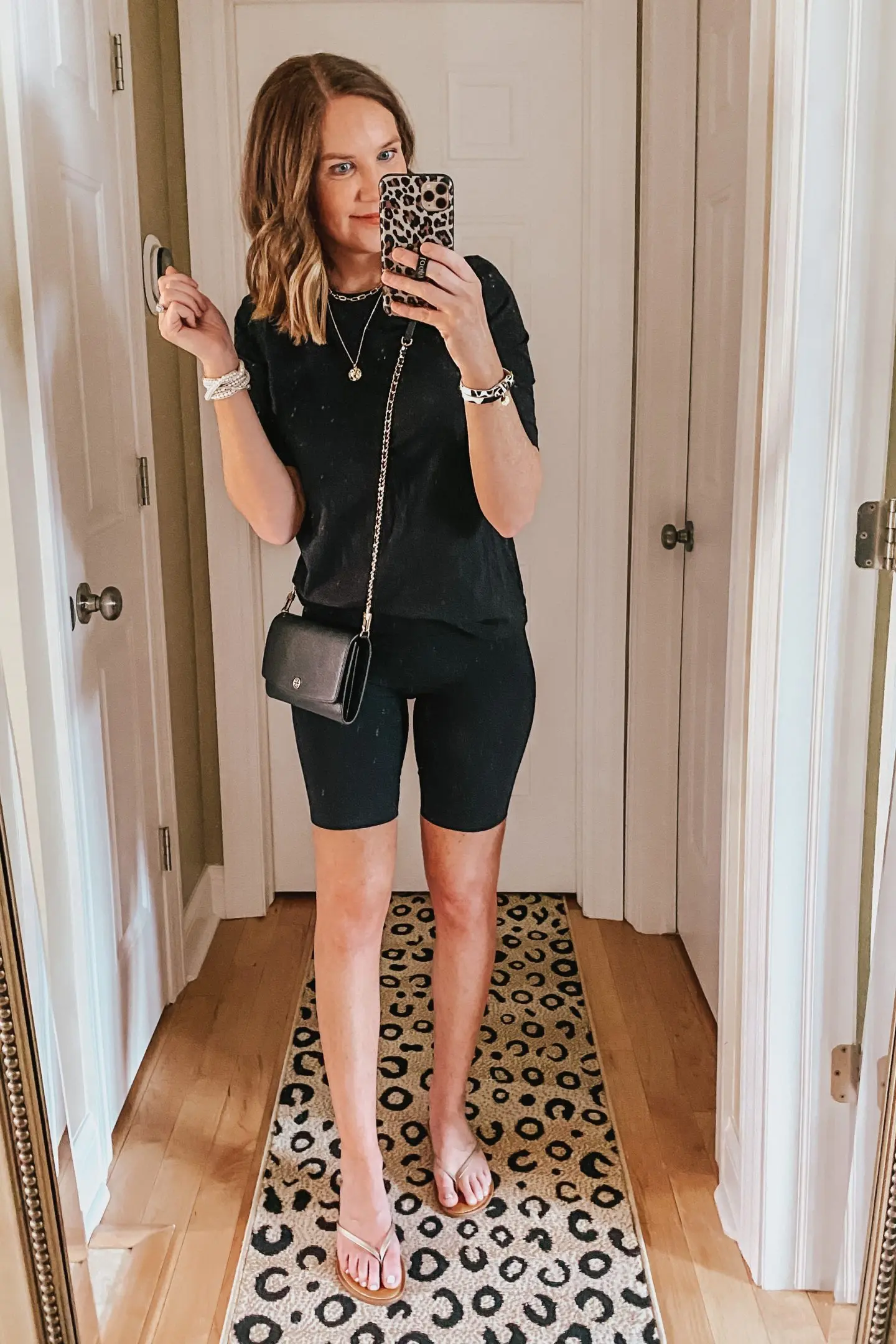 I dressed this monochromatic all-black outfit up a little more with a chain bag and gold accents. I think this is a super cute look for a casual day date. And I cannot say enough good things about this elbow-sleeve tee!
This top is an oldie from H&M but any oversized button-down would work for this look! You could even borrow one of your husband's button-downs for a similar feel. I love the mix of dressy and casual and tied it all together with a chain bag and gold flip-flops.
Above Outfit: bike shorts, wearing a medium || tunic, wearing a medium || cardigan, wearing a medium || sneakers || necklace
I know most of us like to have our booties fully covered when wearing leggings of any sort. So for this outfit I layered a tunic tee under a long cardigan and added fun sneakers. I love the neutral palette and think this look would work well into fall.
I've shared this star sweater numerous times and love how versatile it is. I think it's super cute with the bike shorts and a bralette. If you wanted to dress this up further, you could even add a pair of studded flat sandals like these.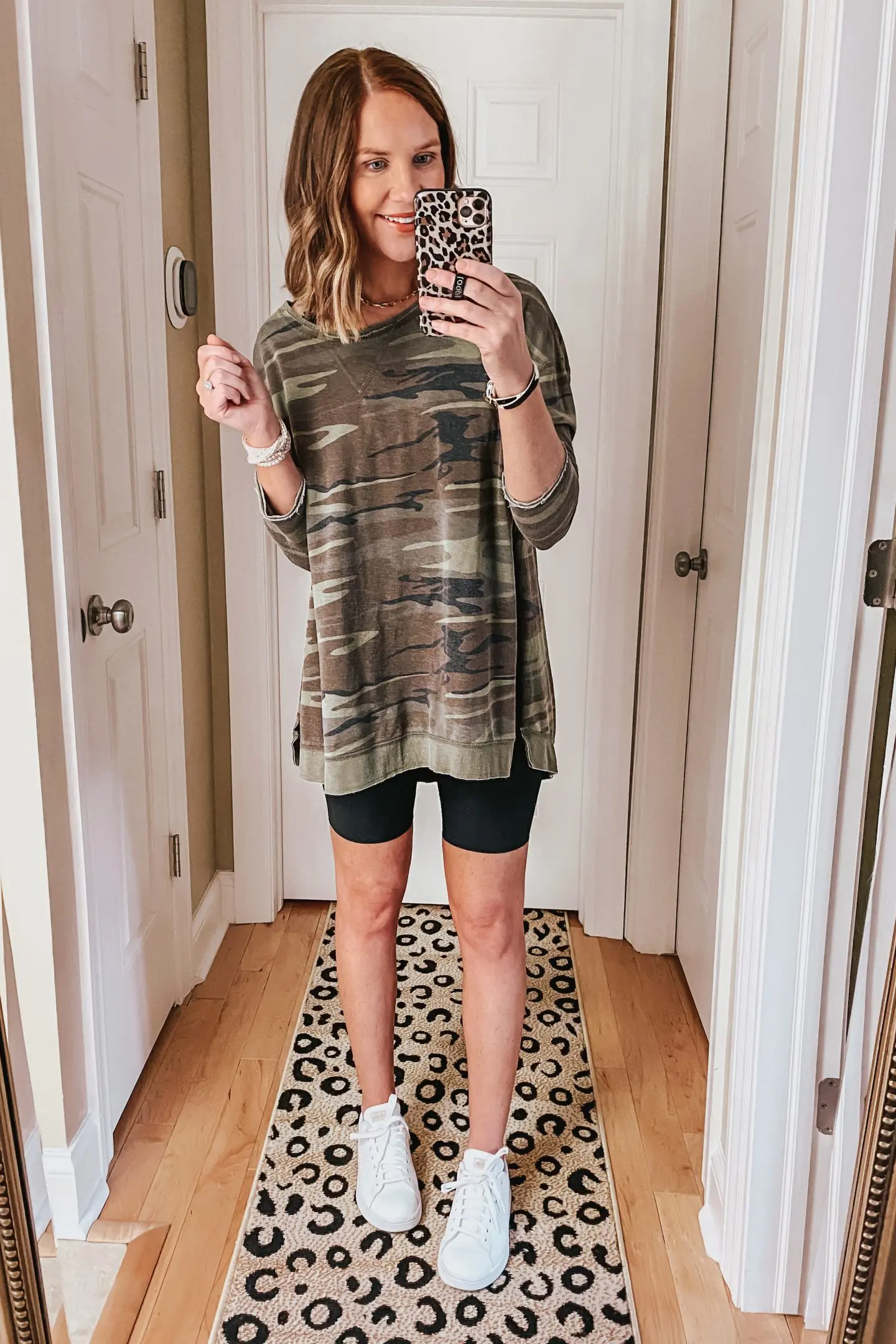 A tunic sweatshirt is another obvious styling choice for bike shorts. And I love the side slits in this one! It comes in several color options but I'm always a sucker for camo. You also might notice that I elevated all of these outfits by adding some statement jewelry. Adding fun accessories is a great way to complete a look and keep things from looking overly casual.
Which one of these outfits is your favorite?
For more styling ideas, be sure to check out the Ways to Style tab at the top of this page!