DIY Bleach Tie Dye in 4 Quick Steps!
Tie-dye is a huge summer fashion trend and I'm here for it! And bleach tie dye makes for a fun at-home DIY project that you can do on your own or even get your kiddos involved in the fun. I'm amazed at how simple, quick, and easy it is! And the best part is that you probably already have all of the supplies you need!
I made a short tutorial over on Tik-Tok that you watch and I've also outlined the steps below!
How to: Bleach Tie Dye
Step One: Gather Your Supplies
The first thing you'll need is an item to bleach tie dye! I chose one of my favorite graphic tees. It also was saturated in color enough to make it the perfect item to bleach dye. You'll want to choose something made with a natural fabric like cotton or linen. If you want a higher contrast tie-dye effect like mine, darker colors work best. Lighter colors and pastels will yield a more cloud-like finish. Both are pretty, but a brighter color does make a big difference with how visible the tie-dye turns out!
You'll also need 3-4 oz of bleach, a spray bottle, gloves, at least 4 rubber bands or hair ties, and a well-ventilated area to work in! (I used my front porch)
Step Two: Decide on Your Bleach Dye Technique
There are so many bleach tie dye technique options! I spent quite a while looking at a variety of options online before settling on a classic spiral twist. The scrunch technique is also super simple.DIY bleach tie-dye.
Twist your garment to create a pattern and secure it with rubber bands. Space the rubber bands several inches apart. The parts of your garment that are rubber-banded will stay the original color, while the exposed fabric will turn white when you bleach it.
You can get creative with your designs or you can just bunch up the fabric and put rubber bands on it to get a random and totally unique look.
As closely tied as the rubber band or the string you use will be, the tenser removing it will become. If you want, instead of removing, you can cut off the rubber bands carefully, in the end.*
Twirl the garment to create a spiral pattern. To create a traditional spiral tie-dye pattern, hold your garment with 2 fingers and twirl it so it twists tightly. Keep twirling until the entire garment is twisted into a tight knot. Secure the twirl with several rubber bands, then apply your bleach mixture. You can use a string to tie it up too. The tighter the spirals are secured, the better the distinction between darker and lighter areas will be formed.*
Create several patterns on the same garment with knots. If you want to create a haphazard tie-dye, try using rubber bands to create several tight, small knots on the garment. Bunch these all together and secure with more rubber bands, then apply the bleach. Secure them tightly so the bleach doesn't seep through the knots.*
Step Three: Mix Bleach + Spray
Fill a spray or squeeze bottle with a mixture of 1/2 bleach and 1/2 water. You can get a bottle for your project at almost any store which sells cleaning supplies. Be sure to put on gloves before applying bleach.
Step Four: Let Set in the Sun
You can leave the item to set indoors, but the results are quicker and more dramatic in the sun. Depending on the weight of the fabric leave in the sun for 10-30 minutes, and then flip over onto the other side for another 10-30 minutes. For my t-shirt, it took just about 10 minutes per side. Then wash, dry and wear!!
Step Five: Distress (optional)
I added some distressing at the end for an added detail. I just made a few small slits using scissors near the shoulder and near the hem. Then, I also made smaller slits along the bottom hemline, around the neckline, and around the sleeve hem, to give the tee a vintage feel. (See video above)
TADA!!!! I am loving the finished result and just need to decide what to tie-dye next!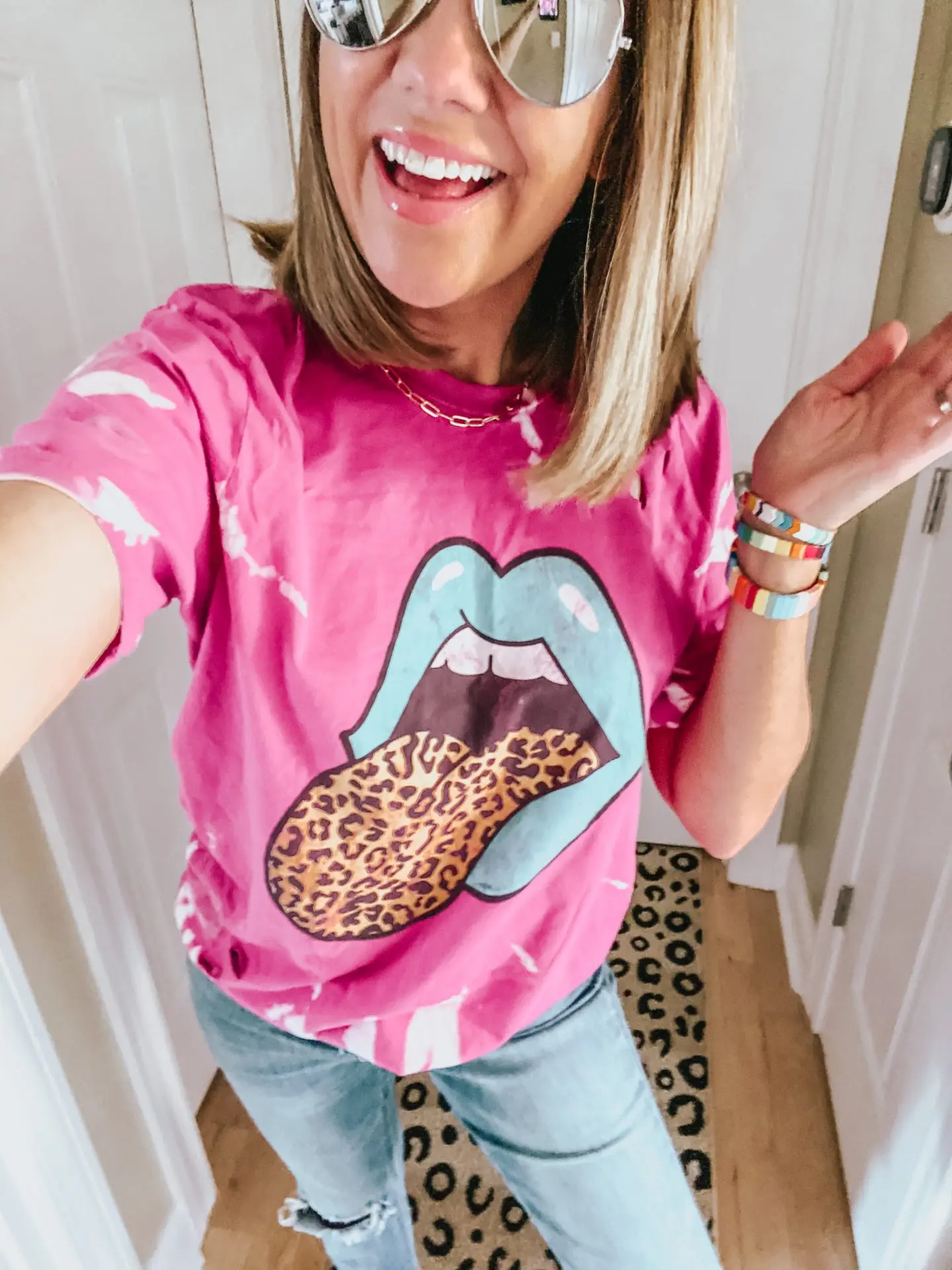 If you enjoyed this, check out this post on how to distress a sweatshirt!