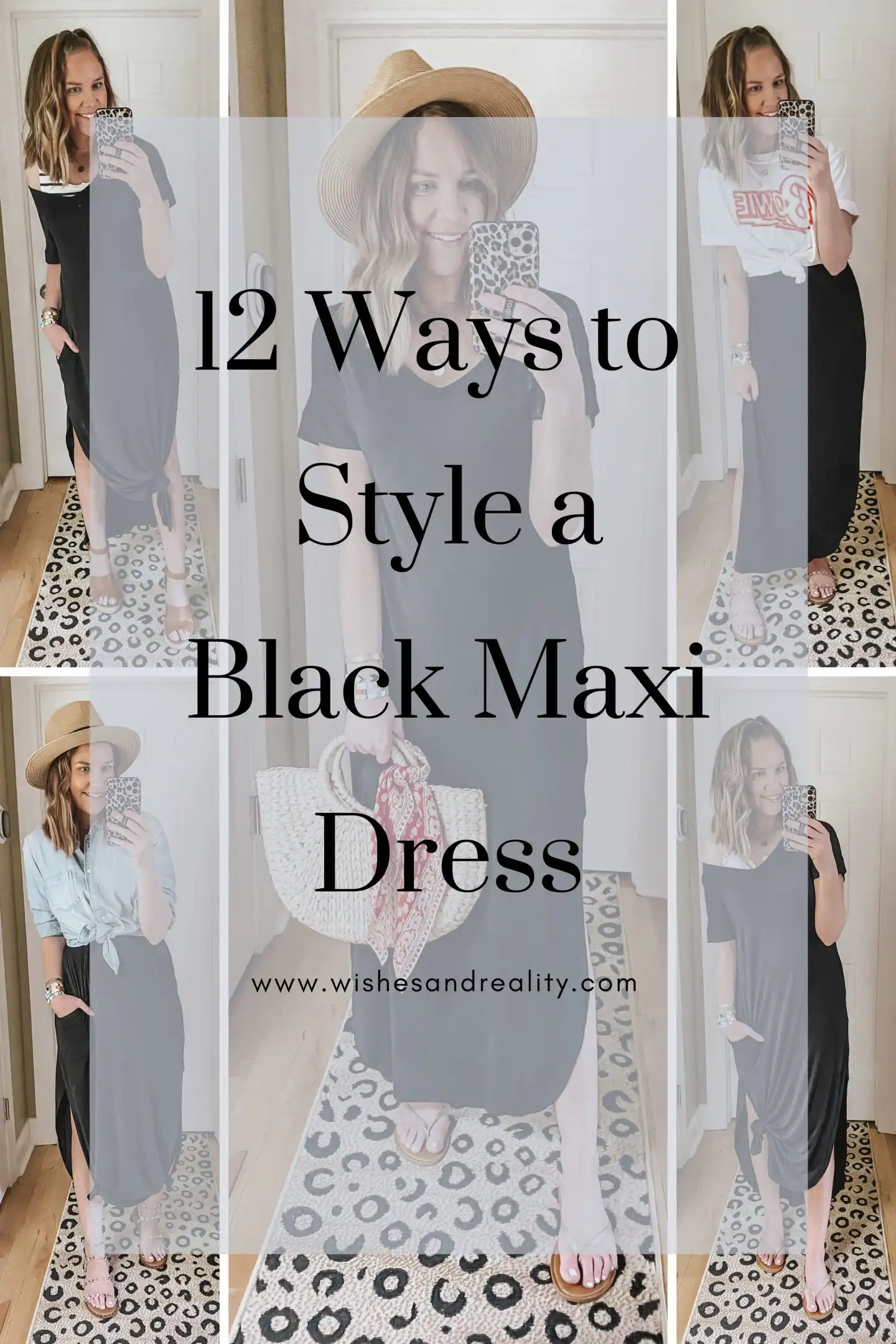 A casual black maxi dress is a summer wardrobe staple and is as comfortable as it is versatile. This exact dress is perfect for everything from heading to the beach or a casual date night. And it feels like you're wearing a nightgown!
MY SIZING
For reference, I'm 5'7″ with a long torso and long legs. I typically wear a 27 in jeans or a size 4. My bra size is a 34D, and I typically wear a size medium top but sometimes size down for a more tailored fit or a large for a more oversized fit.
I ordered this dress in a size small and could have even done an x-small, I'd recommend sizing down at least one size. I will always list my size and any recommendations I have for sizing up or down for quick reference. (TTS= true to size!)
I also frequently share in-depth try ons over on Instagram Stories where I always share sizing info!
Casual Black Maxi Dress
This maxi dress is the perfect blank canvas for so many summer occasions. It comes in lots of colors but black is universally flattering and so versatile. This dress is perfect for a backyard BBQ or a picnic. Add a cute straw hat and some flat sandals for an easy summer look.
Casual Black Maxi Dress with a Lace Bralette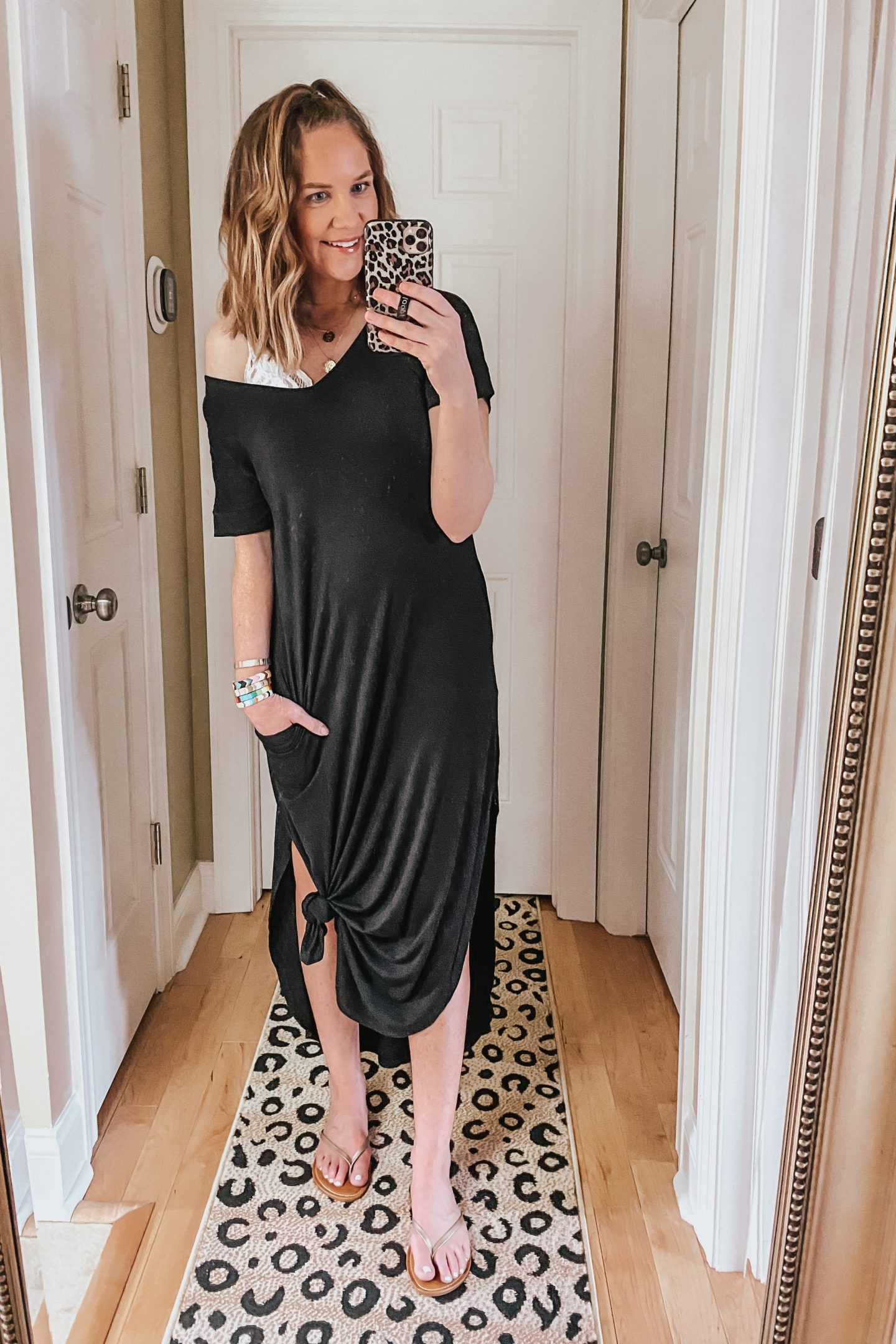 Because this dress has a wider v-neckline, you can easily wear it off the shoulder with a fun lace bralette peeking out. The length and split hem also makes it easy to tie up for a laid back, casual vibe. And I absolutely love the pockets!
Casual Black Maxi Dress with a Graphic Tee
Outfit Above: dress, wearing a small (size down one size) || tee, wearing a medium, fits oversized || sandals || similar necklace || bracelet
Tying up a graphic tee over a maxi dress is always a good idea. This fun Bowie tee has the perfect oversized fit and I love the pop of red. You can't see in this photo, but I tied the dress up on the back to show off the side slits. There are so many ways to tie this dress – have fun with it! This is another fun idea for a casual date night outfit.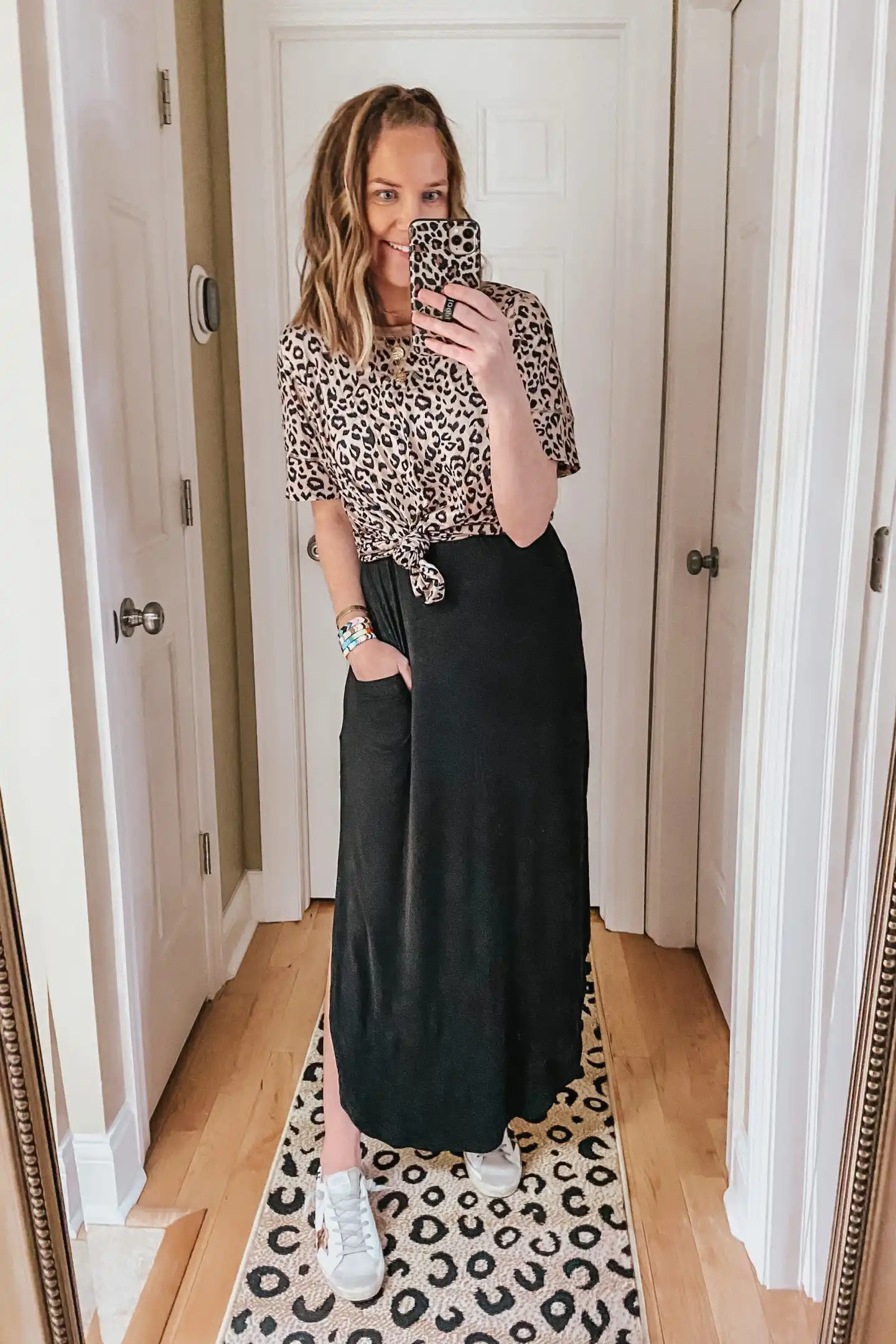 I love leopard print almost as I love tie-dye, so I swapped the graphic tee for this leopard tee and swapped the studded sandals for casual sneakers. I love the laid back vibe, but it still looks super cute and pulled together! You could swap out this tee for any printed or solid colored tee that you have and love.
Casual Black Maxi Dress with a Button-Down Shirt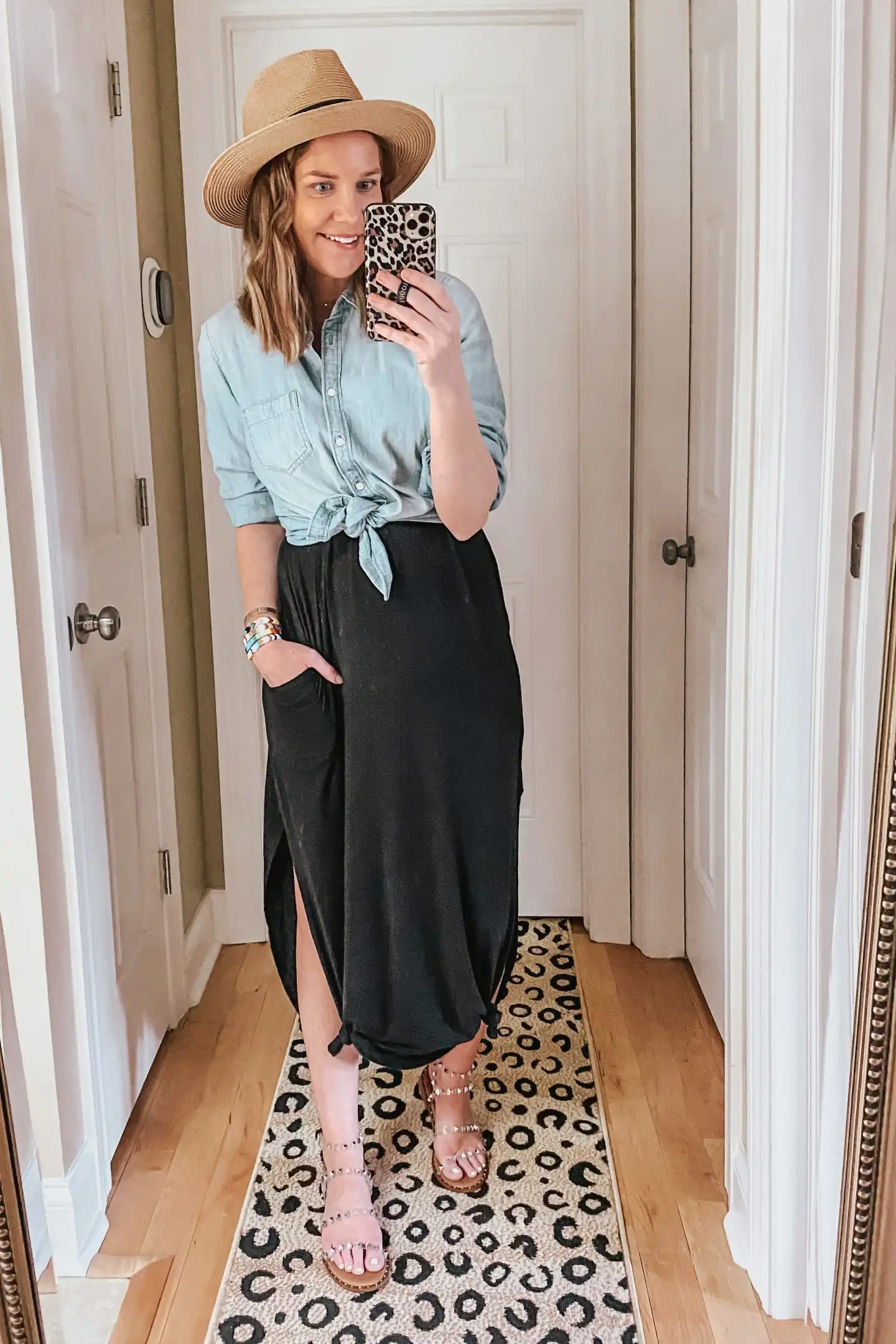 Outfit Above: dress, wearing a small (size down one size) || chambray shirt TTS, wearing a medium || hat, wearing color tan || bracelet || sandals
Another easy way to style this dress is to simply tie a button-down chambray shirt of the top. I feel like this outfit has almost a Parisian feel. This time, I tied up the dress in smaller knots in the two front corners and added a straw fedora and fun studded sandals.
Outfit Above: dress, wearing a small (size down one size) || utility shirt TTS || sandals, size up 1/2 size || similar necklace
Alternatively, tying a chambray or utility shirt at the waist adds some definition to the oversized fit of this dress. Still very casual and laid back, but another easy styling suggestion
Casual Black Maxi Dress with a Jean Jacket
I love the sporty vibe of simply adding a denim jacket and some fashion-forward sneakers. I'd definitely wear this to a baseball game or picnic. Comfy but cute, it's the perfect weekend outfit.
Casual Black Maxi Dress with a Cropped Sweatshirt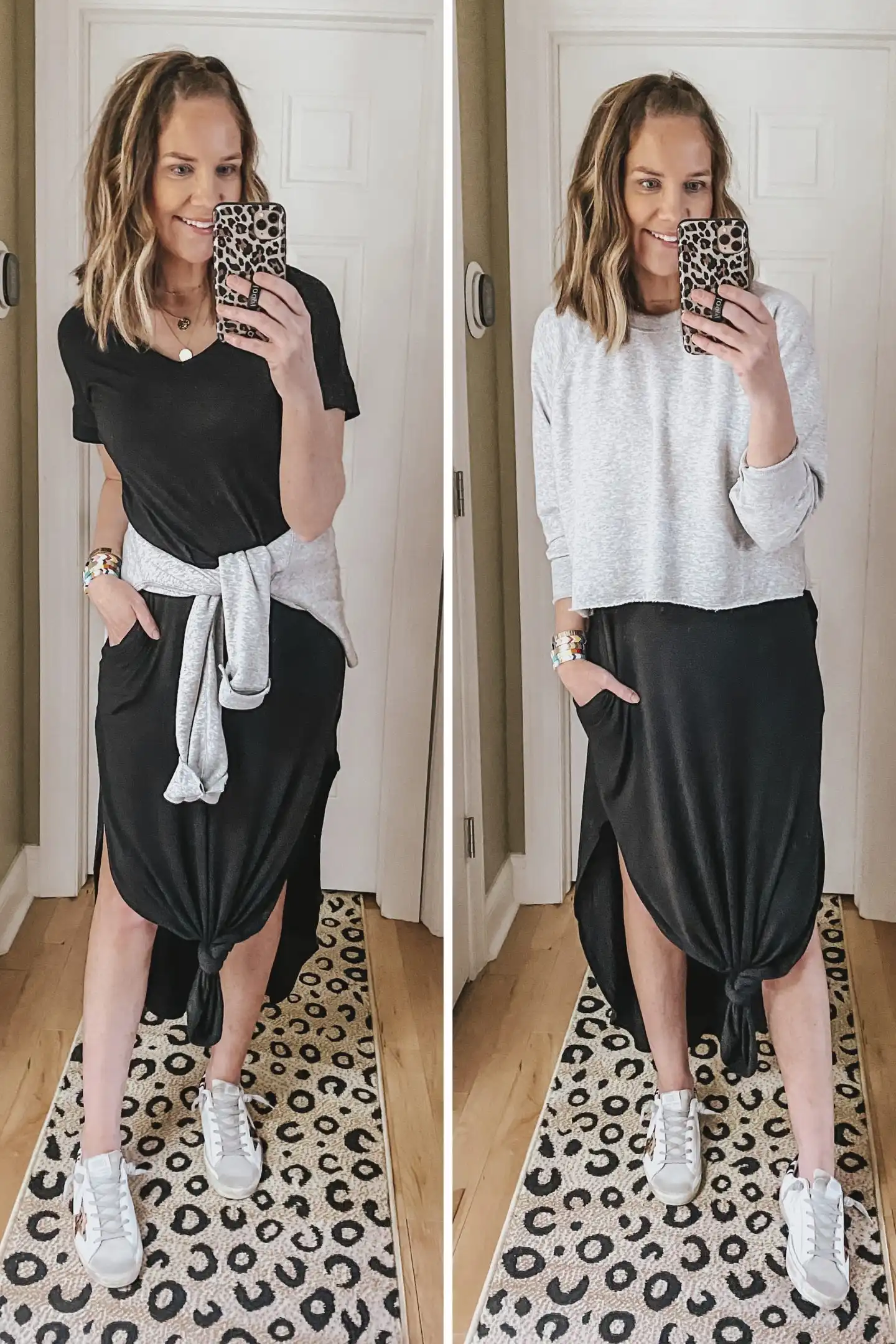 Sticking with a sporty theme, I paired this black maxi with a super soft cropped sweatshirt. The sweatshirt can be thrown over the dress for a chillier day or tied at the waist, again adding a little definition. I styled this with sneakers, but a pair of Birkenstock-style sandals would also be cute!
Casual Black Maxi Dress Over a Striped Tank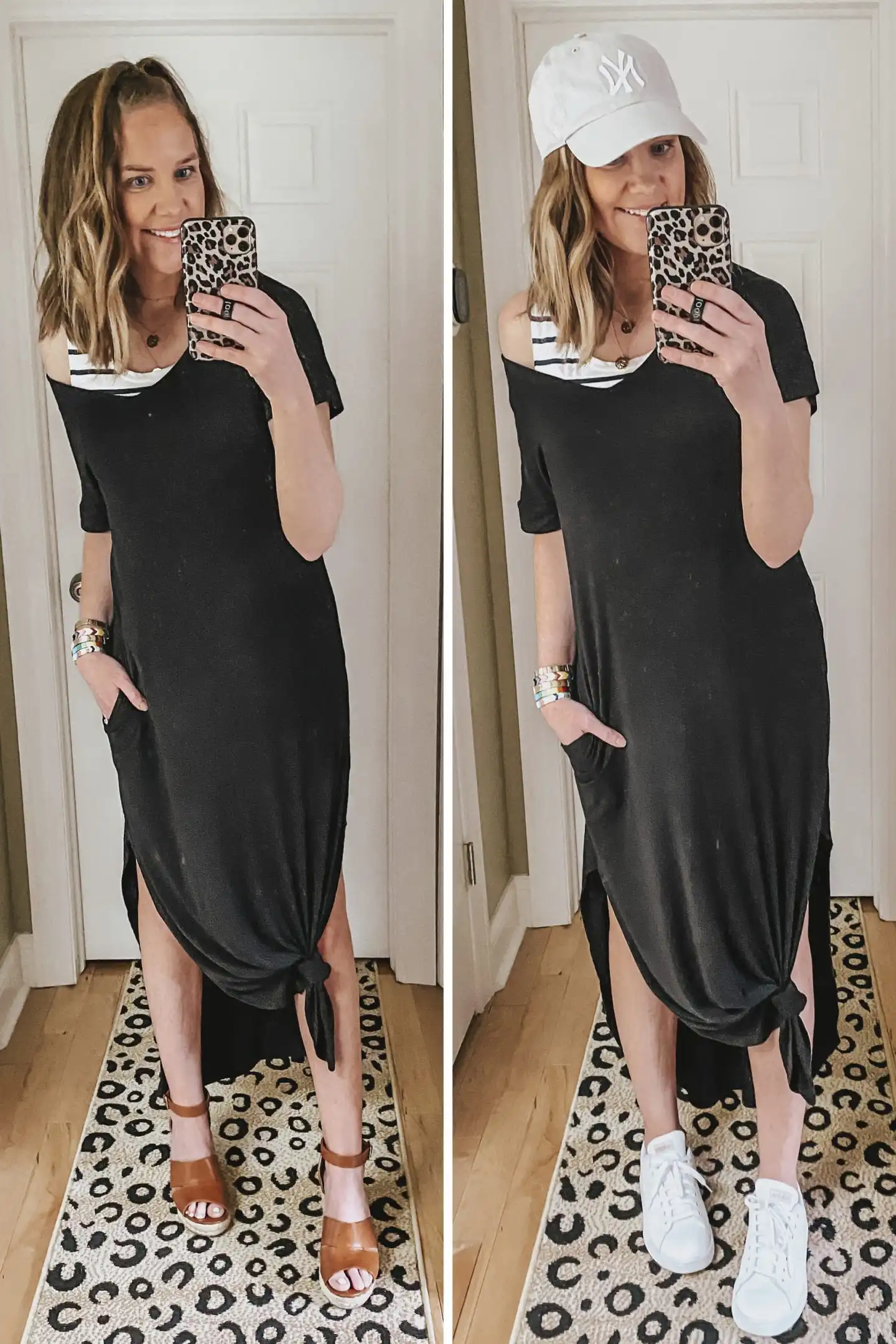 I've styled a lot of pieces over this dress, but it's loose, flowy fit means that you can also layer a cute patterned tank under it as well. I love the contrasting strips and think it looks equally cute with dressed up a bit with fun wedges, or down with plain white sneakers and a baseball cap.
Casual Black Maxi Dress Belted
The style of this dress definitely lends itself to more casual and relaxed outfits but you can absolutely also dress it up a bit with a skinny belt and some eye-catching accessories. This would be perfect for a casual vacation dinner after a day in the sun.
I hope this post was helpful! I'd love to hear if you own this dress or have any styling suggestions!
Shop the Post:

For more styling ideas, check out the Ways to Style tab at the top of this post!