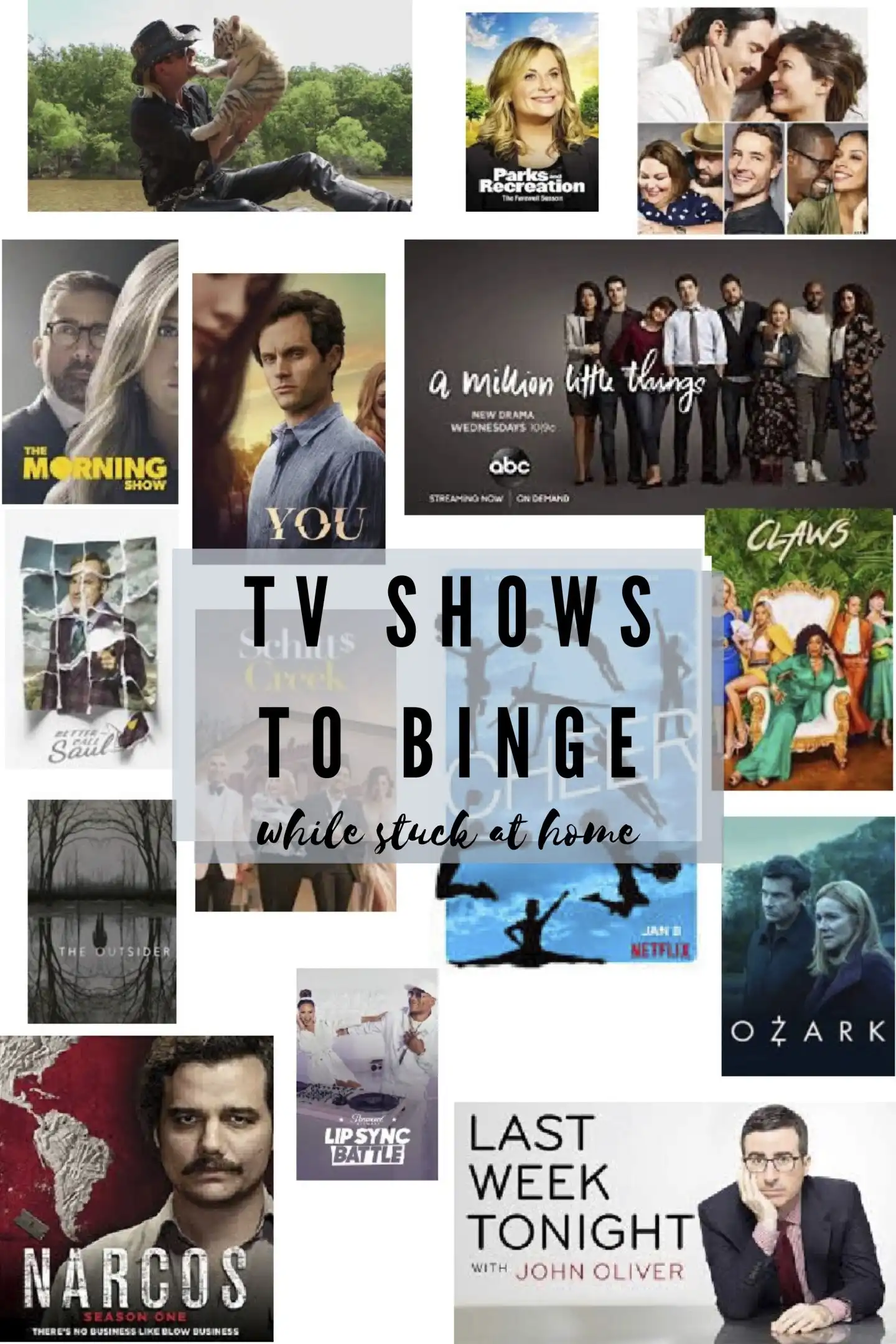 With everyone stuck at home for the foreseeable future, I am putting together an exhaustive list of TV shows to binge watch! I've broken everything down by category: comedy, drama, reality and documentaries. There is definitely something for everyone!
Comedy
Inside Amy Schumer – Straight from Amy Schumer's provocative and hilariously wicked mind, Inside Amy Schumer explores sex, relationships and the general clusterf**k that is life with sketches, stand-up comedy and woman-on-the-street interviews. Watch on Comedy Central and Hulu.
Parks and Recreation – a hilarious ensemble comedy that follows Leslie Knope (Emmy and Golden Globe nominee Amy Poehler, NBC's "Saturday Night Live," "Baby Mama"), a mid-level bureaucrat in the Parks and Recreation Department of Pawnee, Indiana, and her tireless efforts to make her quintessentially American town just a little bit more fun. Watch on Netflix, Amazon Prime or Hulu.
Last Week Tonight – Of this list of TV shows to binge watch, this one is a weekly watch for my husband and I. Breaking news, on a weekly basis. Comedian John Oliver satirically covers the week in news, politics and current events in this Emmy-winning variety series. Covers lots of off the grid stories. Watch on HBO Now and Hulu.
Saturday Night Live – comedy sketches, which often parody contemporary culture and politics, are performed by a large and varying cast of repertory and newer cast members. Each episode is hosted by a celebrity guest, who usually delivers the opening monologue and performs in sketches with the cast as with featured performances by a musical guest. Watch on NBC and Hulu.
Modern Family – Told from the perspective of an unseen documentary filmmaker, the series offers an honest, often-hilarious perspective of family life. Parents Phil and Claire yearn for an honest, open relationship with their three kids. But a daughter who is trying to grow up too fast, another who is too smart for her own good, and a rambunctious young son make it challenging. Claire's dad, Jay, and his Latina wife, Gloria, are raising two sons together, but people sometimes believe Jay to be Gloria's father. Jay's gay son, Mitchell, and his partner, Cameron, have adopted a little Asian girl, completing one big — straight, gay, multicultural, traditional — happy family. Watch on ABC and Hulu.
Friends – I admit, I still get sucked into this show! It's by far a favorite of these TV shows to binge watch. Three young men and three young women — of the BFF kind — live in the same apartment complex and face life and love in New York. They're not above sticking their noses into one another's business and swapping romantic partners, which always leads to the kind of hilarity average people will never experience — especially during breakups.
High Maintenance – The Guy is a nameless marijuana dealer in Brooklyn who delivers his goods via bicycle to stressed-out clients across New York City, who try to savor the highs of life in an increasingly volatile world. While dropping off weed to his customers, he makes brief appearances in their lives to get a glimpse at their daily routines, allowing viewers to explore the existence of intriguing, colorful individuals from all walks of life. Watch on Hulu and HBO Now.
Better Things – the story of Sam Fox, a single mother and working actor with no filter trying to raise her three daughters — Max, Frankie, and Duke — in Los Angeles. She also looks out for her mother, Phil, an English ex-patriate with questionable faculties who lives across the street. Whether she's struggling to keep her daughters close or trying to push one of them out of the nest, Sam approaches every challenge with fierce love, raw honesty, and humor. Watch on Hulu.
Schitt's Creek – a wealthy couple — video store magnate Johnny and his soap opera star wife Moira — suddenly find themselves completely broke. With only one remaining asset, a small town called Schitt's Creek, which the Roses bought years earlier as a joke, this once-wealthy couple must give up life as they know it. With their two spoiled children in tow and their pampered lives behind them, the Rose family is forced to face their newfound poverty head-on and come together as a family to survive. Watch on Netflix or Hulu.
Better Call Saul – Six years before he begins to represent Albuquerque's most notorious criminal, Goodman is Jimmy McGill, a small-time attorney hustling to make a name for himself. He's a forceful champion for his low-income clients, an underdog whose morals and ambitions often clash. Watch on AMC or Netflix.
Drama
Little Fire Everywhere – Of these TV shows to binge watch, this is my latest discovery. Starring Reese Witherspoon and Kerry Washington, Little Fires Everywhere follows the intertwined fates of the picture-perfect Richardson family and an enigmatic mother and daughter who upend their lives. Based on Celeste Ng's 2017 bestseller, the story explores the weight of secrets, the nature of art and identity, the ferocious pull of motherhood – and the danger in believing that following the rules can avert disaster. Watch on Hulu.
The Morning Show – Alex Levy anchors The Morning Show, a popular news program broadcast from Manhattan on the UBA network that has excellent viewership ratings and is perceived to have changed the face of American television. After her on-air partner of 15 years, Mitch Kessler, is fired amidst a sexual misconduct scandal, Alex fights to retain her job as top news anchor while sparking a rivalry with Bradley Jackson, a haphazard field reporter whose series of impulsive decisions bring her into a new world of TV journalism. Stars Jennifer Aniston, Reese Witherspoon and Steve Carell. Watch on Apple TV.
Dexter – He's smart, he's good looking, and he's got a great sense of humor. He's Dexter Morgan, everyone's favorite serial killer. As a Miami forensics expert, he spends his days solving crimes, and nights committing them. But Dexter lives by a strict code of honor that is both his saving grace and lifelong burden. Torn between his deadly compulsion and his desire for true happiness, Dexter is a man in profound conflict with the world and himself. Golden Globe winner Michael C. Hall stars in the hit SHOWTIME Original Series. Watch on Netflix, Hulu or Showtime.
You – A dangerously charming, intensely obsessive young man goes to extreme measures to insert himself into the lives of those he is transfixed by. Watch on Netflix.
Homeland – Homeland is an edge-of-your-seat sensation. CIA officer Carrie Mathison (Claire Danes) is tops in her field despite being bipolar, which makes her volatile and unpredictable. With the help of her long-time mentor Saul Berenson (Mandy Patinkin), Carrie fearlessly risks everything, including her personal well-being and even sanity, at every turn. You won't be able to turn away from this gripping, emotional thriller in which nothing short of the fate of our nation is at stake. Watch on Hulu, Sling or Showtime.
A Million Little Things – It has been said that friendship isn't one big thing, it's a million little things. That is certainly true for a group of friends from Boston who bonded under unexpected circumstances. Some have achieved success, others are struggling in their careers and relationships, but all of them feel stuck in life. After one of them dies unexpectedly, it's just the wake-up call the others need to finally start living. Along the way, they discover that friends may be the one thing that can save them from themselves. Watch on ABC and Hulu.
The Outsider – Based on Stephen King's best-selling novel of the same name, "The Outsider" begins by following an investigation which at first seems like it will be simple and straightforward but things change as it leads into the gruesome murder of a young boy by a seasoned cop. When an insidious supernatural force edges its way into the case, it leads the investigators to question everything they believe in. Watch on Hulu and HBO Now.
This Is Us – Jack and his wife – who is very pregnant with triplets – have just moved into their new home in Pittsburgh. Successful and handsome television actor Kevin is growing increasingly bored with his bachelor lifestyle. Randall – who was abandoned at a fire station by his father as an infant – is a stylish New York-based businessman working to raise two daughters with his wife, Beth. These people are among a group, several of whom share a birthday, of seemingly random individuals whose lives intertwine in unexpected ways. Watch on NBC or Hulu.
Claws – At the Nail Artisan of Manatee County salon in Central Florida, five diverse, hardworking manicurists try to make ends meet in a staid economy while managing perilous personal lives awash in drama. Amidst all the silk wraps, pedicures and polish treatments, salon owner Desna, who lives with and cares for her mentally ill twin brother, leads a staff that includes best friend Jennifer, now sober and raising two kids from a previous relationship; enigmatic Ann, who provides security for the salon; mild-mannered preppy and ex-convict Polly; and Virginia, who becomes easily bored and impatient with her job. Also hanging around the salon are shady redneck Roller; ambulance coach Bryce, Jennifer's husband who is also newly sober; and Uncle Daddy, a dangerous, deeply Catholic and actively bisexual crime boss. Watch on Hulu or Amazon Prime.
Shameless – Oscar-nominated actor William H. Macy stars as Frank Gallagher, a single father of six who spends much of his free time drinking at bars. The Gallagher children — led by oldest daughter Fiona (Emmy Rossum), who takes on much of the child-rearing responsibility due to her mother's absence — manage to raise themselves in spite of Frank's lack of parenting and unusual parenting style when he does choose to act like a father. Watch on Netflix or Showtime.
Narcos – Of these TV shows to binge watch this one might be my husband's favorite. Netflix chronicles the rise of the cocaine trade in Colombia and the gripping real-life stories of drug kingpins of the late '80s in this raw, gritty original series. Also detailed are the actions taken by law enforcement as they battle in the war on drugs, targeting notorious and powerful figures that include drug lord Pablo Escobar. As efforts are made to control cocaine, one of the world's most valuable commodities, the many entities involved — legal, political, police, military and civilian — find themselves in conflict. Watch on Netflix.
Okark – this drama series stars Jason Bateman as Marty Byrde, a financial planner who relocates his family from Chicago to a summer resort community in the Ozarks. With wife Wendy and their two kids in tow, Marty is on the move after a money-laundering scheme goes wrong, forcing him to pay off a substantial debt to a Mexican drug lord in order to keep his family safe. While the Byrdes' fate hangs in the balance, the dire circumstances force the fractured family to reconnect. Watch on Netflix.
Breaking Bad – This is another of these TV shows to binge watch that I've watched multiple times. Mild-mannered high school chemistry teacher Walter White thinks his life can't get much worse. His salary barely makes ends meet, a situation not likely to improve once his pregnant wife gives birth, and their teenage son is battling cerebral palsy. But Walter is dumbstruck when he learns he has terminal cancer. Realizing that his illness probably will ruin his family financially, Walter makes a desperate bid to earn as much money as he can in the time he has left by turning an old RV into a meth lab on wheels. Watch on Netflix.
Reality
Lip Sync Battle – an American musical reality competition television series. The show is based on an idea by Stephen Merchant and John Krasinski, in which celebrities battle each other with lip sync performances. The idea was first realized as a recurring segment on The Tonight Show Starring Jimmy Fallon before being developed into a separate show. Watch on Paramount Network or Amazon Prime.
The Real Housewives – an American media franchise that consists of several reality television series broadcast on Bravo. The shows document the lives of several affluent housewives residing in varying regions throughout the United States. The first series, The Real Housewives of Orange County, premiered on March 21, 2006; its success resulted in spin-off series located in New York City, Atlanta, New Jersey, D.C., Beverly Hills, Miami, Potomac, Dallas and Salt Lake City. Watch on Bravo.
Love is Blind – Singles try to find a match and fall in love — without ever seeing each other face-to-face, as emotional connection attempts to conquer physical attraction. Watch on Netflix.
Documentaries
Tiger King – A zoo owner spirals out of control amid a cast of eccentric characters in this true murder-for-hire story from the underworld of big cat breeding. Watch on Netflix.
McMillions – chronicles the stranger-than-fiction true story of how $24 million-dollars was stolen from the McDonald's Monopoly game of the 1990s, the mystery mastermind behind the scam and the intrepid FBI agents on his trail. Watch on HBO Now.
I am a Killer – Featuring never-before-seen footage with unprecedented access to prisons across the United States, this crime documentary series gives insight into the stories of prisoners who are awaiting their fate on death row. Each episode profiles a different prisoner convicted of capital murder and sentenced to death. Recounting the events that led up to their crime, the killers reveal their motivations and how they now view their actions. Viewers' attitudes are challenged by different viewpoints and the prisoners' stories about how split-second decisions changed the course of their lives. Watch on Netflix.
Dirty Money – Dirty Money is a Netflix original television series that tells stories of corporate corruption, securities fraud, and creative accounting. Watch on Netflix.
Killer Inside: The Mind of Aaron Hernandez – Through interviews with friends, players and insiders, this docuseries examines how Aaron Hernandez went from an NFL star to a convicted killer. Watch on Netflix.
Cheer – "Cheer" is filled with stories of kids who find homes and families in a team bound by the singular mission to come out on top at the national championship. It's "Friday Night Lights" meets MTV's "True Life" multiplied by Cirque du Soleil as they push their bodies and hearts to the limit while looked after sternly but lovingly by coach Monica Aldama. This six-episode docuseries will make you cry, smile, grimace and, yes, cheer. Watch on Netflix.
The Pharmasist – After losing his son in a drug-related shooting, small-town pharmacist Dan Schneider embarks on a crusade to bring a reckoning against the powerful figures behind the nation's devastating opioid epidemic. Watch on Netflix.
And if you need some new recipes to try while enjoying some of these TV Shows to Binge Watch at home, be sure to check out the Recipe tab on my blog!