I made a lot of purchases in 2019 and have spent the last few weeks thinking about my favorites. Asking myself what were the best purchases I made in 2019? What are the products that I reach for the most frequently? The things I don't know how I ever lived without?
These aren't necessarily items that you've seen regularly as you've scrolled through my Instagram. Many of them haven't even been featured here on the blog. Which is crazy because, as I mentioned above, these are the things I don't know how I ever lived without!
Here is a curated list of the products and finds that I have come to reach for daily or weekly!
You know how holding a round brush in one hand and a blow-dryer in the other is a test of balance and endurance? Not anymore. That's because the nylon bristles of Revlon One-Step Hair Dryer & Volumizer Hot Air Brush emit smoothing ions and body-building heat as we brush, producing a shiny, fresh from the salon blowout in a single pass.
Find it HERE, HERE, HERE and HERE.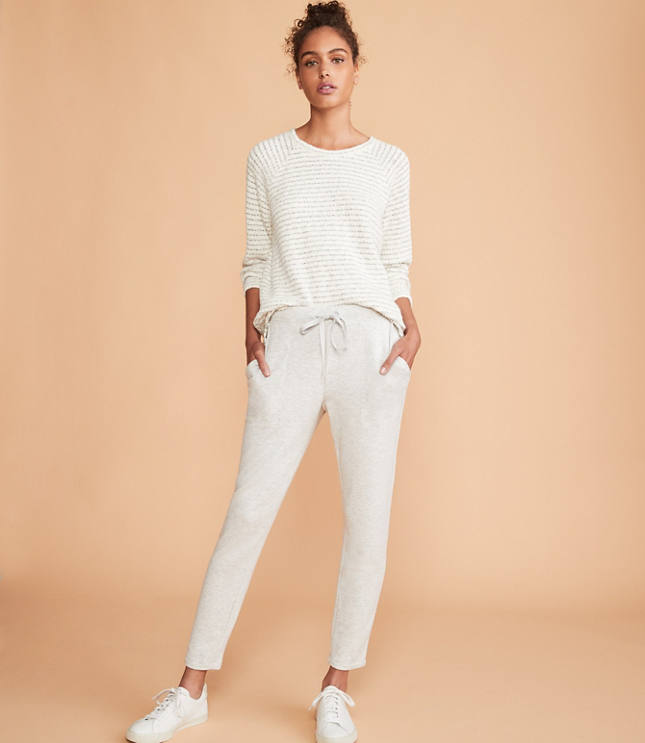 I purchased these pants when they were on sale but honestly, I would totally pay full price for them! They are hands down the most comfortable item I own. More tailored than regular sweat pants, they hold up incredibly well and are ridiculously soft. Just read the reviews on them! They are perfect for longing or travel and I plan to buy the black and charcoal grey next. Size down, I wear an xsmall in these.
Find them HERE.
If you follow me on Instagram you have seen these fun Glitter Shoe Laces on repeat! I love the extra sparkle and how they change up my favorite pair of sneakers. I bought mine on Amazon and a pack of 16 colors is just $15! I've used them in both sneakers and boots and they are the perfect length!
Find them HERE.
I have been a huge fan of Tarte Shape Tape for years. That is until I found an exact dupe for less than 1/5 the price! It has a buildable formula for medium to full coverage. Erase dark circles, correct imperfections, and shape your face with this concealer! And it's infused with goji berry and Haloxyl.
Find it HERE, HERE, HERE and HERE.

I had heard people rave about the Barefoot Dreams Cardigan for years and honestly couldn't for the life of me understand what all the fuss was about. I mean, it's a cardigan. And then I felt the fabric. And holy moly did I suddenly understand. The entire Barefoot Dreams collection makes you feel like you are wrapped in a cloud. Billed as the world's coziest loungewear, it definitely lives up to its name.
Winter always brings, dry, frizzy static-prone hair right along with it. But I have finally found a miracle treatment to smooth my hair and make it more manageable this time of year! This lightweight serum instantly mends split ends and works overtime to reduce breakage and increase elasticity. Hair is left silky, glossy and irresistibly soft.
Find it HERE.
What, you don't shave your face?! It's true. I do. And I'm totally hooked.
I've been wanting to try dermaplaning for a while, but who needs to pay an arm and a leg when you can order these little bad boys for under $10 and do it yourself at home??
Ever since I first tried it, I've been hooked. It got rid of the fine little peach fuzz and dead skin cells and left my skin smoother and glowier (not a word) than it's ever been. My makeup went on so much better too.
These magic razors remove the fine hairs of the eyebrow, neck and face as well as unnecessary hair elsewhere. Begone peach fuzz, unwanted upper lip hairs, and stray brow hairs.
Find them HERE.

This immersion hand blender is such a game-changer in the kitchen, you guys! It can be used to make salsa, pesto, batters, smoothies, sauces, whipped cream, apple butter, soups, and cakes. It can also be used for chopping, making cocktails and much more! Still not sold? It even comes with a coffee frother. And it has over 5,000 4-5 star reviews.
Find it HERE.
This vintage-inspired rug is one of my all-time favorite home decor purchases! And so many of you have purchased it and love it as well. It's amazing quality and great for high-traffic areas. It comes in a whopping 19 sizes and shapes and has over 12,000 5-star reviews!
Find it HERE.
Shop All of The Best Purchases I Made in 2019 HERE: