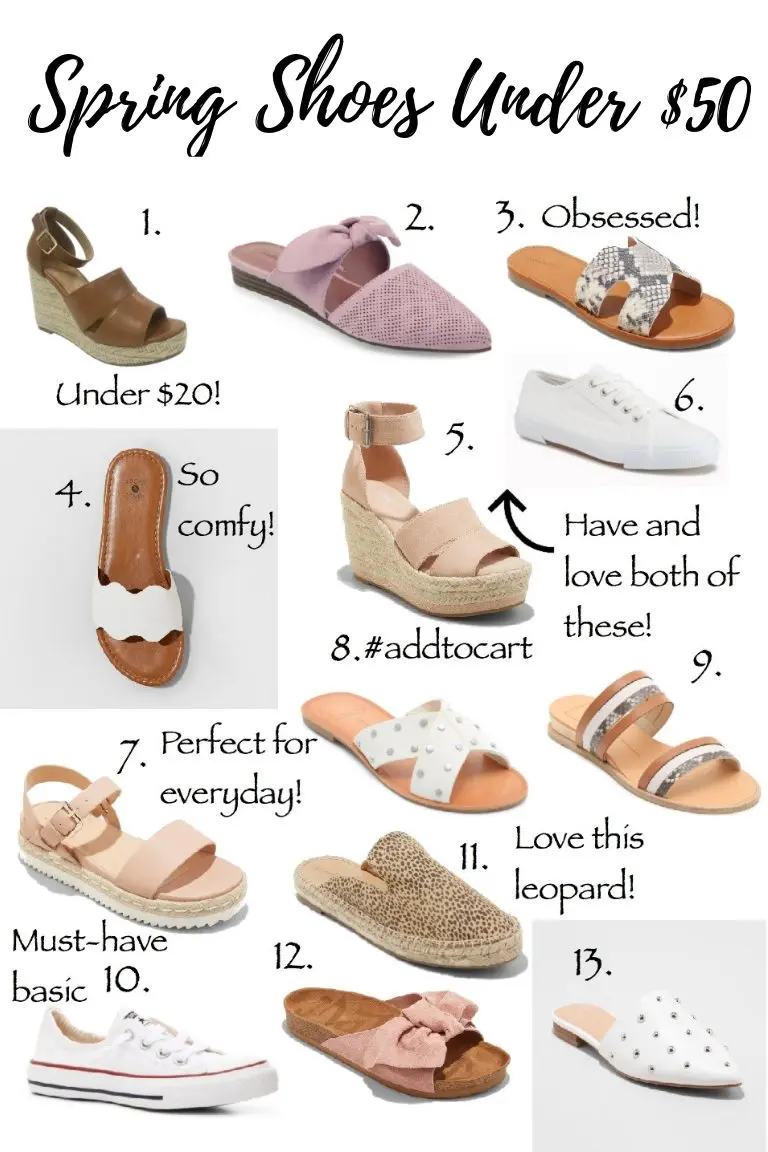 1. || 2. || 3. || 4. || 5. || 6. || 7. || 8. || 9. || 10. || 11. || 12. || 13.
One of the first places I look to update my wardrobe with the season change is my shoes. It's easy to get a lot of bang for your buck in this area, as swapping boots for cute sneakers, mules or wedges can completely transform multiple outfits. And with so many cute options at affordable price points, it's easy to make the case for snagging a few pairs! So today I'm sharing a curated selection of the best spring shoes under $50, as well as some of the biggest trends.
Styles
Mules and slides are huge spring trends again this year and for good reason. They are comfortable, versatile and come in so many styles. Another huge spring trend is classic white sneakers. This is a trend I can completely get on board with. The look is clean and modern and a classic white sneaker can go with everything from jeans and shorts to cute spring dresses. Finally, a pair of comfortable wedge sandals are a must, as they can easily be paired with everything from cut-offs to dresses.
Colors
As I mentioned, white is a huge color trend, and not just for sneakers. White slides and mules with fun details like studs and scalloped edges are huge this spring. Otherwise, I tend to stick to neutrals like nudes, taupes and blushes, as they go with everything!
Where to shop for Spring Shoes?
Target and DSW are my favorite places to shop for shoes, but you can also find great deals at Nordstrom Rack! And I always keep an eye out for sales at Nordstrom as well.
The Best Spring Shoes Under $50

For more spring and summer style inspiration check out these dresses and these bags!