While scrolling through my Instagram feed recently, I realized that I wear leggings a lot. So I thought it would be fun to do a round up so today I'm sharing 17 ways to style leggings! You'll see as you scroll through this post that a ton of these pieces can be mixed and matched to share endless outfit combinations.
In the majority of these images I am wearing the Spanx Faux Leather Leggings, but in some I'm wearing others. I personally think the Spanx Faux Leather Leggings are worth every penny, because they are so versatile and last season after season, year after year. But you can easily replicate these looks with whichever leggings you prefer to wear. If the items I'm wearing are still in stock, I've linked them below. Also, this may be a good post to bookmark or add to your Pinterest because I'll continue to add to this post in the future.
Some of my favorite pieces to wear with leggings include these tunic tops from Amazon, a tunic blouse or an oversized sweater, all of which offer plenty of length.
Here we go…17 ways to style leggings!
Utility Vest, another option HERE || Tunic Blouse || Leggings || Boots, also seen HERE || Tote || Sunglasses
Tunic || Leggings, Updated Version HERE || Jacket || Sneakers|| Tote || Sunglasses
Leggings || Tee || Similar Cardigan || Mules, similar HERE || bag || Sunglasses
Similar Jacket HERE, also seen HERE || Leggings || Sneakers || Sunglasses
Tunic || Leggings || Jean Jacket || Sneakers || Sunglasses
Similar Sweater HERE || Leggings || Boots || Tote || Similar Hat HERE and HERE
Leggings || Dress || Vest || Boots
Similar Sweater HERE || Leggings || Booties
Leggings || Poncho Sweater, Updated Version HERE || Boots || Tote
Sweatshirt || Leggings || Sunglasses || Beanie || Similar Scarf HERE
Sweater || Leggings || Boots || Similar Hat HERE and HERE || Backpack
Similar Sweater HERE || Tunic Blouse || Leggings || Boots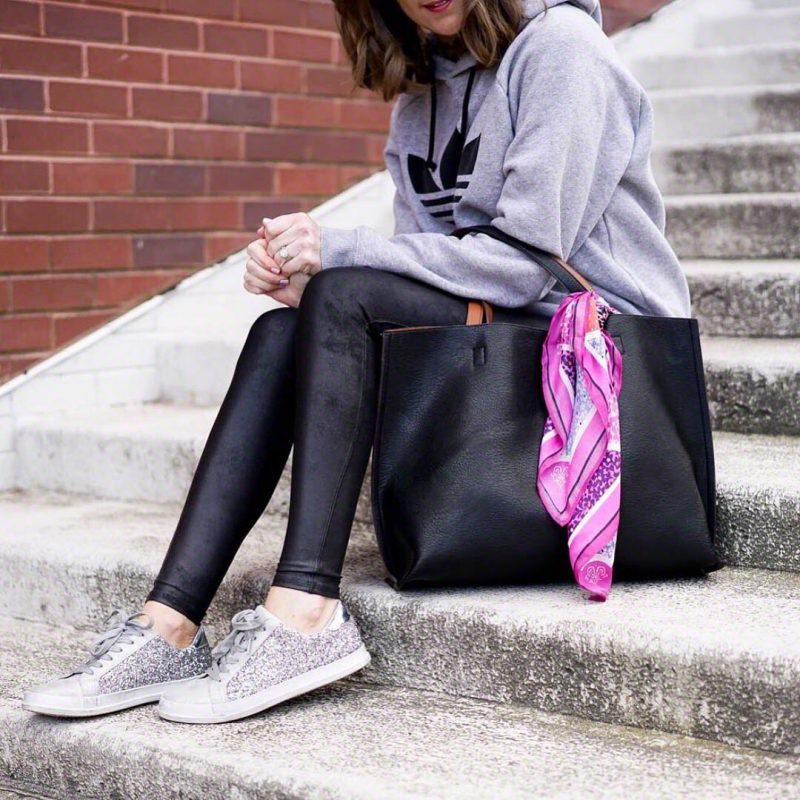 Hoodie, also HERE || Leggings || Tote || Similar Sneakers HERE
Coat || Leggings || Beanie || Boots
Tunic || Vest || Leggings || Tote || Sunglasses || Beanie || Similar Sneakers HERE