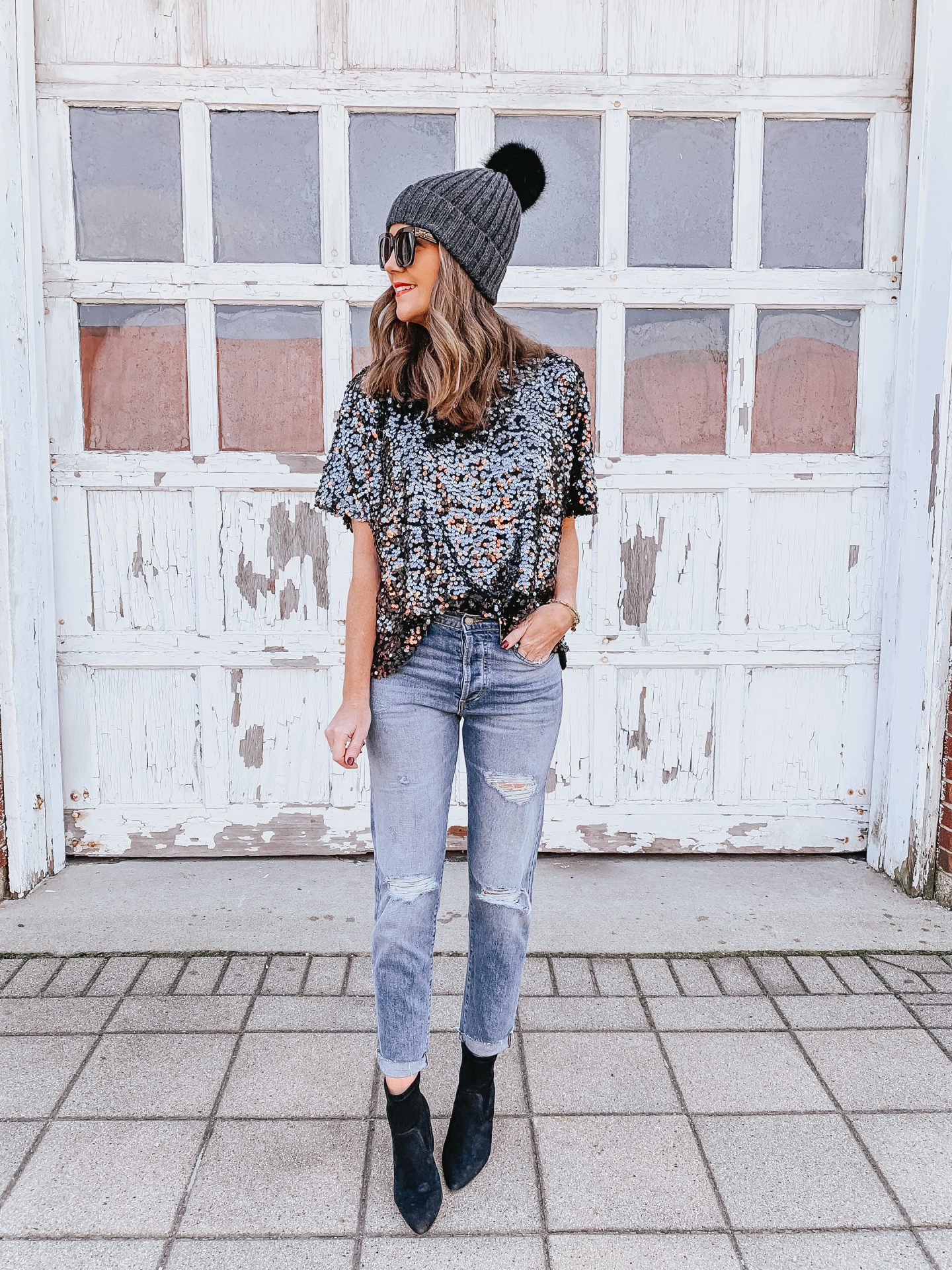 Sequin tee, also love this one || similar jeans (same brand) || booties, under $20 || beanie, $12 and comes in 3 colors! || sunglasses, last seen here
Shop My Outfit:

Comfy and Cute for a Low Key New Year's Eve
I'm not usually one to go out on New Year's and celebrate, although there was a brief moment where the hubby and I almost booked a last minute Vegas trip (who am I???). But if you know me, then you know that I can never resist a little sparkle. I love NYE outfits that are fun and festive but never sacrifice comfort. So this little sequined tee had me at hello. Add a pair of worn in jeans and you have the perfect casual and cute New Year's Eve Outfit.
Low Key New Year's Eve Ideas
If you prefer a quieter New Year's Eve that's still fun here are a few thoughts to turn a small gathering, or date night at home, into a memorable evening.
Plan a small dinner party and go all out on hors d'oeuvres and fancy champagne. I mean, that's the best part of the meal anyway, right?!
Pack up some hot chocolate and go ice skating. Fun for a couples night or the whole family.
Pop some popcorn and watch a movie or 2 that you've been wanting to see all year.
Host a midnight buffet. Instead of having dinner, have breakfast at the stroke of midnight! It technically is morning, so you don't have to feel bad about having bacon, eggs, waffles, pancakes, and mimosas at 12 A.M. (Remember, breakfast is an anytime food!)
Have a Game Night. Time to break out the Scrabble, Monopoly, Uno, Clue, or better yet Cards Against Humanity, The Voting Game or Telestrations. Call up a some friends and get your competition on!
What are your NYE plans?
Do you go out or stay in? Keep it casual or dress up?
More Casual and Cute New Year's Eve Outfit Pieces I Love