plaid top || jeans || boots || tote || sunglasses || necklace
Shop My Outfit:

And just like that, it's September…
This past weekend marked the unofficial start to fall, and this week the weather is expected to follow suit. I love summer, but I'm a fall girl at heart. I love sweater weather and hot coffee and chili in the crockpot. I'm ready for warm days and chilly evenings, turning on the oven, Sunday football games and pumpkin patches. And with these beautiful leaf changing days comes my favorite part of fall…fall fashion!
The Quintessential Fall Outfit
Fall calls for plaid, denim and boots, and as quintessentially fall as this outfit is, it's also super versatile! Swap the OTK boots out for booties . Live in a warm climate? Swap the jeans out for cutoffs and peep toe booties. And as the temps cool, add a cardigan or pullover. Plaid tops, new fall denim and over the knee boots are all fall essentials. Read on for all 9 fall essentials that you should add to your closet this year!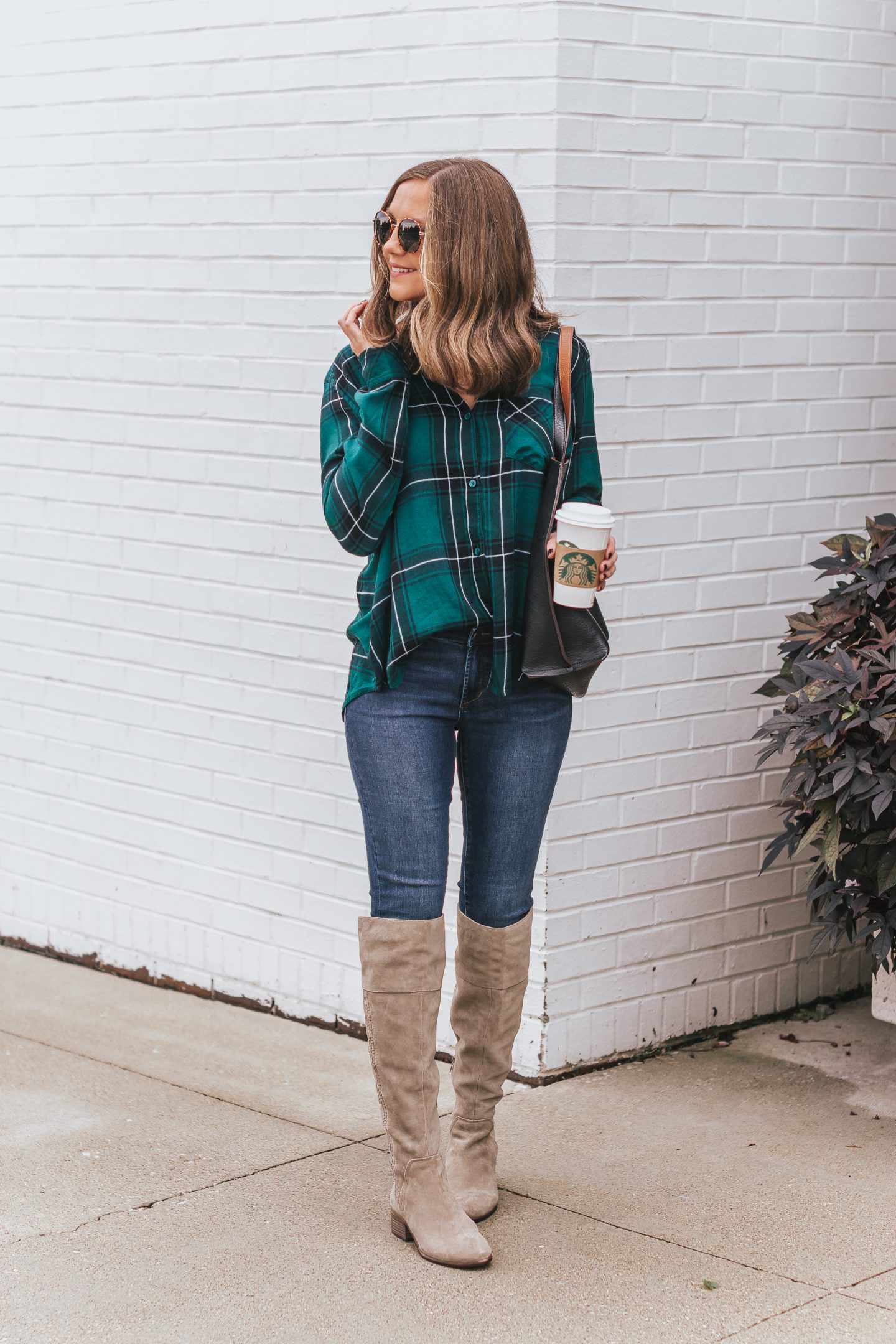 Below are the 9 fall essentials that you should have in your closet!
Cardigan:
A cardigan is perfect to throw on over a tee or dress now, and layer all through the fall. Snag at least one mid-weight cardigan in your favorite neutral.

Plaid Shirt:
Plaid shirts are another fall must. Wear them with jeans or cutoffs, or layered over camis. Add a sweater as it gets colder.

Over The Knee Boots
Admittedly, y collection of over the knee boots has gotten a little out of control! They are a trend turned wardrobe staple that I'm obsessed with. I love them with dresses, skirts, skinny jeans or even faux leather leggings.

A Fall Bag
I love updating my bag with the season change and am sharing a ton of favorites, all very budget-friendly.

Skinny Jeans
I also love updating my denim and the pair I'm wearing here are very flattering and super comfy and stretchy. I love a darker wash with little or no distressing for fall and winter.

Pullovers
If you're like me you already have more pullover sweaters than you know what to do with, but these are my favorites!

A Fall Scarf
A scarf is a great way to add layers before and after you pull out your winter coat.

Booties
The favorite of the 9 fall essentials are definitely booties and the bootie selection this year is so good you guys! From Target to DSW toNordstrom, there are amazing options in every price range! And if you remember my boot guide from last year, stay tuned because I'll be updating it in the coming weeks for 2018! You guys loved this last year; it's a great one-stop shop as well as inspiration for the upcoming holiday season!

A Fall Lip Color
My final of the 9 fall essentials is a new lip color! Whether you opt for a soft nude or a rich berry, fall is the prime time to switch up your make up look.

What are your favorite fall essentials?