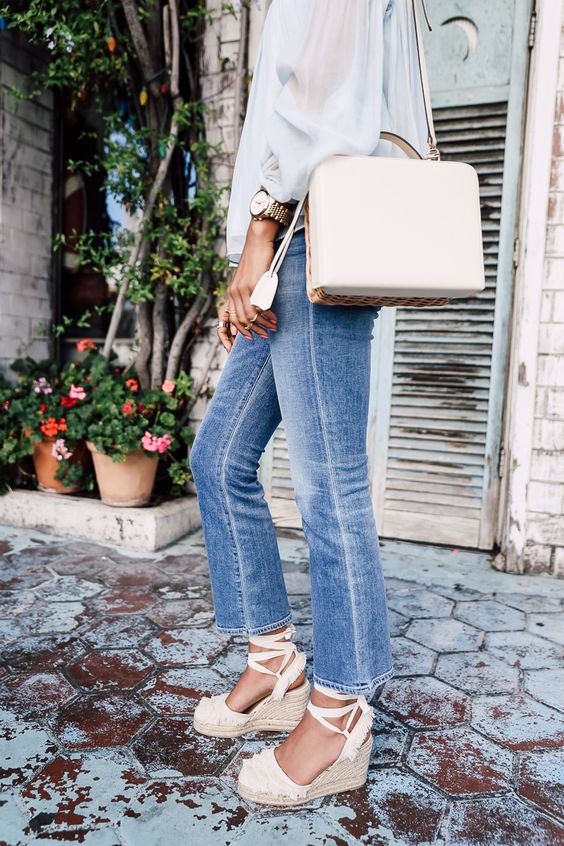 image
Late to the Party: Espadrille Wedges
Ok, I'm am ridiculously late to the party on espadrille wedges. I don't even know how this happened. Last spring, I was sort of turning my nose up at this trend but I have done a complete 180. This spring wedges are pretty much all I'm wearing – I mean, when I'm not wearing sneakers or Birkenstocks, because #momlife.
Since I'm newer to this comfy take on heels that's so much more practical for day to day life (I mean have you tried walking on grass in a stiletto?), I figured I'd share a few of the ways I'm styling this versatile shoe.
Espadrille Wedge Outfit Ideas – How to Style Espadrille Wedges
Outfit Idea 1: An easy t-shirt dress, jean jacket, spring bag and espadrille wedges.
Outfit Idea 2: An eyelet blouse, distressed skinny jeans, a spring clutch and espadrille wedges.
Outfit Idea 3: White with blue and pink accents and contrasting espadrille wedges.
Outfit Idea 4: A cozy pullover, skinny jeans and espadrille wedges.
Outfit Idea 5: White denim, gingham, a pop of color and espadrille wedges.
Outfit Idea 6: Cutoffs, an easy breezy top, a straw bag and espadrille wedges.
As you can see, it's super easy to style espadrille wedges and they give you legs for days. And the best part, they are not only flattering and versatile, but also super comfy! A few things to look for when choosing and styling espadrille wedges:
Make sure the toe box or toe strap is the appropriate width for your foot. Too wide or too narrow and this can cause discomfort.
Pay attention to the instep. Wedges with a more gradually sloped instep tend to be more comfortable.
Look for quality materials. Make sure that the stitching on the wedge is well done and the clasp is sturdy. Better quality doesn't always mean higher price. My favorite pair are actually from Target!
Shop My Favorite Wedge Espadrilles