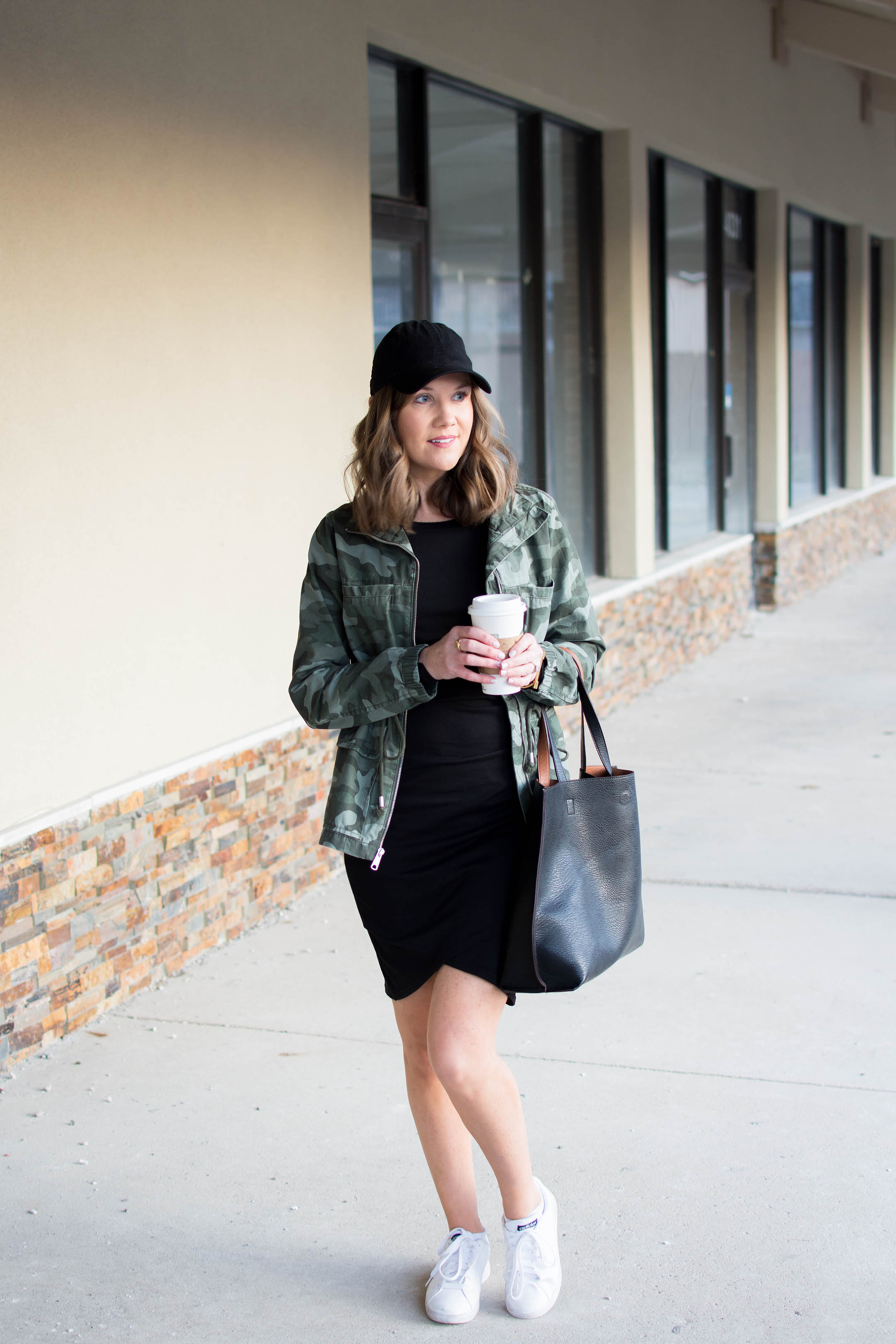 camo field jacket || dress (sleeveless version) || sneakers || reversible tote || hat || sunglasses
Shop My Outfit

The One Dress You Need in Your Closet
Well girls now that it's officially spring, it's time to start sharing some spring outfits, even though it's still cold AF here in Chicago! Number one on the list is this dress. You may remember when I raved about it last fall. Well, I couldn't resist adding another color to my closet and of course had to go with classic black. This dress is so versatile and can be dressed up with ease, but today we're sharing a more casual take and also some tips on how to wear a dress with sneakers.
This camo field jacket has also been a welcome addition to my closet. I picked it up in the blush color as well as both will be adorable with blue and white denim once I'm finally able to retire my parka!
How to Wear a Dress with Sneakers
Over the past few years sneakers have become more and more of a versatile wardrobe staple. No longer are they relegated to the gym, sneakers have become the ultimate "cool girl" shoe and can be paired with everything from jeans to skirts and dresses to leather leggings. I reach for these classic white sneakers more often than almost anything else in my closet but also have this pair and am dying to add these as well.
Here are some tips on how to pair your dress with sneakers:
Play with hem length. Depending on your body type, certain dress lengths may make you look shorter.
Wear contrasting colors. My favorite dress + sneaker outfits involve mixing opposing colors. When in doubt, wear white sneakers.
Add other casual accessories, like a denim jacket or fun hat.
Avoid shapeless or overly flowy dresses which can make you look dowdy, instead of on-trend.
I hope these tips help! Are you a sneakers girl like me? I'd love to hear how you wear yours!