A Galentine's Lunch with the Girls!
Some of the women I've met through blogging have become some of my very favorite people to spend time with and one of my favorite things to do leading up to Valentine's Day, is to get the girls together for lunch. And when bloggers get together for food and drinks you know it has to be somewhere photogenic! When we heard that Chicago hotspot Hampton Social had opened up in the Burr Ridge Village Center we knew it would be perfect. Good food, amazing drinks and a bit quieter than the Chicago location.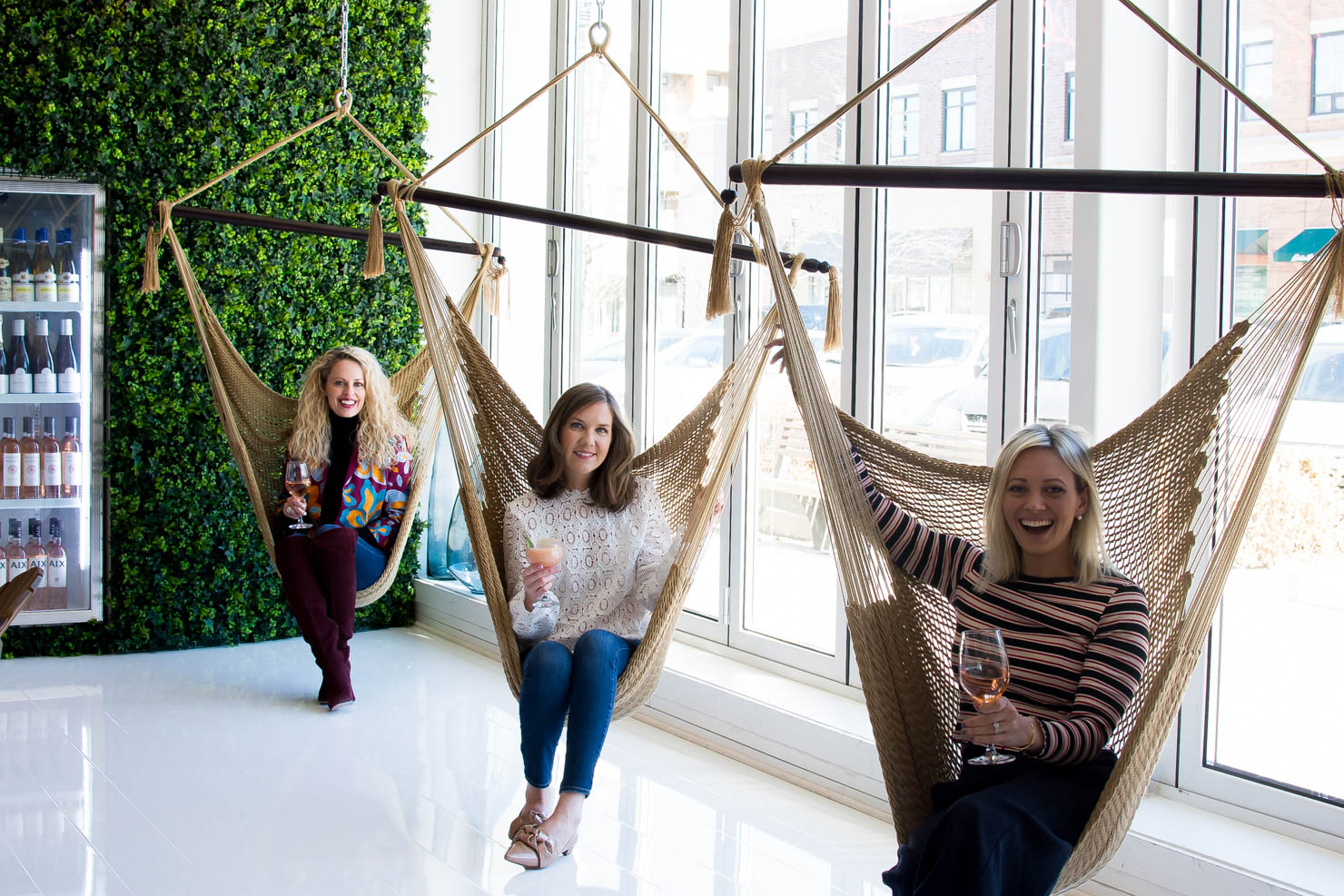 This post is in no way sponsored, I just wanted to switch things up a bit and share some amazing and talented women that I've had the privilege of getting to know. And to also introduce you to one of my favorite restaurants that for some of you, might be a little easier to get to than the Chicago outpost.
Shop My Outfit:

Hampton Social: Burr Ridge Village Center
I met Nicole of Cedar & Rush at a blogging event a couple of years ago and Kelly from Just Browsing at our Sullivan's event last year. It was such a treat to get together for an afternoon of cocktails, hors d'oeuvres and lots of good ole girl talk. Both Nicole and Kelly have been so supportive throughout my blogging journey and are so fun and down to earth. Be sure to check them out!

Kicking off our Galentine's Day lunch at Hampton Social Burr Ridge with…
Obviously, we kicked off our Galentine's Day lunch at Hampton Social with the Rosé of the Day and my personal favorite, The Frosé cocktail! The Frosé combines Toto's vodka, rosé and peach puree and it is to die for! Then we snacked on the East Coast IPA Mussels and the Crab and Avocado tack. I was a bit unsure on the mussels, but let me tell you they are delicious and whatever creamy sauce they were served in was just beyond. The Crab and Avocado stack was very flavorful with just the right amount of kick.
So much tasty goodness.
I also ordered a cup of the clam chowder. Topped with a clam and sprinkled with bacon this was the perfect dish for such a chilly day. We were beyond stuffed at this point but I can't wait to go back and try their Lemonade Cake or Peppermint Stick Ice Cream! Our Galentine's Day lunch at Hampton Social was a smashing success.
Do you celebrate Galentine's Day with your girlfriends? Do you have a favorite place to go?