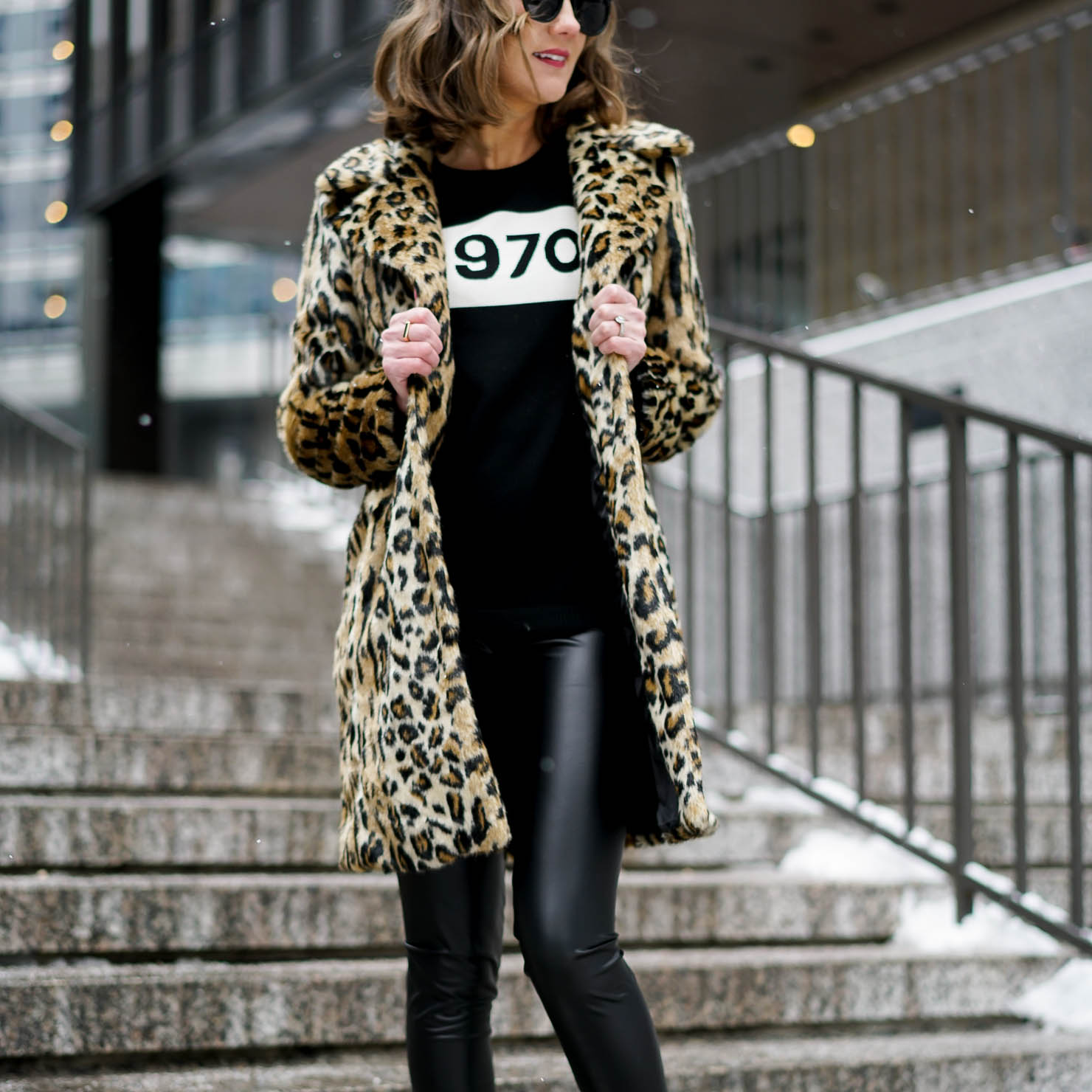 similar coats here, under $40, here, under $100 and here || sweater c/o || leggings, recently upgraded to these and they are worth every penny! || identical sneakers || sunglasses
photos by the lovely Anna of A Lily Love Affair

To Leopard or Not to Leopard
This coat was an impulse buy at the end of last season after seeing leopard print coats all over Pinterest for many months. To be honest, initially it didn't get a lot of wear. It felt like to strong of a statement piece for my mom life. But then recently, with all of the cold weather we've been having in Chicago, I said eff it, I'm wearing the leopard print coat. I'm wearing it to Costco, and school drop-off, and out to dinner. Sure some people look at me like I'm crazy, but more often then not, all I receive are complements.
This exact look is inspired my my trip to Fashion Week last year with Anna. One thing I took away from the experience is that comfort is king. With fall shows kicking off in just a couple of weeks, this would be an ideal outfit. Nothing says fashion girl like pairing leopard with sneakers. Add faux leather leggings and a graphic sweater for that off duty look that will make you look like a pro. And for #reallife, I'd just swap out the leggings, for denim!
Wear the Leopard Print Coat
Life is short. Sometimes you don't need a reason to wear your favorite dress or coat or whatever it is that you're saving for a special occasion. I'm frequently a "less is more" kind of girl. But you know what? Sometimes more is more. Sometimes its ok to go big and feel good about it. So wear the leopard print coat.