tie-sleeve sweatshirt, here and here || crop flares, also love these and these || Zara heels, old, similar here and here || Rebecca Minkoff bag, clutch version, all black version, also love this
photography by Anna of A Lily Love Affair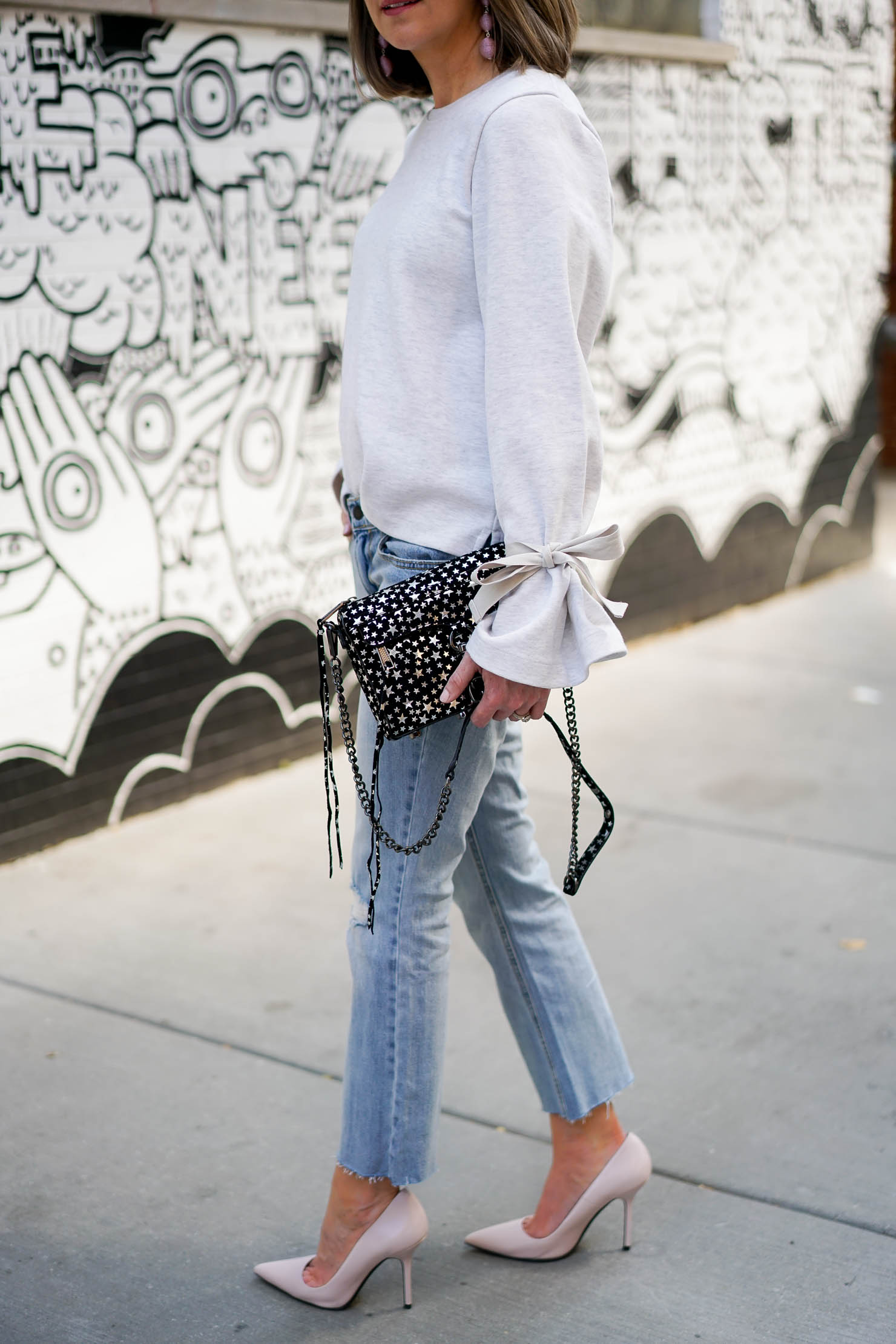 Shop My Outfit

Sweatshirt Game Strong
Can we all agree that anytime something as comfy as a sweatshirt becomes on trend, that we can just immediately hop on that band wagon? It's a no-brainer? Amiright?
Ok, now that we've established that let's chat about this look. Sweatshirt + jeans + heels = instant chic. Or flats. Or sneakers. Really the choice is yours. Its the updated details that make this easy outfit really stand out. I love the slightly boxy fit of this sweatshirt and that the bell sleeves are cinched with ties making them infinitely more practical that your traditional bell sleeves.
Sweatshirt Trends
We've styled sweatshirts on the blog in the early days (see here and here) but never have there been so many options for this closet staple. This isn't your boyfriend or husband's sweatshirt. From ruffles, to ties, to statement sleeves we're loving all of the sweatshirt trends. Stock up because this is the easiest way to update your #momiform we've ever seen!
The only bad news I have is this amazing star print bag by Rebecca Minkoff is sold out😢 BUT, I did find the clutch version and it's under $100! I'm also seriously obsessed with this star embellished satchel and this velvet crossbody (same style) for just $80.
More Sweatshirts We Love

Is this a trend you'll be wearing out and about?