gingham peplum top (only $11!!!) || jeans || J. Crew bag, similar here and here || sandals || sunglasses || bag charm
photos by Anna of A Lily Love Affair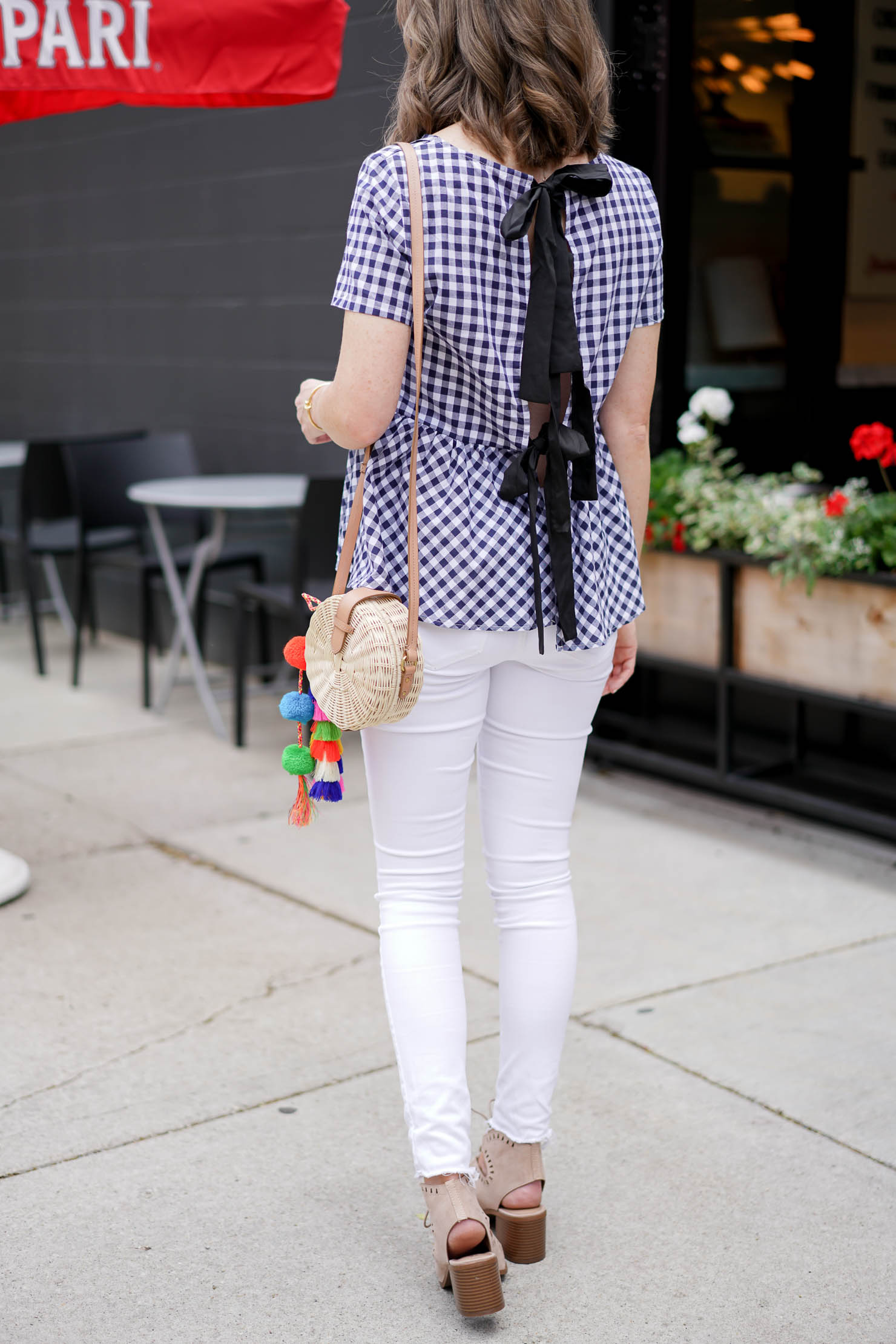 Hello, hello! I Hope your week is off to a great start! My head is till spinning from a busy and info-packed 3 days at The Blog Societies Conference here in Chicago. I learned a ton and was able to connect with some other bloggers that I've adored for years but had never had the opportunity to meet in person. I couldn't have asked for a better squad than Anna, Jill and Alyson. We really did have an amazing time. If you guys are interested in a recap of what we covered, let me know! I'd be happy to write a post on some of the topics we covered:)
Now, onto the outfit…
After such a busy few days I was thrilled to be home with my family on Sunday for a summer brunch. In these waning days of summer (yes, school starts for us in 2 weeks…eek!), one of my favorite things to do as a family is Sunday morning brunch. Its an opportunity to reconnect, talk about the week ahead, and of course, eat:)
Brunching Calls for a Brunch Outfit
Another reason I love brunch is its a reason to dress up a little more than we might normally when we go out as a family. For this week's brunch outfit, we went with gingham, peplum, ties, oh my.
I can't say enough about this top. Its peplum cut makes it the perfect brunch outfit piece. It comes in 4 colors and has the sweetest bow details in the back and, you guys, it's $11. Yup. Eleven dollars.
Date night? Got you covered. BBQ with friends? Right this way. Packing for a last minute summer getaway? Here you go. This top has been my go to all summer long and even though the season is winding down, I can imagine wearing this well into fall.
And speaking of summer winding down, I've actually begun shooting fall content! It seems crazy, but the cliches are all true. The older you get, the faster the time goes. And I'd love your thoughts on what you'd like to see more of. Leave me a note in the comments!