This post has been sponsored by Clamato®. All thoughts and opinions are my own. Must be 21 or older to consume alcohol. Please drink responsibly.
I'm so excited about this post because I have enjoyed a Mexican michelada since I was in college and people are always SO excited when I introduce them to this refreshing cocktail! Today, we are creating a michelada ceviche with Clamato®, lime, hot sauce, shrimp and cucumber. Light, flavorful, refreshing and perfect for summertime!
Ingredients
Shrimp, cooked
1 Lime, wedges
2 tsp Hot sauce
1/4 cup Lime juice
1 tsp Worcestershire sauce
1 Salt/pepper/chili powder
Ice
Chilled cerveza
1 cup Clamato juice
An Authentic and Unique Mexican Michelada
The secret and un-substitutable ingredient to my michelada ceviche recipe is none other than Clamato, the authentic tomato cocktail that spices up all your parties and get-togethers. As I've mentioned previously, summer is the time of year where impromptu get-togethers are a part of the fabric of the season. And you can be sure to knock your friends and neighbors sandals off with a michelada this summer.
Micheladas made with Clamato are the perfect drinks to get things started when friends or family drop by. Music, food, and drinks are almost always a part of these occasions and this colorful and flavorful cocktail is always on the menu at my house. A conversation starter, to be sure, the michelada is easy to customize to anyone's tastes.
I used Clamato original in this recipe but with flavors like Clamato Picante, Clamato Limón and Clamato Preparado, the michelada recipe options are truly endless. And be sure to use your favorite cerveza for an authentic michelada!
I shop for Clamato, along with the rest of the ingredients for this recipe, at my local Albertson's store. I don't love grocery shopping but Albertson's makes it easy. I'm always able to find what I'm looking for, as well as any unique garnishes, with ease. And if I have questions, the friendly staff is always super knowledgeable and able to help.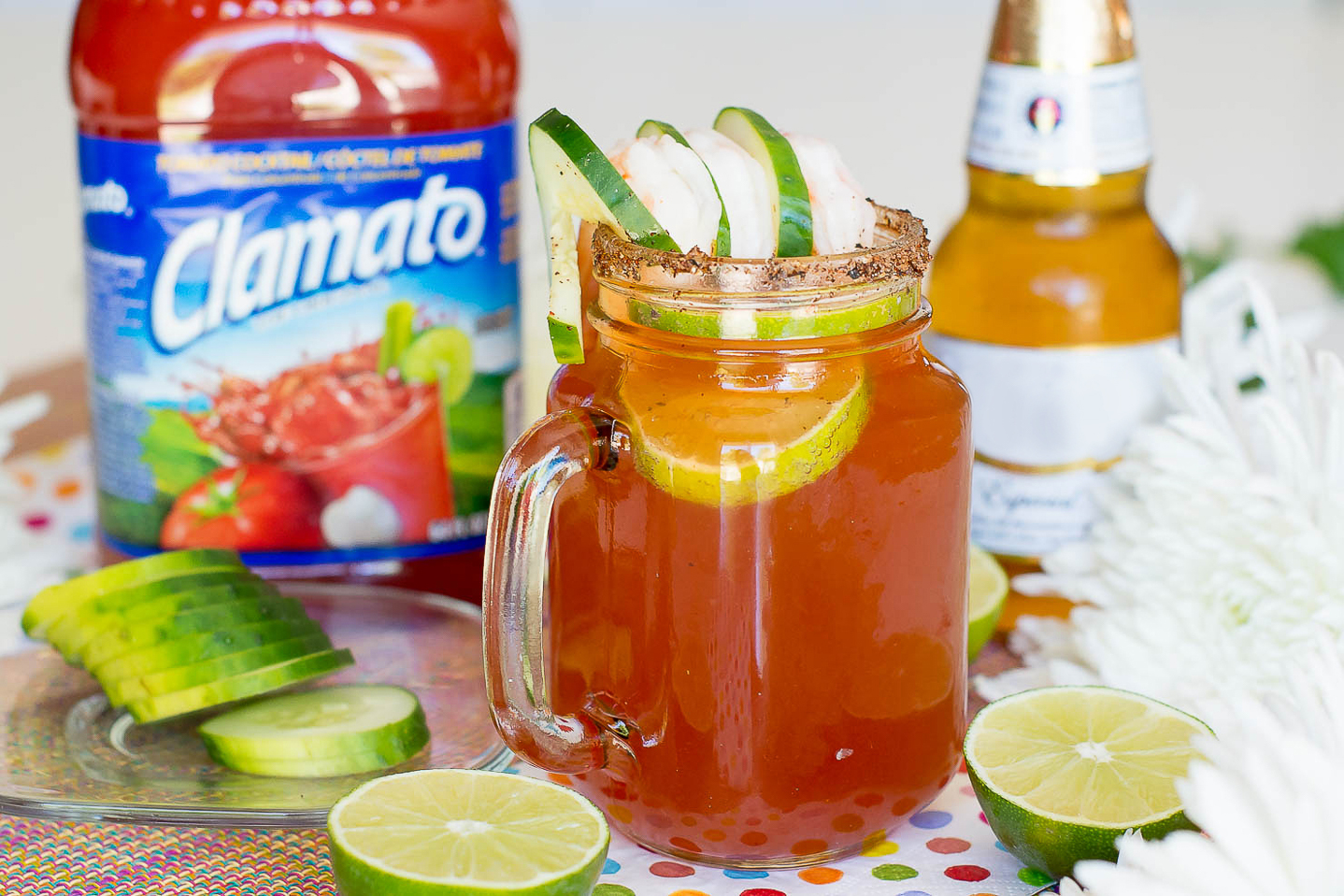 The Perfect Complement to Summer
Summer is a lively time in our diverse neighborhood! The neighbor kids are always running between the houses, friends are splashing in backyard pools and the grills are always on. Music and laughter fill the air as friends pop in and out of each others' backyards. The michelada is the perfect complement to such a lively time of year.
Mexican Michelada Ceviche Ingredients
Shrimp, cooked
1 Lime, cut into slices
2 tsp Hot sauce
1/4 cup Lime juice
1 tsp Worcestershire sauce
1 Salt/pepper/chili powder
Ice
Chilled cerveza
1 cup Clamato juice
To rim your cold class, run a lime wedge around the rim and then dip into a mixture of salt, pepper and chili powder. Then add ice and pour your cerveza. Mix with Clamato juice, hot sauce, lime juice, and Worcestershire sauce. Garnish with shrimp and cucumbers on a toothpick.
Let me know if you try this refreshing summer cocktail!