bell sleeve blouse c/o DYNAMITE || corset belt (only $15!), also LOVE this one! || Gap jeans, similar (1/2) || Cult Gaia clutch c/o Shopbop || brooch (on bag) || similar pumps || sunglasses (under $15!)
photos by my hubby!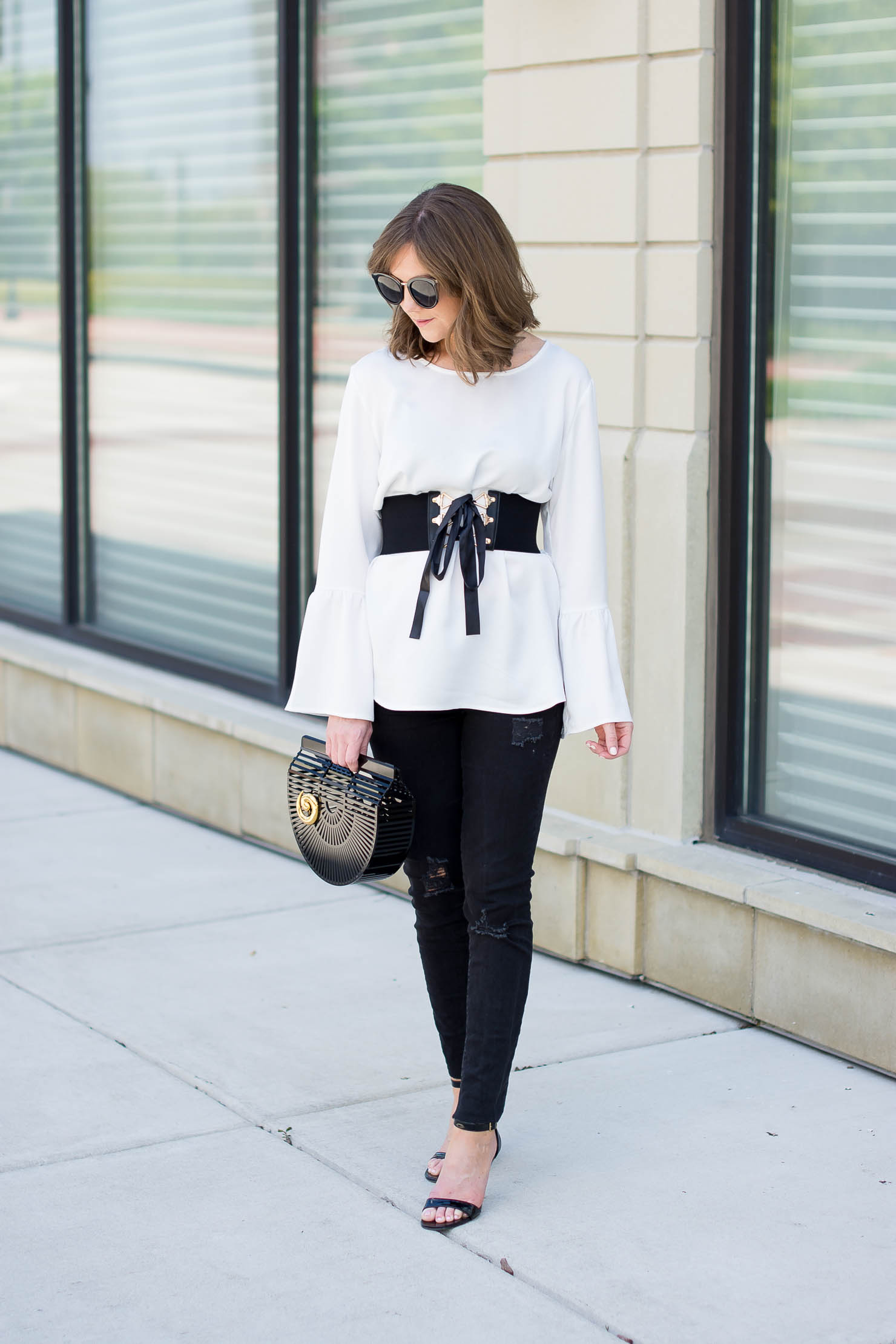 I'm really excited to be partnering again with Dynamite in today's post. (You can see my first look here.) They have so many gorgeous spring and summer pieces. I'm especially obsessed with all of their blouses and dresses.
I've also been pretty obsessed with the bell sleeve trend this season, so when I spotted this blouse I didn't hesitate. I loved the combination of sleek satin and dramatic sleeve details. And the flowy fabric is perfect for this time of year. Blouses like this can definitely take on a bit of a boho vibe, so I thought it would be fun to show that you can also style them with more of a sleek and edgy vibe.
Enter the Corset Belt
Another huge trend as we go into summer, is the corset belt. I love how it tames the volume of this blouse and also defines my waist. It always amazes me how adding a simple accessory can have such a dramatic impact on the feel of an entire look. The corset belt works well with flowy tops, crisp blouses, and even fit and flare summer dresses. Its SUCH a versatile piece and a really budget-friendly way to add a dramatic impact to your wardrobe.
Right now you can receive 15% off your Dynamite order with promo code DYNAMITE15 (new customers only). Shop this blouse and the rest of my look here:

I mentioned in Tuesday's post that I would be sharing some exciting news today! I've recently started working as part of the team at Vintage Meet Modern and I couldn't be more excited. Veronica has been a friend of mine for years and I've loved watching her grow her business and share her passion for style and for vintage. She has such impeccable taste and a well-trained eye that can spot the most unique of pieces.
I'll be writing the blog and helping Veronica launch some exciting new services in the coming months. I'm so thrilled to be a part of her team and to contribute to the continued growth of Vintage Meet Modern. I hope you'll check out some of my work thus far! And let me know what you'd like to see us talk about next. We are busy planning the content calendar and would love to hear what you'd like to see. And for early access, exclusive giveaways, styling tips and more be sure to join our private Facebook group, Styling Society.
As always, thank you so much for reading!