This post has been sponsored by 7UP. All thoughts and opinions are my own.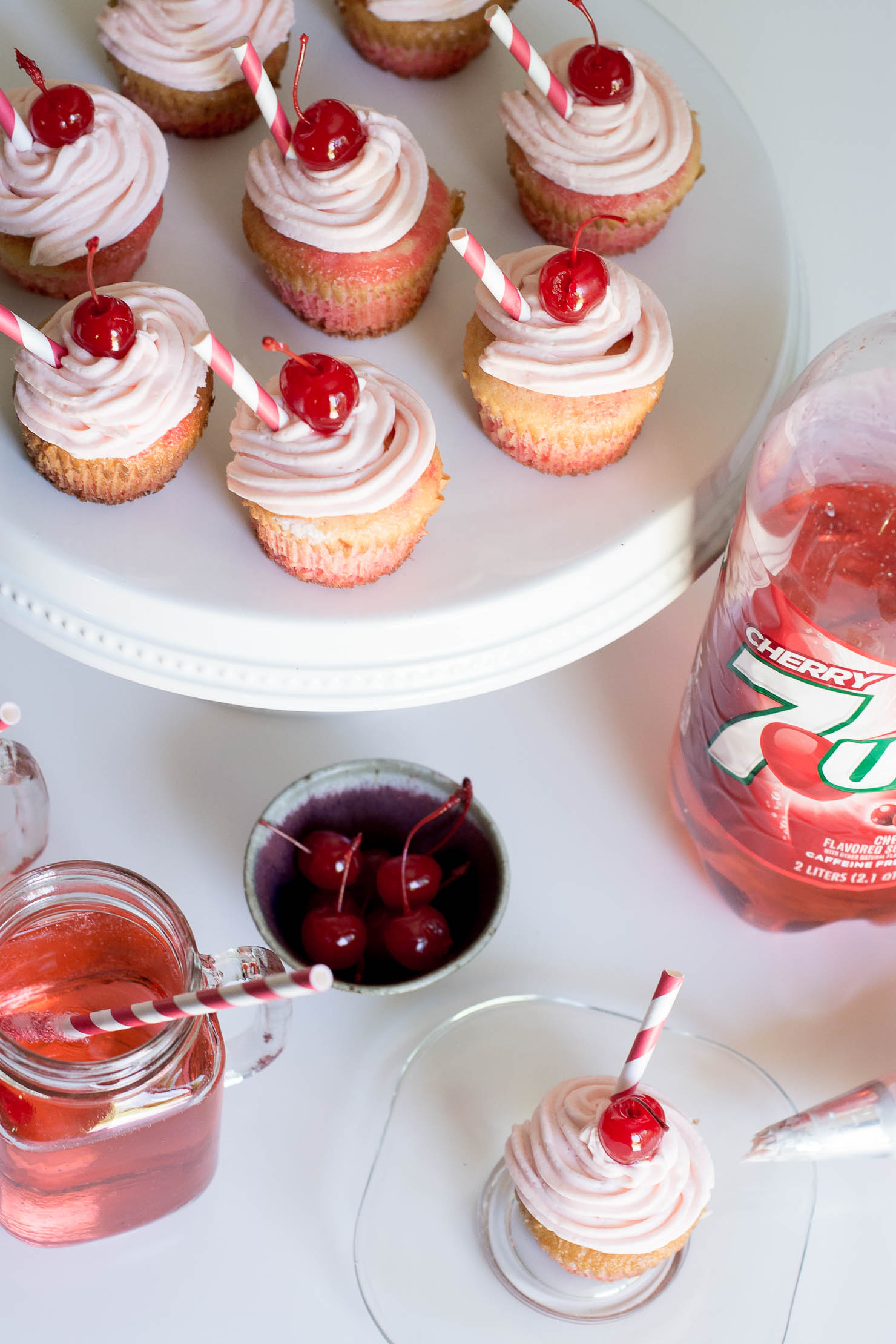 Shirley Temple Cupcakes
With spring and summer entertaining in full swing I've been trying to come up with fun, crowd pleasing recipes. During a recent trip to Walmart I was picking up some baking supplies and threw in a jar of Maraschino cherries. My kids love cherries and cherry-flavor anything so for a recent Kentucky Derby party, I whipped up these adorable Shirley Temple cupcakes featuring Cherry 7UP® and maraschino cherries. And let me tell you, these light, flavorful cakes were the hit of the party!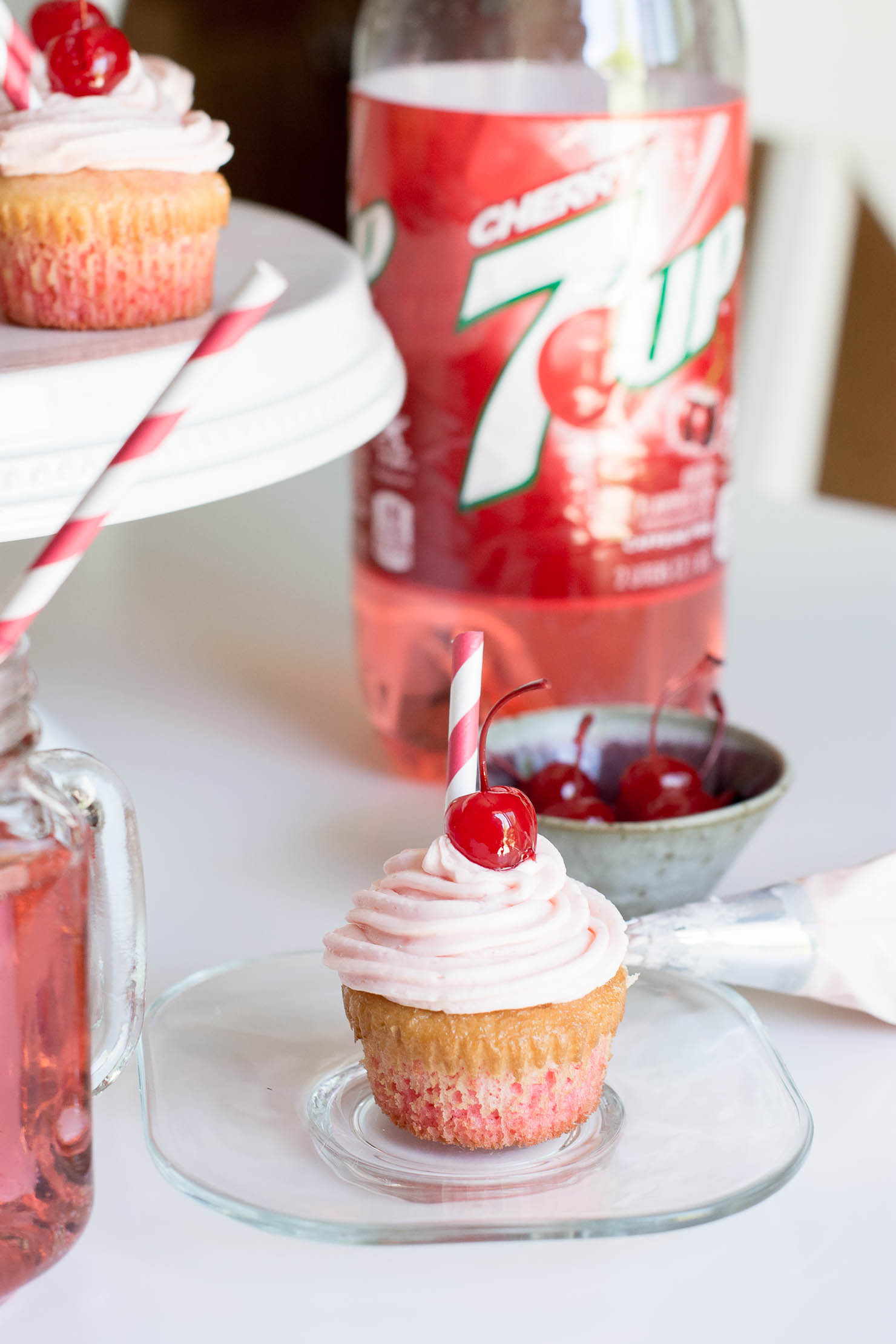 Walmart has you covered for all of your baking needs.
I don't think there is a kid alive who doesn't love cupcakes. My kids are always asking for me to bake them and love helping in the kitchen. Our regular baking days mean that I constantly need a pantry refresh. And I always shop at Walmart when I'm in need of a restock. They have the best prices and selection on all of my baking essentials so that we can create fun recipes like these Shirley Temple cupcakes anytime.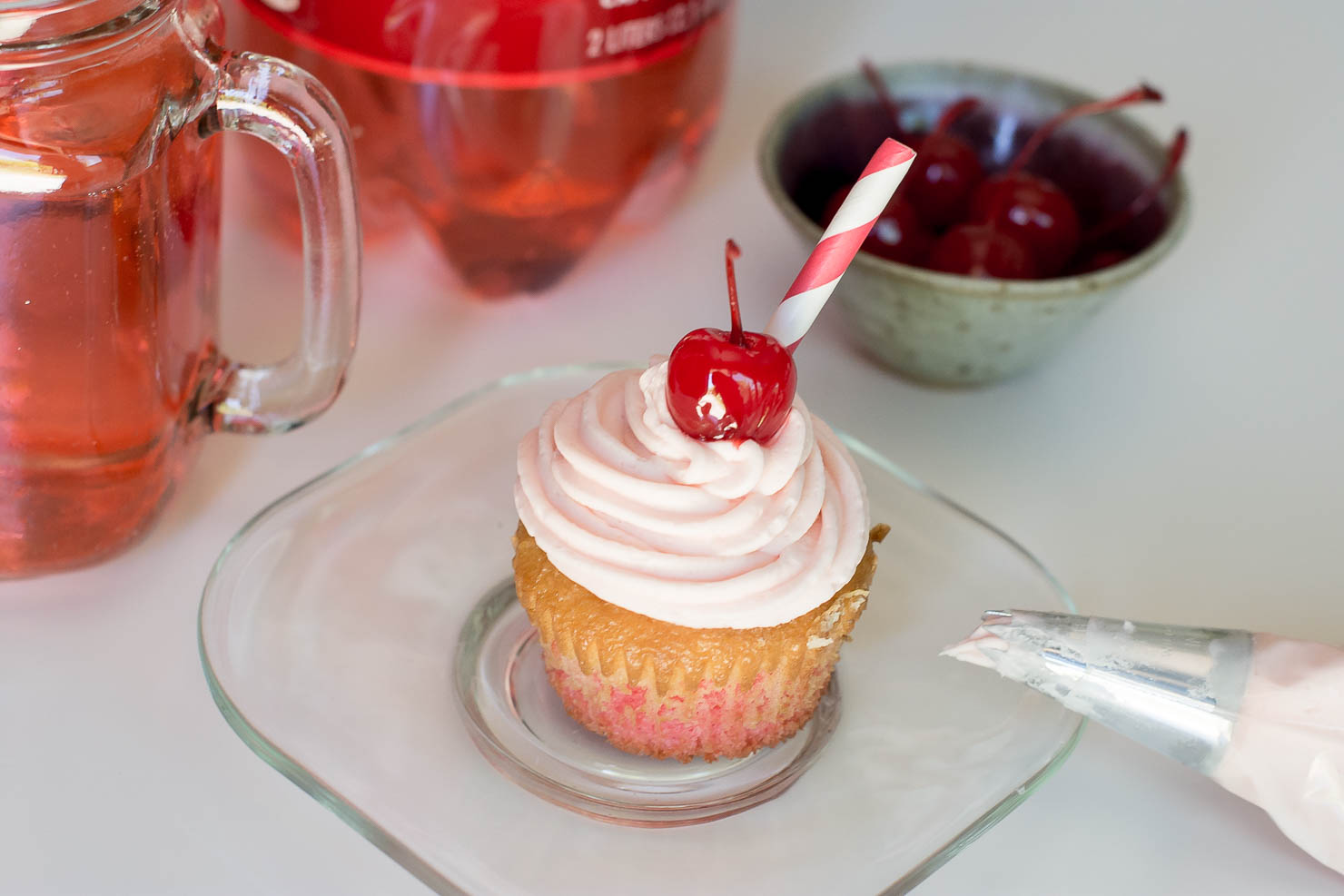 I wanted the cherry flavor to really be the star of the show so I went all in, adding both Cherry 7UP and maraschino cherries to both the cake and the frosting. Not only does it impart a light and sweet flavor, but it also provides the perfect pink coloring to the frosting.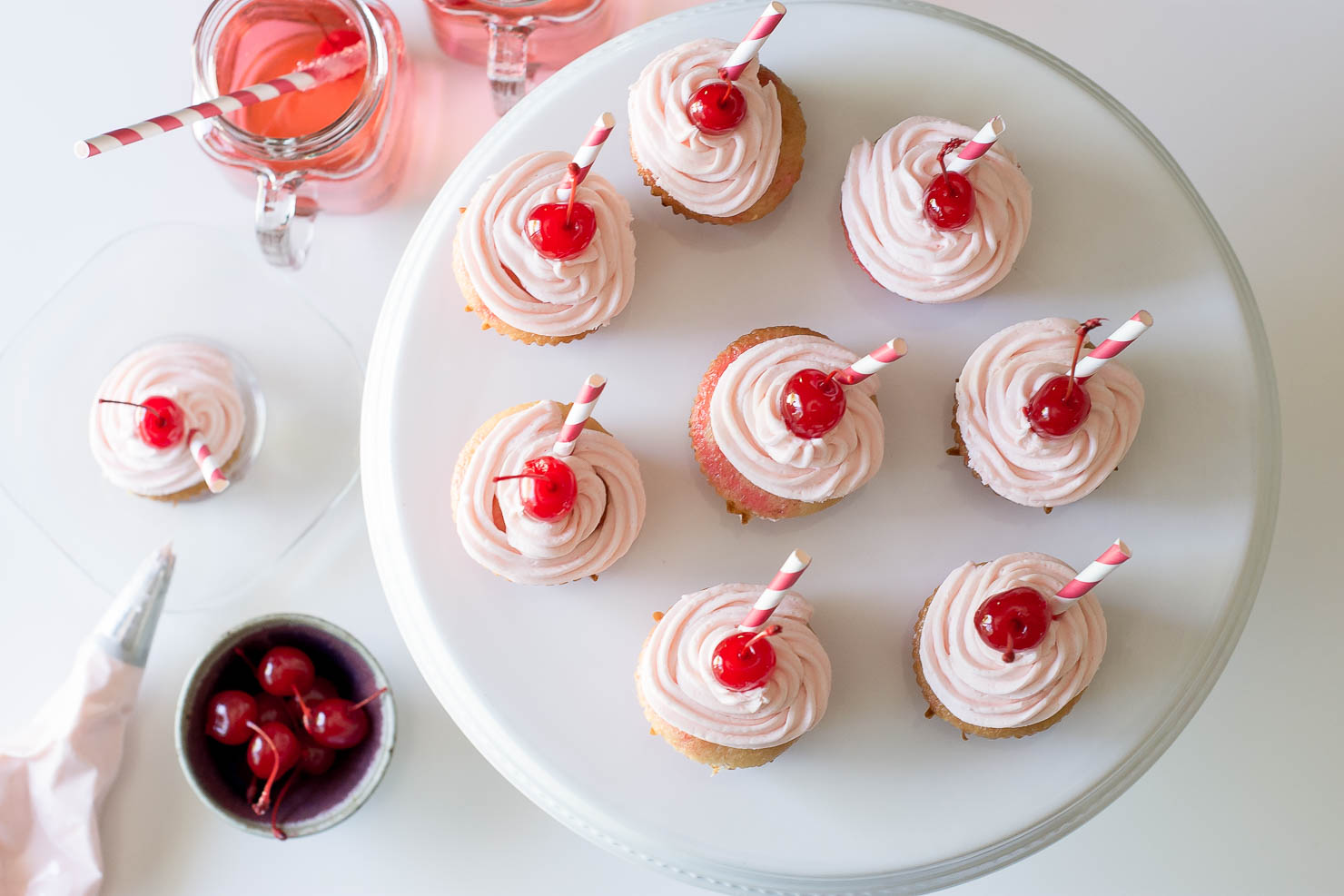 I even added a maraschino cherry to the center of each cupcake! Such a fun surprise when you take a bite.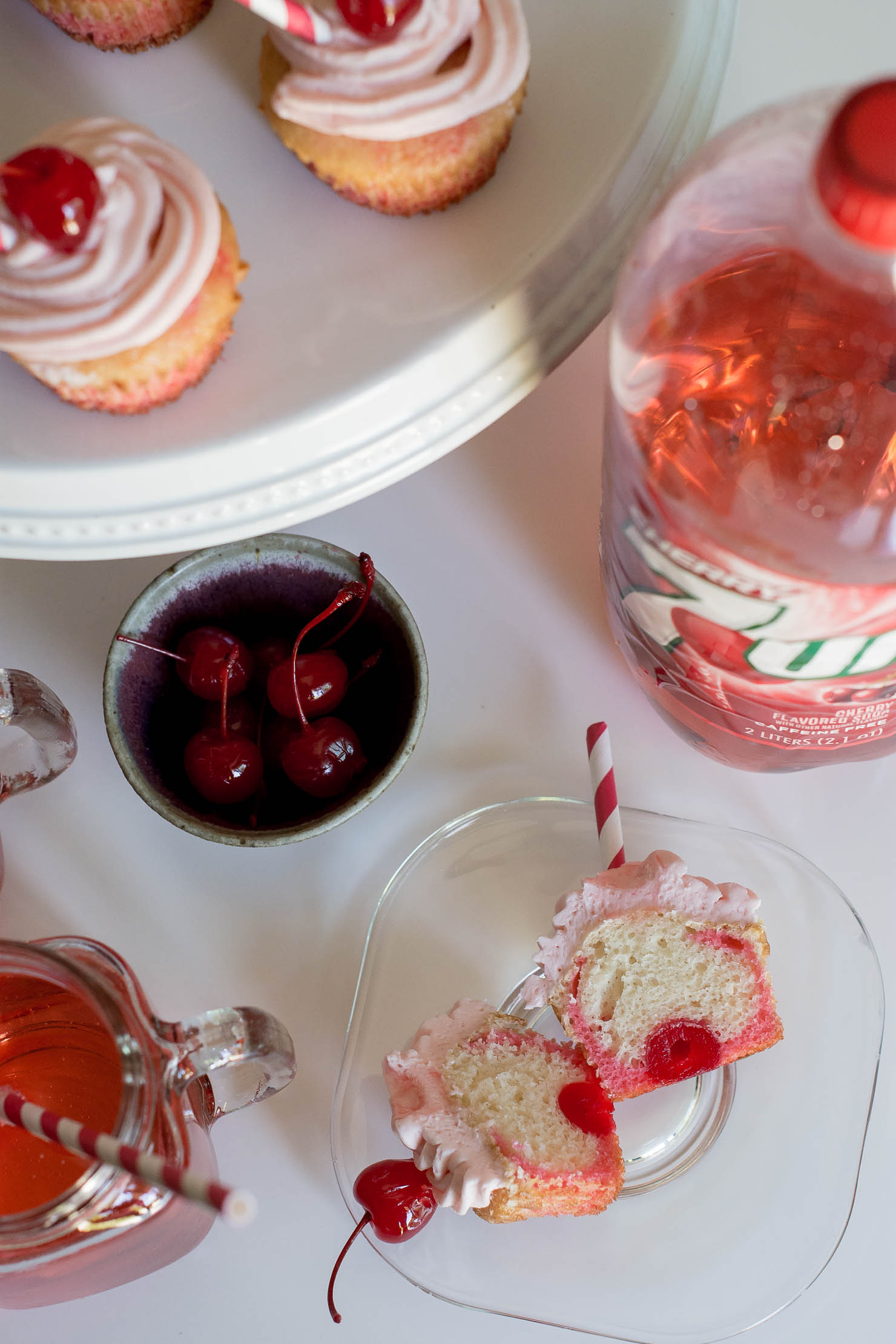 And who knew Cherry 7Up could be so versatile! It's crisp, refreshing flavor lended itself perfectly to this recipe. And the leftover soda was the perfect addition to the kids' punch that I also concocted with the Cherry 7Up and lemonade that I also picked up on our Walmart run.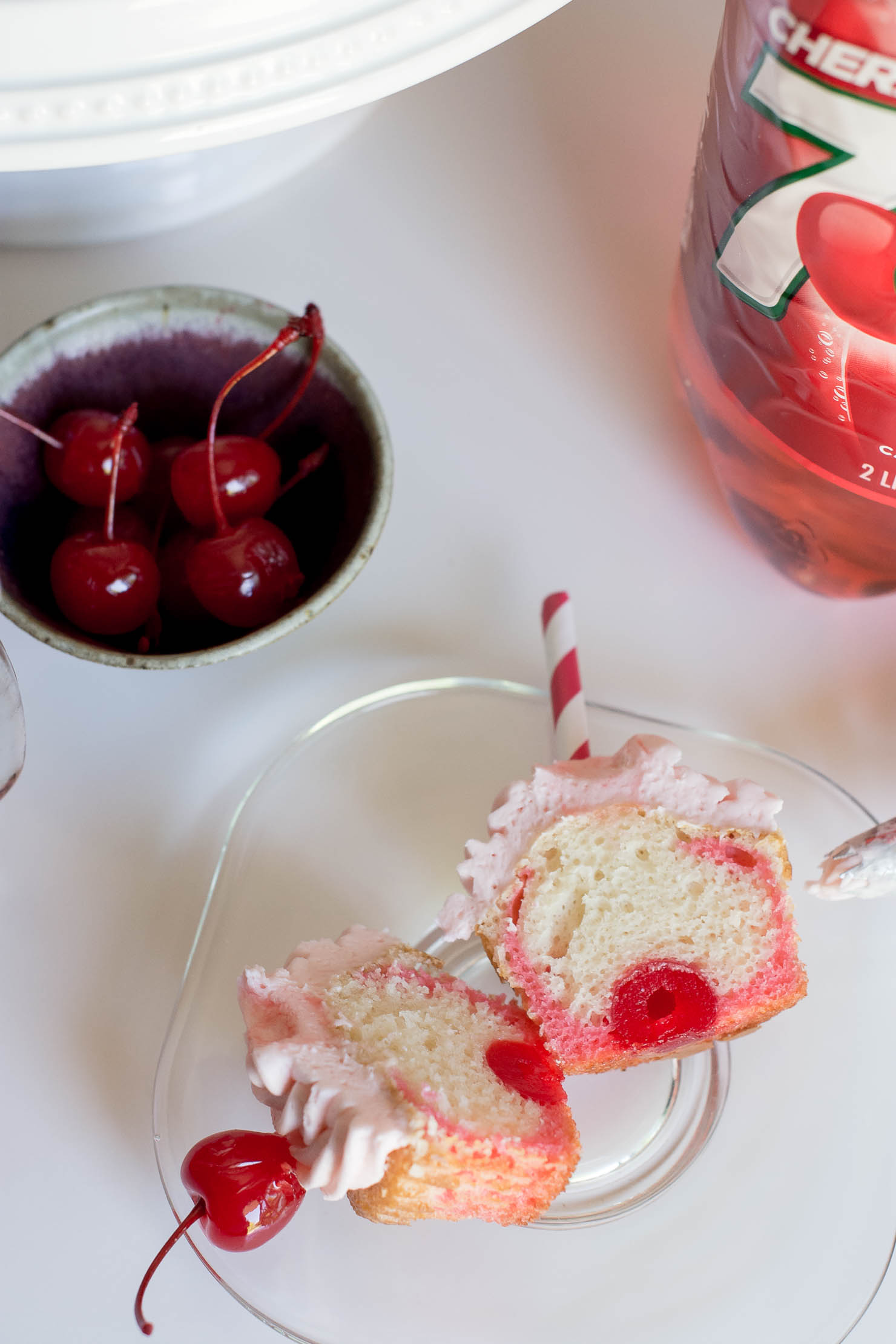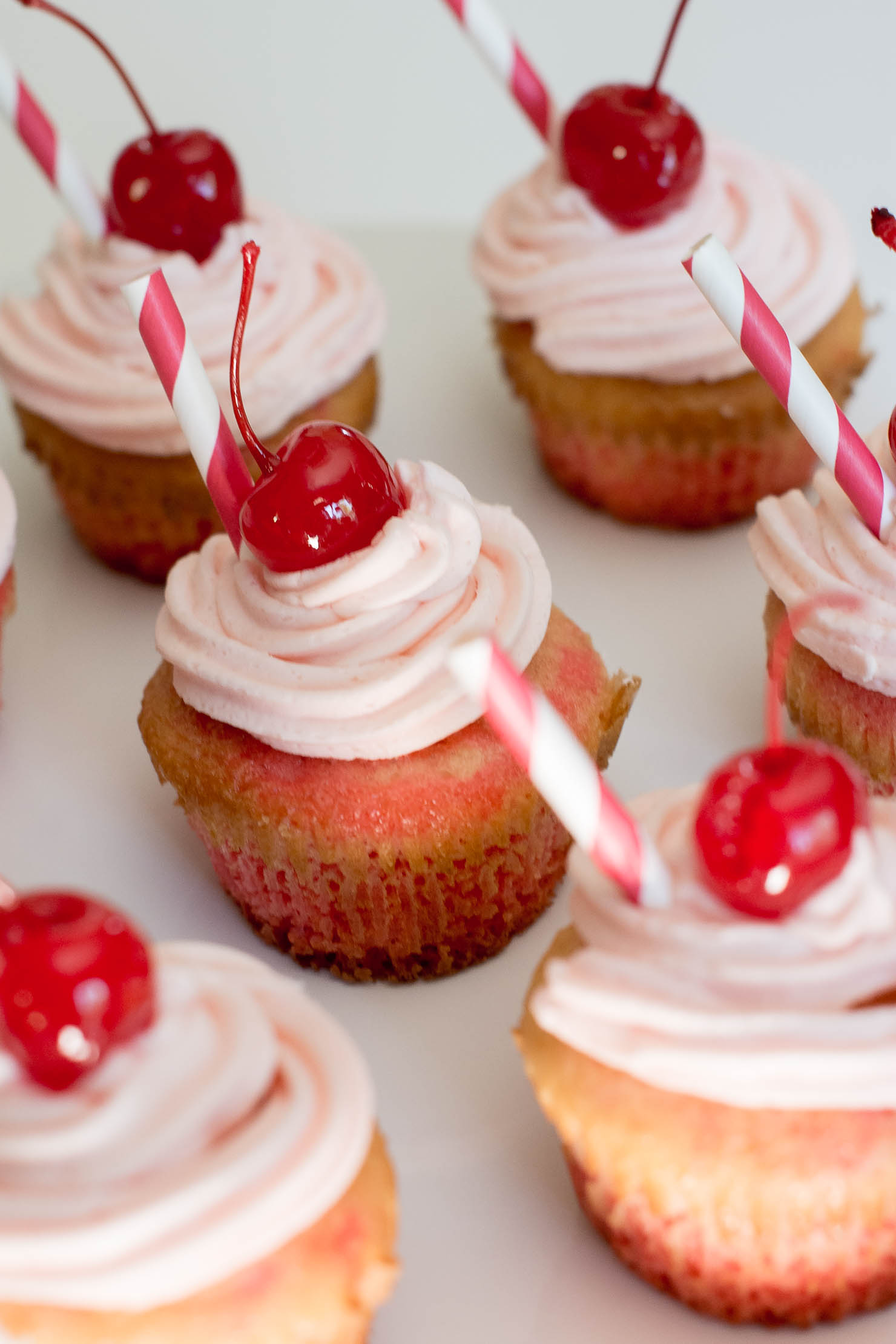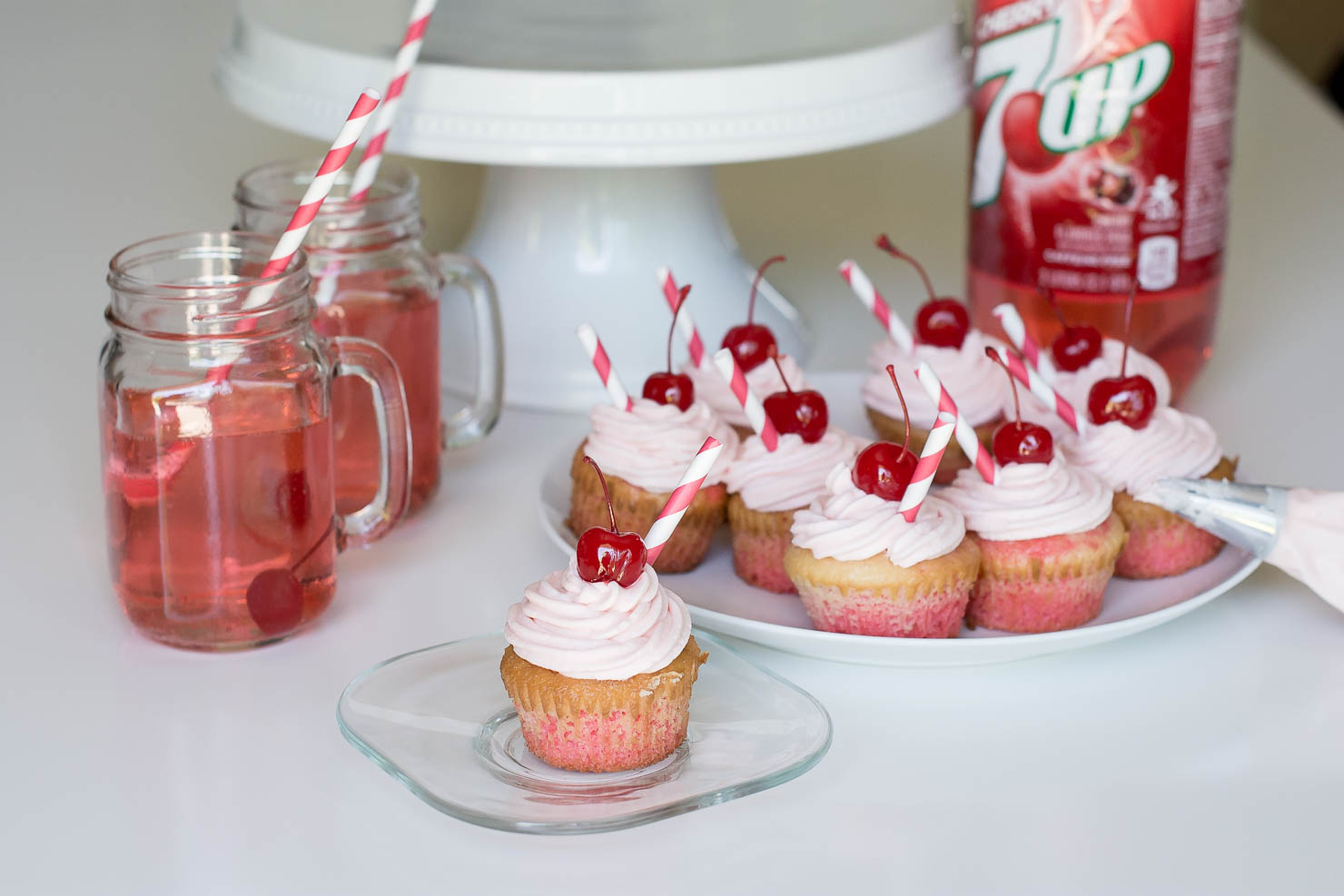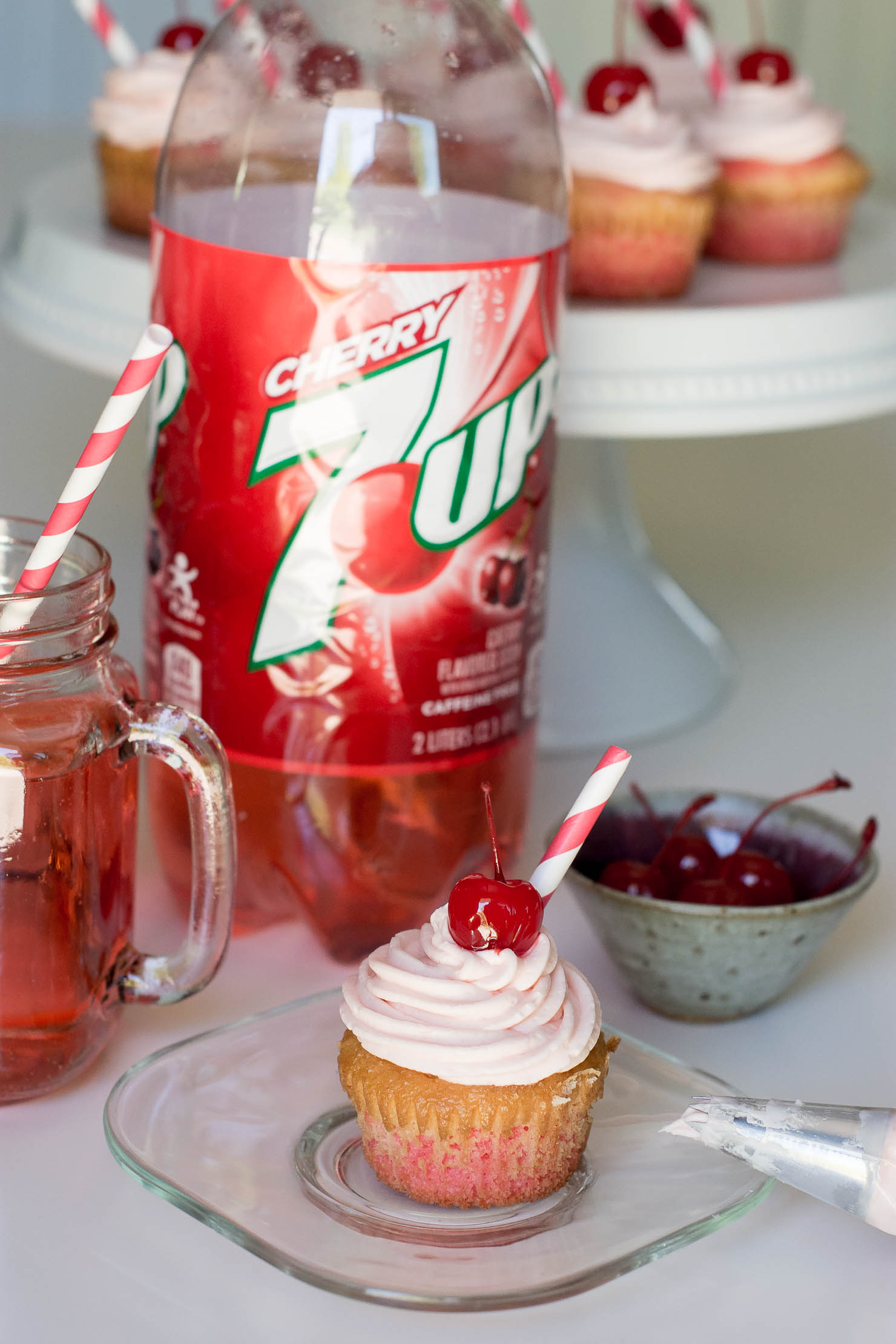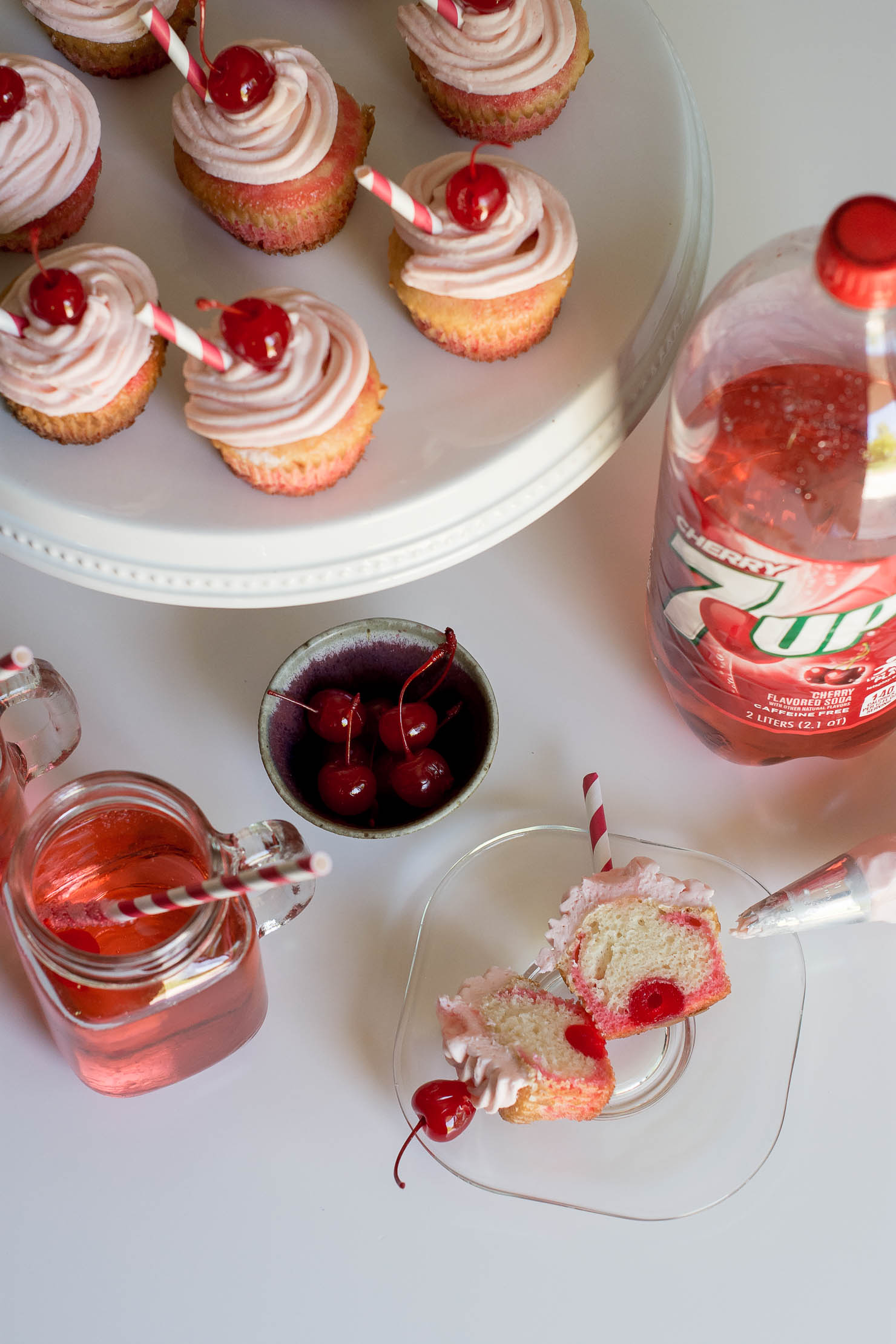 As I mentioned, I purchased all of my ingredients at Walmart, as they tend to have the best prices on 7UP products as well as any baking supplies I needed to pick up for these adorable cupcakes. And this recipe can be enjoyed year-round. (How cute would these be for Valentine's Day?!)
Shirley Temple Cupcakes
2017-05-08 17:52:40
Adorable Shirley Temple cupcakes made with Cherry 7UP and a surprise maraschino cherry in the center.
Ingredients
Cake
1 box vanilla cake mix ( chocolate would be equally good!)
1 1/4 cup Cherry 7UP
1/2 cup vegetable oil
3 large eggs
red food coloring
Frosting
1 cup (2 sticks/8oz) salted butter, softened to room temperature
4 cups powdered sugar
1 teaspoon vanilla extract
1/4 teaspoon almond extract
2 tablespoons 7UP Cherry
3 tablespoons Maraschino cherry juice
24 maraschino cherries with stems, for garnish
Cupcakes
Preheat oven to 350°F. Line cupcake pans with baking cups. Beat cake mix, 7UP, oil, eggs and vanilla in a large bowl at low speed until moistened, about 30 seconds. Increase to medium speed, beating for 2 minutes.
Set aside about 1/3 of batter in a small bowl. Add red food coloring and stir until fully combined. Spoon the red batter evenly between the baking cups. Add 1 maraschino cherry in each cup, stem removed. Gently add the rest of the batter on top. Bake for 16-18 minutes, or until a toothpick inserted into the center comes out clean. Cool.
Frosting
Beat the softened butter until smooth and creamy. Fold in powdered sugar, vanilla, almond extract, 7UP and cherry juice. Beat until whipped, about 3-4 minutes. Pipe cherry frosting onto cooled cupcakes and top with a cherry.
Wishes & Reality https://www.wishesandreality.com/
Thank you so much for reading! Follow this link for more simple summer recipes using 7UP!