H&M bomber (bought in store, 5 colors available online, also have in black), similar here; also love this one in pink and this one in grey || H&M jeans, love these || Zara sweater || Steve Madden pumps, similar under $30, in 6 colors || Rebecca Minkoff 'Love' bag, love this mini version || critter charm, under $7!!! also love this one!|| H&M sunglasses
photography by Ashley of Sed Bona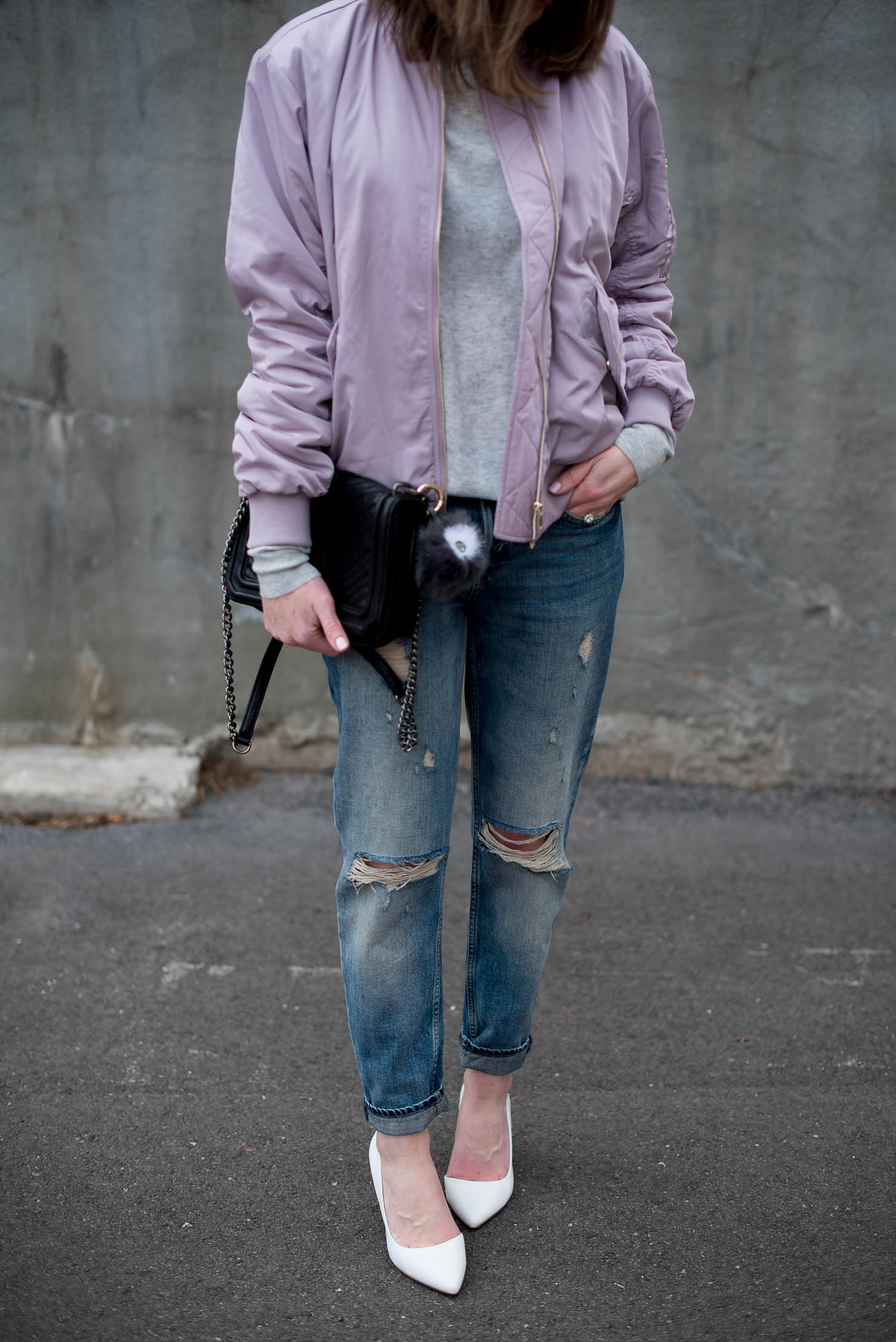 New In Color: Muted Pastels
Walk into H&M, Forever 21, Nordstrom, or many other retailer and you'll notice the prevalence of muted pastels. At first this color palette terrified me. As a fair girl with pretty pink undertones, I've mastered the ability to embrace my love of blush by including it in my accessories, but not near my face. Never near my face.
So I was a bit surprised when I tried on this lavender hued bomber and found that it didn't make me look positively ill. (PLUS it comes in 5 other colors and has the perfect longer silhouette and its on sale for under $25!) It seems that it is possible to find the right pastel no matter your skin tone. And for you medium and olive skinned girls, pastels ranging from blush to pale blue will flatter your summer tan just as well as shades of white.
…What are your thoughts on pastels?
The Bomber: Trend turned closet classic
The bomber trend caught my eye a couple of seasons ago and I'm happy to report that it seems to be here to stay. Like the leather moto jacket, the bomber works with both dresses and more casual outfits. At this point I have one in olive, black and this lavender shade. I found mine in store, but the same style is available in 5 shades online. I plan on styling it with white sundresses once the weather warms up, but love it for now with boyfriend jeans and heels.
Have you jumped on the bomber bandwagon?