This shop has been compensated by Collective Bias, Inc. and its advertiser. All opinions are mine alone. The following content is intended for readers who are 21 or older. #RMPSNewLook #CollectiveBias
Happy Hour for Two
These days everyone always seems to be burning the candle at both ends. Before you know it weeks or months have flown by. With our busy lifestyles, it's so easy to become disconnected from our significant other.
I've found that it helps to create a weekly tradition for the two of you that you both look forward to. And it doesn't have to be a date night away from home. It's just as fun to plan evenings in where you get some quality one on one time to reconnect.
One of my favorite weeknight traditions with my hubby is a happy hour at home. After the kids go to bed, we love to curl up on the couch with a glass of wine and catch up on our day or watch TV. Doing this has helped keep us connected and makes every day feel like "date night". It's become something that we both really look forward to!
Robert Mondavi's Private Selection Cabernet
Our favorite wine by far to pour for our "happy hour at home" is Robert Mondavi's Private Selection cabernet. Robert Mondavi's Private Selection beautifully bottled wines have a bold, high-quality look that matches the bold and high-quality flavors of the wine inside.
The cabernet is my favorite and has the sweet black cherry and dark berry fruit character that distinguishes California's finest Cabernet Sauvignons, and its ripe fruit is supported by velvety tannins.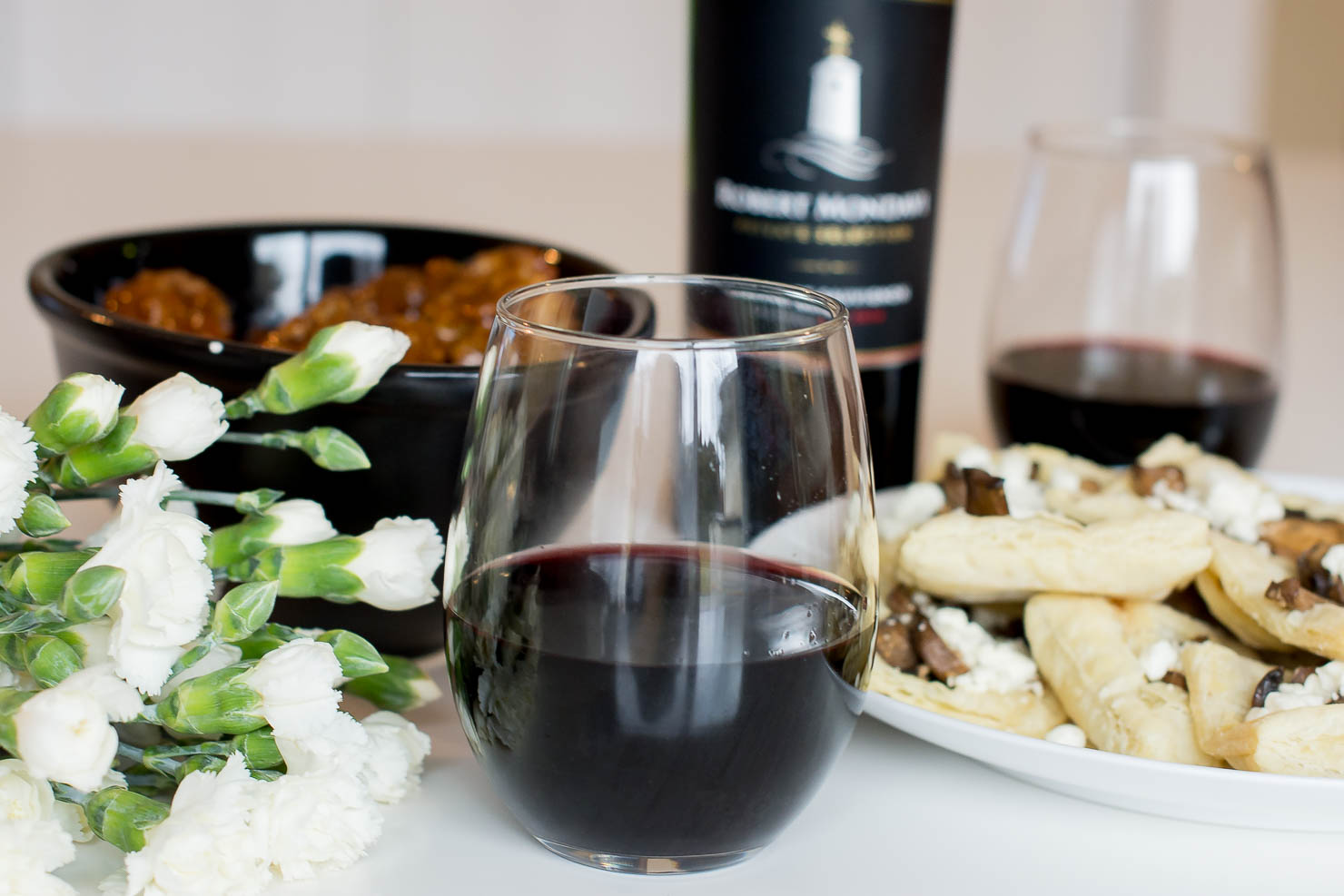 Cabernet Sauvignon Appetizer Pairing
Many nights, we also love to pair this rich, flavorful wine with a light appetizer. It's become fun to find the perfect cabernet sauvignon appetizer pairing. Two of our favorites to enjoy with cabernet are easy portabella and goat cheese tarts and 3-ingredient sweet and sour turkey meatballs. Both are super easy and super yummy!
Enjoying a light appetizer makes it feel more like a true date night. And even those these are super easy, they taste gourmet and are great to whip up for company as well.
Easy Portabella and Goat Cheese Tarts
Ingredients:
1/2 sheet puff pastry
3 tablespoons butter
1/4 pound baby portabella mushrooms, sliced
1/2 cup crumbled goat cheese
4 teaspoons finely chopped parsley
Directions:
Preheat an oven to 400 degrees F (200 degrees C). Lightly grease a baking tray.

Lay puff pastry out on a lightly floured surface and cut into 8 squares. Prick the squares in several places with a fork. Place the puff pastry squares on prepared baking sheet.

Bake the puff pastry squares for 7 minutes. Remove tray from the oven, flatten the squares using the backside of a spatula. Return puff pastry to the oven to bake until golden brown, 5 to 8 minutes. Remove from oven.

Meanwhile, melt butter in a skillet over high heat. Cook and stir the mushrooms and garlic in the butter until mushrooms are tender, 5 to 7 minutes. Remove from heat.

Top the baked puff pastry squares evenly with the mushroom mixture. Crumble goat cheese over mushrooms and sprinkle with parsley.
Serve as a tasty appetizer or as part of a meal!

Three Ingredient Sweet and Sour Turkey Meatballs
Ingredients:
1 jar (12 oz) chili sauce
1 1/2 cups grape jelly
2lb (32 oz) frozen meatballs
Directions:
Pour meatballs into a slow cooker. Combine jelly and chili sauce in a small bowl and pour over meatballs.

Cook on low for 3-5 hours or until meatballs are heated through.
Robert Mondavi Private Selection has always been my go-to. Their selection includes everything from cabernet to chardonnay, although the cab has always been my favorite. It has a rich red color and contains notes of cherry, blueberry, and vanilla. The perfect wine to sip on a cozy winter night.
Substantive and real, Robert Mondavi Private Selection is known for their legendary winemaking expertise. Their pioneering legacy is captured in elegantly expressive Coastal California wines crafted for everyday enjoyment.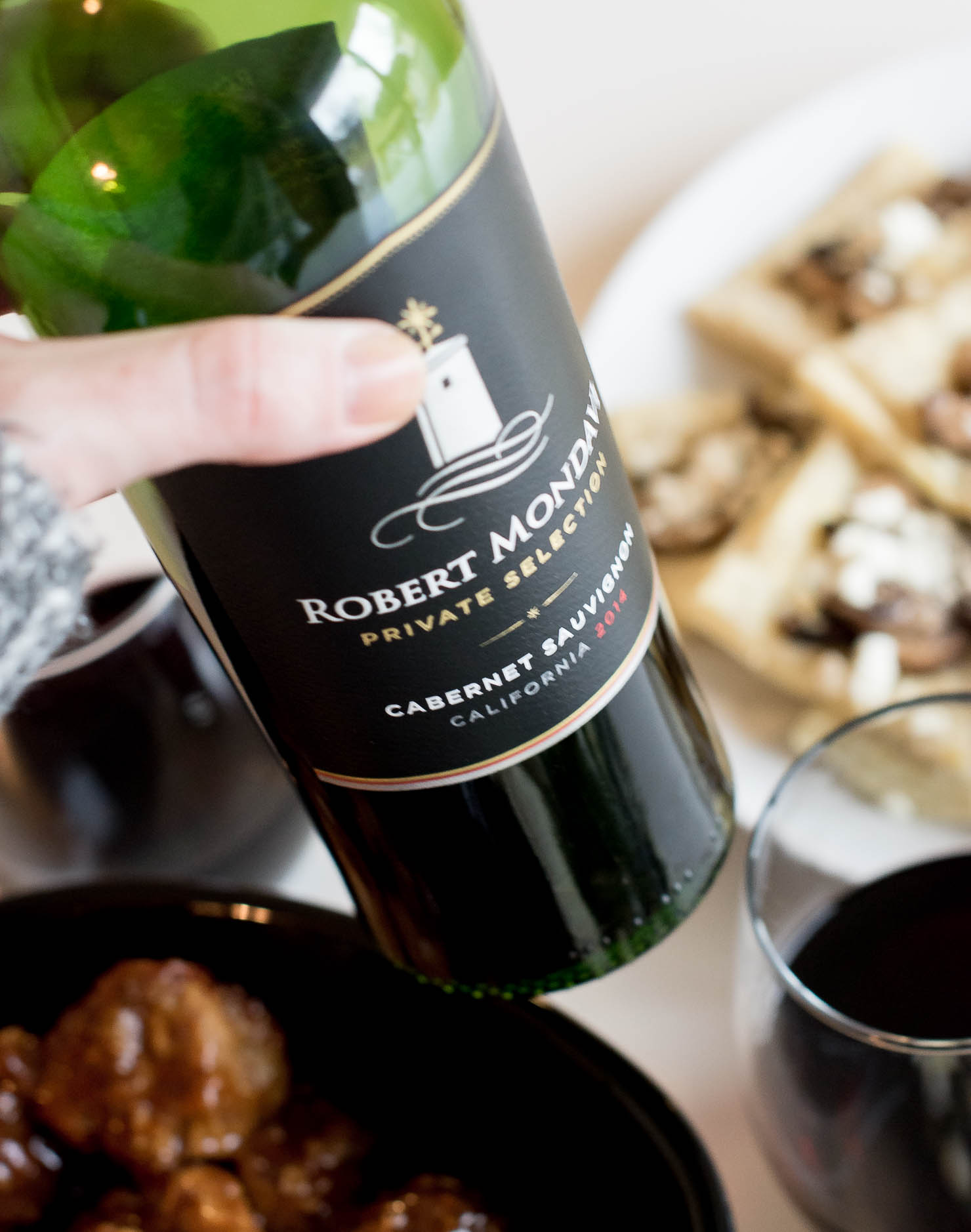 For more information, be sure to follow Robert Mondavi Private Selection on Facebook!
And make sure to check out more of our favorite food and recipe posts!