Asos trench, in black, similar (1, 2, 3) || Topshop pants, identical || SheIn sweater, this year's version, also love this || H&M shirt || Miss Selfridge booties, love these, also here || Rebecca Minkoff bag, love this mini version || black aviators
photos by Anna of A Lily Love Affair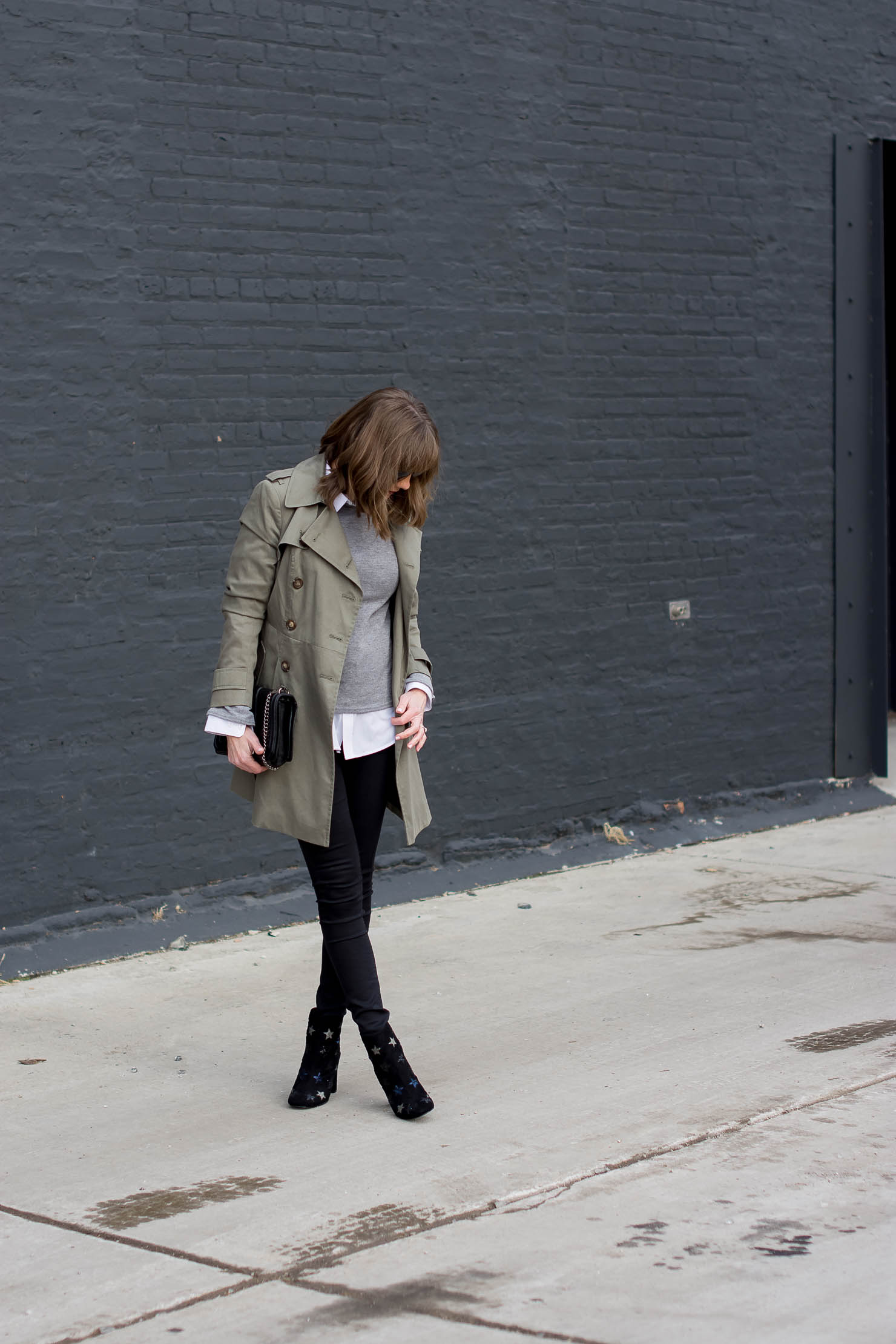 Hap, Happy Monday! How was your weekend? We kept it pretty chill at our house, which was a nice change of pace after a busy couple of weeks. Naps, take-out and catching up on TV was just what this girl needed. I have to admit, as I sat down to write this post yesterday, I struggled. I love fashion, but my mind was definitely elsewhere. The world is in such disarray and try as I might, I just can't turn away and bury my head in the sand. No matter your political views I don't think any of us in my generation have ever felt this level of fear and uncertainty.
It gives me so much compassion for what those in other parts of the world endure on a daily basis. And also makes me feel that we have Americans have taken not just our freedoms, but our liberty, very much for granted. Now back to our regularly scheduled outfit post:)
The Classic Trench
We typically think of the classic trench as a spring, or possibly fall, piece. But with these warmer than usual temps we've been having, I've found myself reaching for my trench more often than not (last seen here)! Today I'm layering it with a ruffled sleeve sweater and classic white button-down. To keep the look fresh I opted for my go-to zip pocket skinnies and these adorable star embellished booties. When the majority of your wardrobe involves neutrals and classic pieces, it can be fun to mix it up with fun accessories like these boots.
And while I'm not typically one to hop on the band wagon of most trends, I am kind of excited about the star prints that I'm seeing everywhere. Did you catch my post with the cutest star print sneakers? Apparently, my favorite place to wear stars is on my feet:) But I also just ordered this embellished star sweatshirt. So cute, right?
What are your thoughts on the star print trend?
I'm sorry to keep it so brief today guys. My head is definitely not in the game. Hoping for a less "active" week ahead and here's to fashion continuing to provide a great distraction!