Thank you to Tostitos for sponsoring this post! As always, all opinions are my own.
The holidays can be a stressful time of year and it can feel like there is a never-ending list of parties to attend, gifts to buy, cards to send and decor to hang. Why not take the edge off with a silly and fun party that everyone is sure to enjoy. A party that celebrates the long-forgotten piece of bad taste otherwise known as The Ugly Sweater.
The Ultimate Ugly Sweater Party Guide
So if you are planning a holiday sweater party celebrating the most awful knits in town, we've got you covered. Today we're sharing some tips on throwing the most amazing ugly sweater party this holiday season.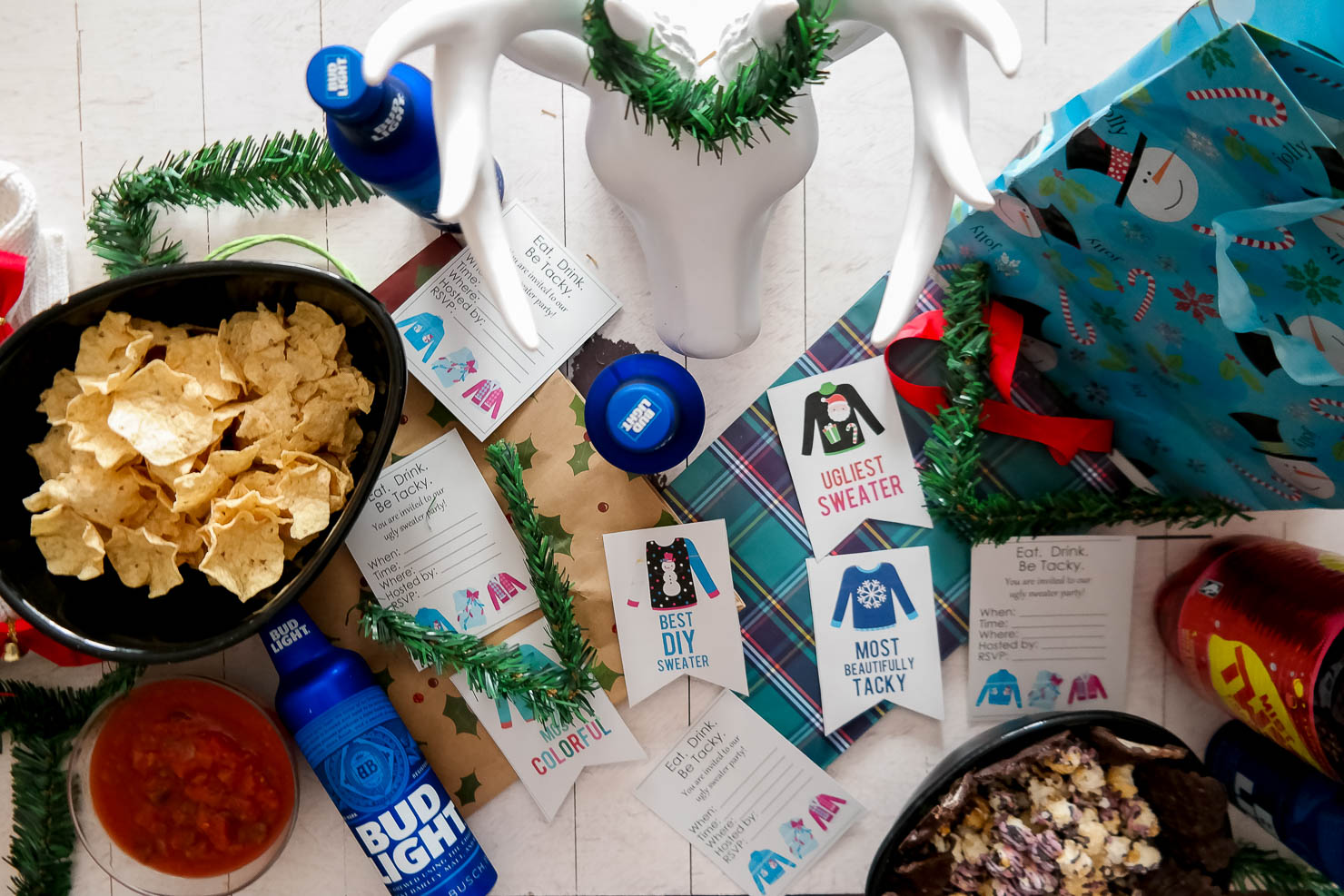 Invitations: Remember, the invitations can set the tone for your party! An Ugly Sweater party is supposed to be silly and fun and the invites should be too. There are lots of free printables out there. I like the ones found here and here. Or you can make your own. Just keep them light and fun and your party will be the one everyone wants to attend!
Awards: I love the idea of awarding your guests for their creativity! Plus, if you're going to get people to put all of this effort into getting dressed to the nine's in an Ugly Christmas Sweater, you better be prepared to do some judging and hand out some outrageously wacky awards! To make it even more fun, have everyone participate by voting for the winners of their choice in categories of your choosing. Here are some ideas to get you started:
All-Around UGLY Sweater
Most Original
Best Couple Combo
Most Likely to get Arrested if Seen in Public
Most Festive
Best DIY
Funniest
Most Likely to go Viral on Social Media
And then there's the food…
Food: Obviously the most important part of any party is the food and drink! For this type of party I like to ask everyone to bring their favorite appetizer or side dish to share in addition to putting out my favorite apps and snacks. Sides and appetizers are always the crowd pleasers and this keeps prep simple so that you can enjoy the party! I like to include a mix of sweet and savory in the spread. One of my favorites is Indulgences by Smartfood popcorn. The dark chocolate raspberry flavor is perfect for the holidays. I also love Lay's chocolate covered potato chips; the perfect mix of sweet and salty. I leave out bowls of chips and various salsas and dips, as well as my favorite appetizer: Mexican-Style Shrimp Cocktail. Its super flavorful and easy to prepare.
Drinks: The Ugly Sweater party is the perfect party for the bar cart. Set out your favorite cocktail ingredients and mixers, as well as your favorite Pepsi soft drinks and a selection of beers. We love the Budlight 8-pack, the aluminum bottles are super cool! And don't forget the ice:)
Make it fun!
Games: Games are a great way to get guests mingling and having fun. You can keep it simple with cards or dice or go out out with one (or more) of these fun, laugh-out-loud suggestions:
And most importantly, HAVE FUN! The holidays can be stressful so make this evening one where everyone can let loose, take down all of the guards and just be…well… ridiculous. And don't forget your favorite Frito-Lay snacks!
See more tips and tricks for your holiday parties at www.pinterest.com/fritolay.
Have you hosted or attended an Ugly Sweater party? I'd love to hear about it!