Gap denim flared overalls {under $45 and an additional 35% off!} || elbow sleeve boat neck tee || similar wedges || similar clutch{1/2} || similar sunnies || scarf c/o
photography by Ashley of Sed Bona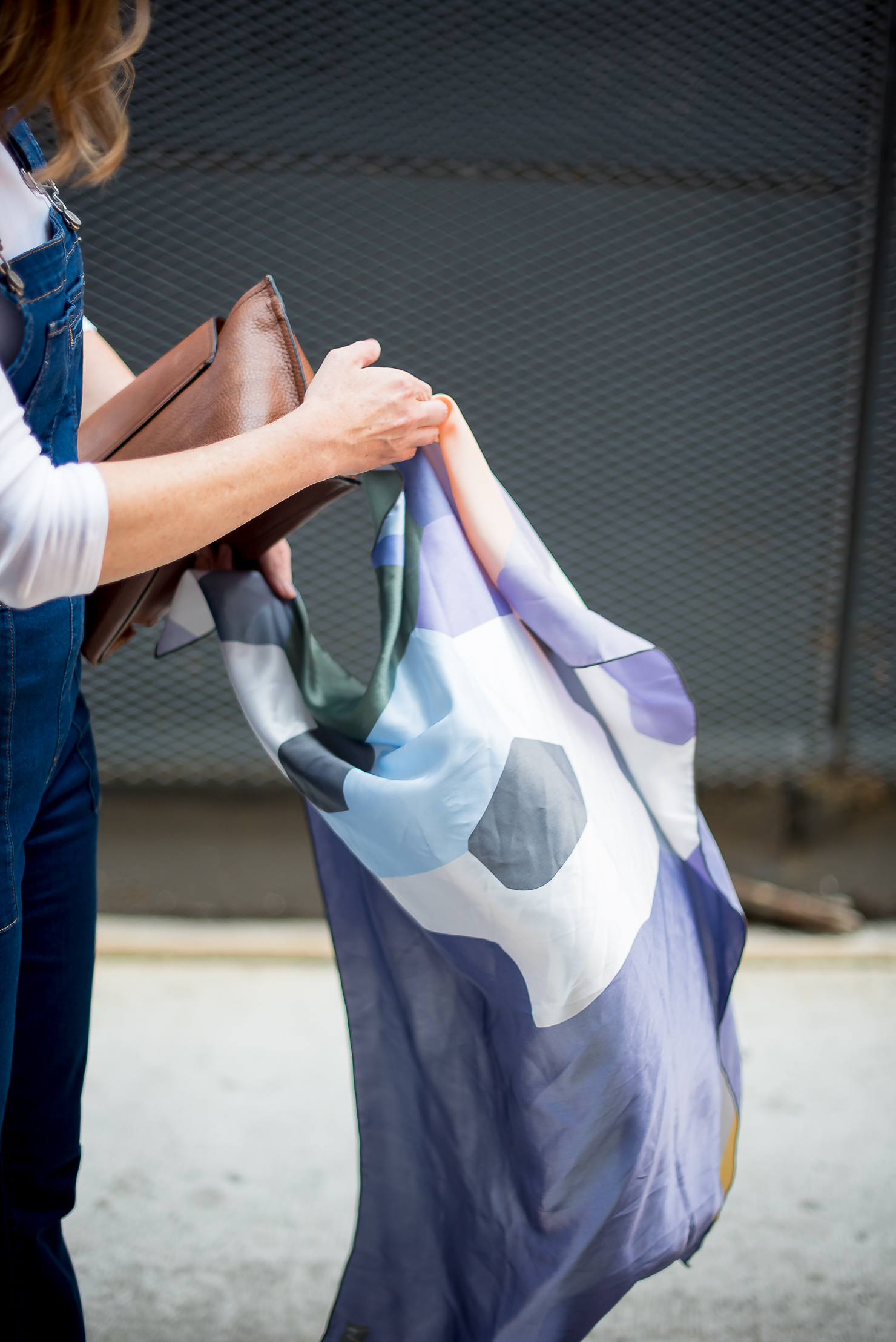 Today I'm so excited to be partnering with Wearatile on their "Women Empowerment" campaign! As a fashion-conscious woman who is always looking for ways to contribute to the community this partnership has been an amazing opportunity.
Wearatile artists design silk scarves that are printed in Montreal. Their first collection consists of 100 unique scarf designs each named after a great historical feminine figure. For each of these 100 scarves, Wearatile is training a woman in Kenya through a 20-day sewing workshop in partnership with Red Cross Kenya and AGL Foundation.
Each scarf has a unique design and Wearatile does not make more than one scarf for each design. The idea is to let the customers emotionally connect with the cause they are supporting and feel part of a community. Wearatile seeks to create a way for people to experience happiness that comes from having a positive impact on someone's life or proudly appreciating a valuable work of art.
I love finding beautiful, unique fashion that can only be described as a work of art. To accomplish this and also know that I am contributing to better the lives of women around the world is an amazing bonus! Each unique design is so lovely and I challenge you not to get sucked into playing around on the Wearatile website!
I've been dying to style these flared denim overalls for a few weeks and since this scarf felt a bit boho chic, it seemed like a perfect match. I love how it looks peeking out from my bag, but have also worn it tied around my neck and in my hair. And until August 15th, Wearatile is offering W&R readers an exclusive discount of 10% off all orders with the code WISHES10 + free shipping with the code FREESHIPPING!
I had also been in search of the perfect white tee and of course Target does it again. I love the elbow length sleeve and that it isn't sheer at all. The under $10 price tag didn't hurt either!
Don't forget the Nordstrom Anniversary Sale early-access starts tomorrow! And you can enter to win a $500 shopping spree here!
Have you found a way to incorporate fashion into giving back? I'd love to hear about it!