I LOVE to cook. I was a bit of a late bloomer in the kitchen and didn't really start to enjoy cooking until I had children. And I started basic. Pasta is a great place to start and a great pasta salad is a summer staple at our house.
When the temperatures start to heat up, I hate turning on the oven for long periods of time and prefer to grill or throw together cold dishes. This recipe for mozzarella, tomato, basil and bacon (TMBB) pasta salad was a huge hit and could be either a side or a main dish. I even took it along to a party over the holiday weekend and not a noodle was left! Super simple and super tasty…makers of a great summer dish.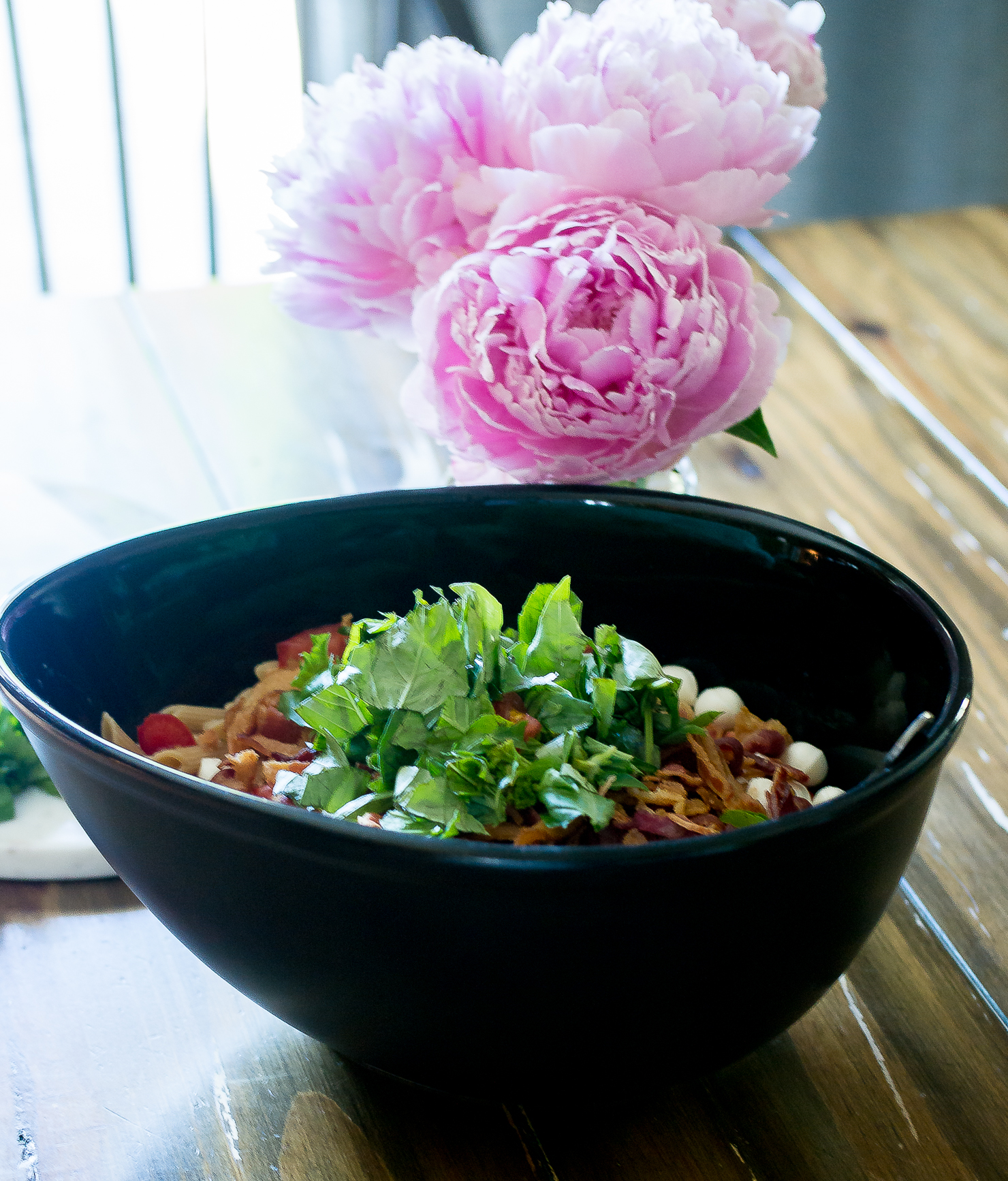 Ingredients:
1lb of pasta, I prefer whole wheat, but any kind will work
10oz grape tomatoes, halved
container of mozzarella pearls
6-10 large basil leaves (the more the better IMO), chopped
6-8 slices of bacon
Italian dressing (I do a homemade olive oil based dressing, but any bottled Italian would work fine)
First cook the bacon, either on the stovetop or microwave. *Hint: I made it extra crispy and it kept its crispness, even the following day. Cool and then crumble.
Next cook pasta according to directions for al dente. This will ensure the pasta maintains a firm texture and will prevent it from absorbing too much of the dressing. Drain and rinse with cool water.
Next pour the pasta into a large bowl and add about 1/2 cup of dressing to let the noodles marinate a bit. I love Newman's Own Family Recipe Italian, but often make my own using high quality extra virgin olive oil, minced garlic (lots and lots of garlic), red pepper flakes, parmesan cheese, dried basil and oregano and anything else I feel like throwing in.
Then I layered on the mozzarella pearls, halved grape tomatoes, chopped basil and crumbled bacon and then added another 1/2 cup of the dressing. I finished with a generous sprinkle of fresh ground black pepper and a bit of salt.
Fresh, flavorful with plenty of texture. And if you don't eat meat, or pork, just omit the bacon or substitute with some colorful bell peppers to keep the crunch. Serve as a main dish or alongside grilled chicken and watermelon, and of course a glass of wine. I'm digging Dark Horse Big Red Blend lately:)
What are you serving up this summer? I'm always looking for new dishes to try!