J. Crew Trench Cape {runs small, I'm wearing a XXS/XS} || Old Navy dark wash chambray shirt || H&M kick flare cropped jeans || Nine West printed pumps || Zara clutch, borrowed from Ashley || sunglasses via Amazon
photos by Ashley of Sed Bona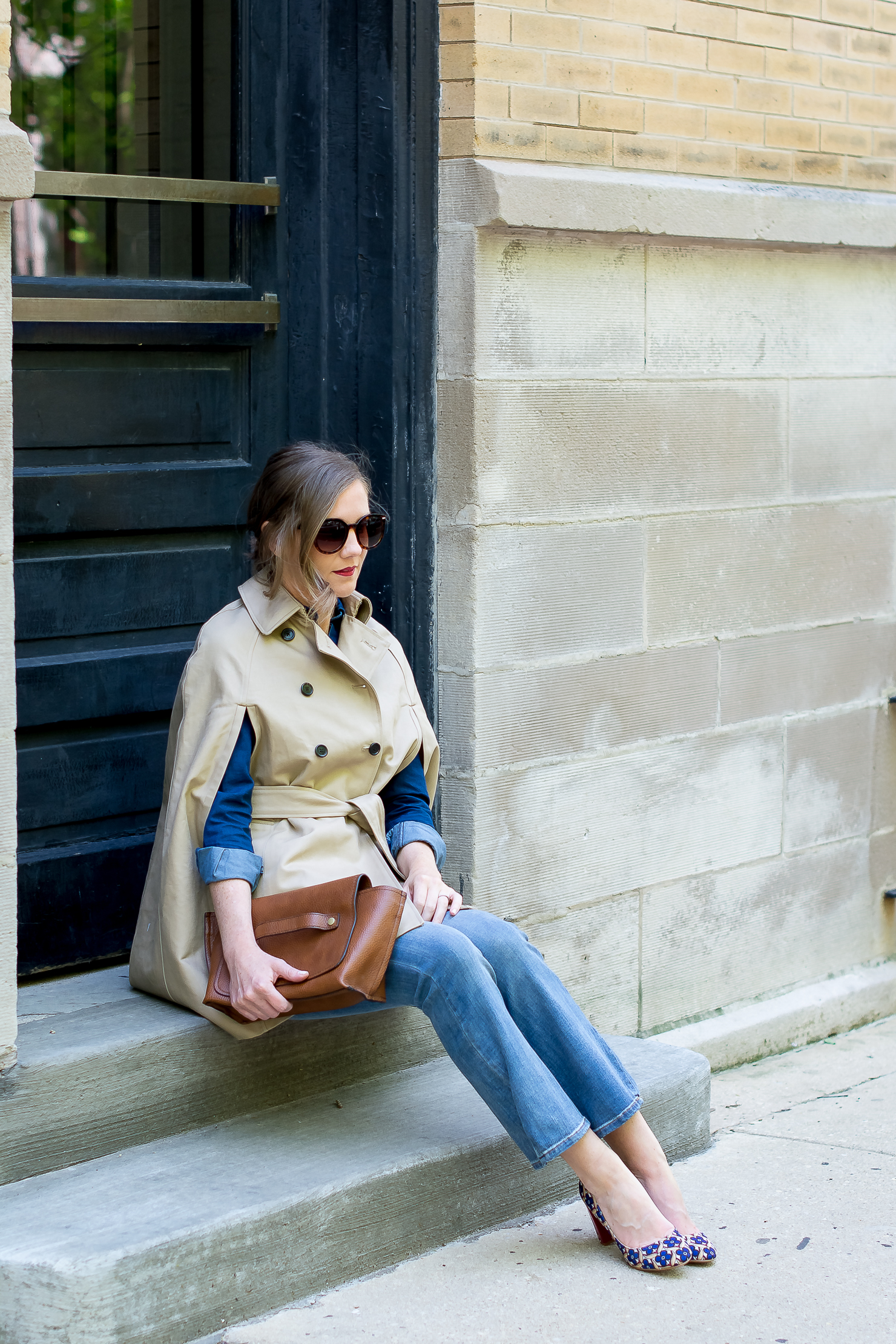 Let's just face facts—the French do everything better. They eat better, they drink better, and they definitely dress better than, well, pretty much anyone. Find yourself staring at photos of Parisian "it" girls and wondering how they look so utterly perfect all of the time? You aren't alone.
Break down the wardrobes of these women, and the style rules they live begin to crystalize. Forgo a trendy embellished sweatshirt for a perfectly fitted LBD dress you'll wear for years, for one. Invest in a few classic luxury items, like a Hermès Kelly, knowing it will ultimately be a value spread over time. And above all, work to perfect a unique style all your own, because half the battle when it comes to dressing well is feeling good in what you are wearing.
1. Say no to most trends, and develop a signature look.
Parisian fashionistas develop a signature look, and stick with it. They might update their wardrobe with a few trends, but they always stick to a similar aesthetic. This also makes shopping a heck of a lot easier. Sticking with neutrals and basics makes this much easier, but no one said you can't add a pop of color!
2. Live in a wear-with-anything trench coat.
Parisian women have made the trench coat into their BFF. Wear it on the weekends with jeans, over gowns to formal events, layered with a fur stole when the weather gets colder, over your shoulders during the spring—the possibilities are endless. I love this cape style, but traditional styles are available at all price points.
3. It's all about the fit.
French women tend to dress for their bodies, rather than following trends. Step one is buying clothes that fit your body well. Step two is finding a great tailor to make sure that everything in your closet fits to a T, from your everyday black pants to your go-to black tie gown.
4. Think in a neutral palette.
For the most part, French women dress in a grown-up neutral palette of black, white, beige, and brown, and add pops of color to their look with accessories—say a red handbag or a brightly patterned scarf. It makes mixing and matching from within your closet pretty effortless, not to mention sticking within this palette makes it hard to make a fashion mistake.
5. Go from day to evening with the perfect red lip.
A quick update that French women have mastered to take their look from day to evening is the perfect red lip. No need to bring a change of clothes to work, lipstick is all it takes to add a little evening glamour to your outfit. My favorites are MAC lipstick in Russian Red and budget-friendly Revlon Super Lustrous lipstick in Wine With Everything. But I advise spending some serious time at the makeup counter finding the perfect shade of red for your skin tone, and then stocking up.
6. Dress for yourself, and yourself only.
It's a rule that not just stylish French women, but pretty much all stylish women have mastered—great style is about dressing for yourself and yourself only. You should dress to feel good, not show off.
None of this is hard and fast and everyone has their own personal style, but investing in classics and stocking up on basics creates the backbone of a great wardrobe. I've said it before and I'll say it again, blogging has been one of the single greatest teachers as I've developed my own personal style. I look back on early posts as I experimented with different colors and trends that worked so well on others, but just weren't me.

How do you feel about these guidelines? Do you tend to stick to neutrals and basics?