Blank NYC burgundy suede moto jacket || Loft ruffle hem sweater || Banana Republic grey skinny jeans || Steve Madden 'Gorgeous' over the knee boots {under $100!} || Harper & Rose bracelet
Photos by Ashley of Sed Bona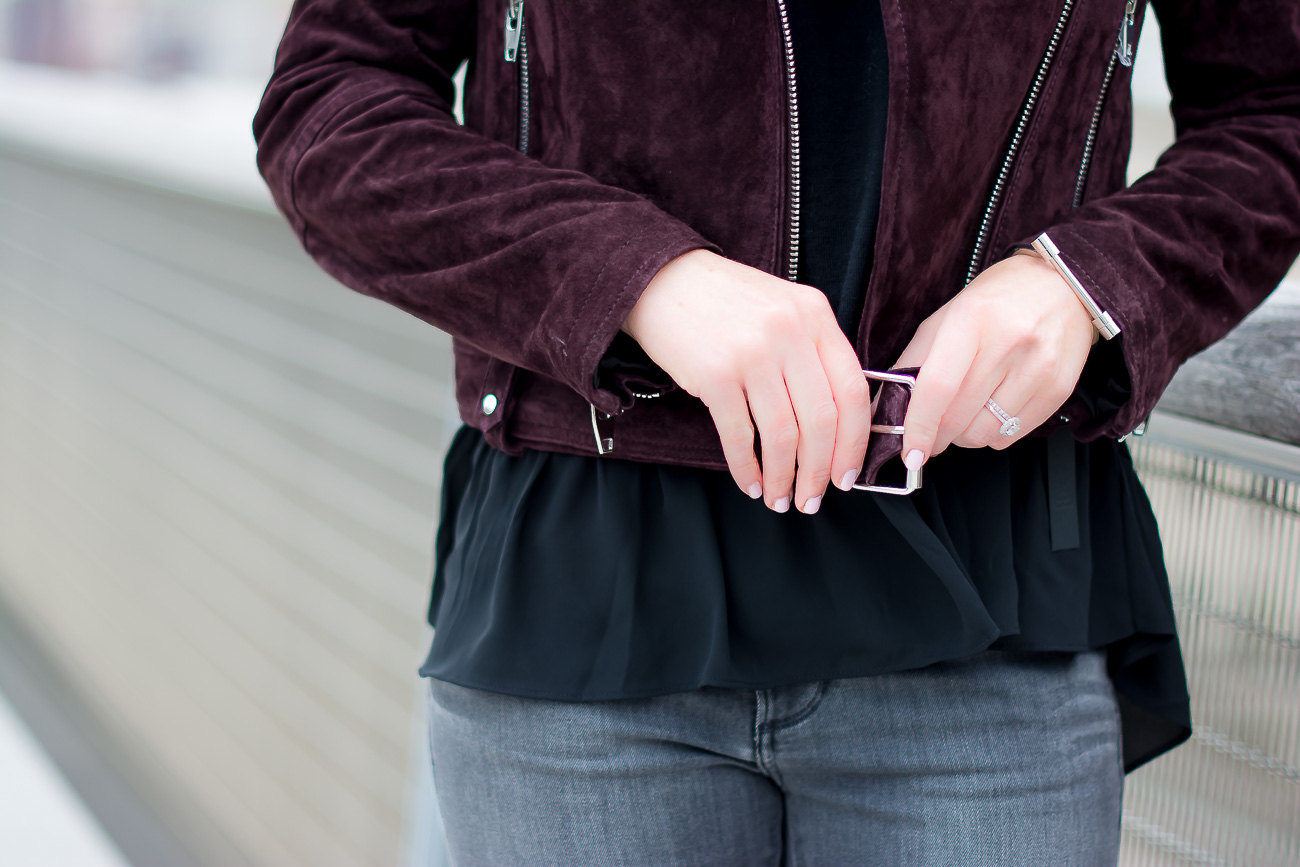 There is something magical about the feeling of spring in Chicago like everything is waking up. With it brings new beginnings and exciting possibilities. Spring feels like a fresh start. And that is what we are doing today with an updated Wishes & Reality! With the facelift comes easier navigation to content, social media and shopping. After a pretty anxiety ridden past few days, I am SO EXCITED to show off the new site! And I have to thank the lovely and oh so patient and kind Anna Baun for all of her help and support with the transition!
So now I am floating on air a bit and in this post it looks a bit as though I'm floating above Chicago. This post was shot on the bridge connecting The Art Institute to Millennium Park in Chicago and the lighting was almost ethereal. The white-washed background created such a stunning contrast to a rather dark look. Truth be told even with the longer days and milder temperatures, there is still a chill in the air and this totally luxe burgundy suede moto jacket is the perfect piece to keep me warm. The silver hardware gives it such a cool vibe and the burgundy tone feels more like a neutral. I can't wait to pair this with everything from little black dresses to distressed denim shorts. For now, I'm pairing it with grey skinny jeans, a ruffle hem sweater and over the knee boots. I love the contrast of the feminine and flirty ruffle on this basic sweater with the more edgy moto jacket. This outfit is the perfect example of how the devil really is in the details. There is nothing special about jeans, boots and a sweater, but add details like a ruffle, a gorgeous suede jacket and even the lace up detail on the boots and things become anything but ordinary.
Ashley did such an amazing job of capturing the city of Chicago in the background too! Such a breathtaking skyline; it's hard to look bad, with this as your backdrop!
Thank you SO MUCH for checking out the new and improved Wishes & Reality! I'd love to know your thoughts and feedback of what you'd like to see more of on the site…fashion, food, restaurants, Chicago info…let me know in the comments!